---
Album info
Album including Album cover
1

Forgotten Beach (Byron Bay)

03:22

2

Escaping Dreams Pray Far From The Boat

03:43

3

Nomadsland

04:16

4

Painted Room

04:22

5

Narrabeen

03:53

6

Barefoot In The Sand

04:45

7

As Rivers Lose Themselves To The Sea

03:34

8

Forward

03:13

9

Can't Stand Still

03:58

10

Mooloolaba

03:54

11

Water Caves

00:00

12

Eora

02:59

13

Western Waves

05:12

Total Runtime

47:11
Info for Secrets In The Sand

Secrets In The Sand is a journey across time and space in Australia that will transport you to this country no matter where in the world you are listening. Tales of the journey and arrival of the First Fleet in 1788 join stories that have been here in the sand for thousands of years. Forgotten Beach, Narrabeen, Water Caves, Mooloolaba and Western Waves reflect that unique freedom that can only be felt at the water's edge, embracing the modern beach culture of coastal towns where Robbie's band GANGgajang first found its sound and audience. Eora features Robbie's distinctive guitar playing while tracks about the displaced people of the First Fleet such as Painted Room, Escaping Dreams Pray Far From The Boat and As Rivers Lose Themselves To The Sea highlight the depth of passion in his emotive voice, harmonies and unique approach to song writing and arrangement. Nomadsland and Barefoot In The Sand beat in time with the heart of Australia, talking about the possibilities of an enriched life when you give yourself over to the landscape. Simple pop songs such as Forward and Can't Stand Still complete the album's mix of colours unique to Robbie James.
"James exhibits that incredible sense of place that has so powerfully imbued the work of songwriters like Shane Howard and Neil Murray, on songs like Mooloolaba, Nomadsland and Barefoot In The Sand, but adds a sophistication both as a singer and instrumentalist, making him perhaps that little bit more accessible to city/suburban dwellers. It's there in the languid Forward and truly angelic a cappella of Water Caves and Eora, that avoids the clichés of both "indigenous" overtones (no didgeridoos) and "surf guitar" frenzy. Intelligent, articulate, thoughtful, James makes music that is at once sumptuous and elegantly evocative, a soundtrack for a movie no one has yet thought to make about this remarkable place in which we live." (Drum Media, Michael Smith)
"Beautiful, thoughtful Aussie folk/pop from a Ganggajang-er". You wouldn't believe this record was released in January 2006. Not from its nostalgic folk melodies sung with honest passion and classic arrangements complete with three-part harmony and strings. Opening with the catchy, laidback Forgotten Beach (Byron Bay), James then paints our exotic landscape and its history in Nomadsland, then mellows out with the piano-driven Painted Room. This is a truly Australian journal through time and space with deep respect for our vast and varied land, much-neglected Aboriginal heritage and modern beach culture. The haunting slide guitar, strings and yidaki (didge) on Barefoot In The Sand lead nicely into As Rivers Lose Themselves To The Sea, standing out with its classy Sting-meets-Neil-Finn ambience, James' passionate vocal supported simply by a classical guitar and strings. Other moments remind you of GANGgajang's Sounds Of Then, in a good way, and the disc concludes with two soulful guitar-lead gems, Eora and Western Waves." (Rave Magazine, Peter B)
Robbie James, guitar, vocals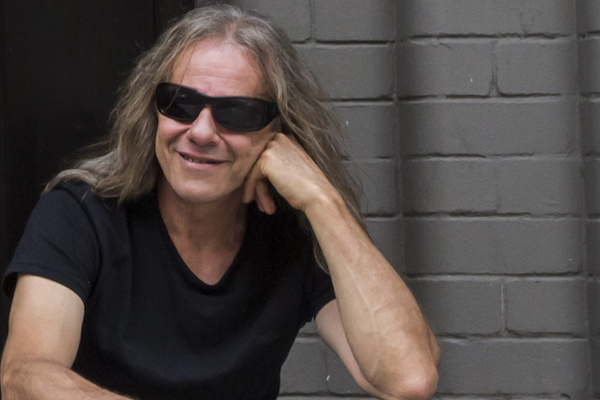 Robbie James
The songs of Australian artist Robbie James have been described in reviews by music media in his home country as:
"Elegantly evocative, exhibiting that incredible sense of place that has so powerfully imbued the work of songwriters like Shane Howard and Neil Murray…"
"A truly Australian journal through time and space with deep respect for our vast and varied land..."
"Stories that all Australians can relate to..."
Robbie James has released three solo albums: Suzannah Suite, Secrets In The Sand and 24 Hours A Night. Suzannah Suite is a semi-orchestral song cycle about the displaced people of the European colonisation of Australia, and showcases some of James' classical aria compositions. Secrets In The Sand, a pop album, is a journey across time and space in Australia. Its first single, Forgotten Beach (Byron Bay) was played by hundreds of radio stations across Australia, the album being nominated ABC's album of the week. His third album, 24 Hours A Night, is a jazz guitar & voice recording showcasing James' guitar virtuosity and his ability to write and sing songs in the style of the timeless standards of last century.
Robbie's band GANGgajang, still recording and touring after 35 years, is regarded as one of the great and important Australian bands. Their songs were an integral part of the music revolution of the 1980s when the Australian sound was reinvented. The band's most famous song, the timeless Sounds Of Then (This Is Australia), is regarded as one of the all-time classic Australian songs, and is often described as the country's alternative national anthem.
Alongside GANGgajang, Robbie toured the world for five years with the semi-indigenous Australian band Yothu Yindi. He joined Yothu Yindi when both bands toured Brasil in 2001. This band were the first to put Aboriginal culture on the world stage, and like GANGgajang's Sounds Of Then, Yothu Yindi's Treaty is also one of Australia's greatest ever songs, indeed one of the most important – the first hit in this country to integrate Aboriginal Manakay with western music, sung in the language of both cultures.
Wendy Matthews was a major artist of the 90s, being awarded Best Australian Female Artist two years running. Robbie was one of the principal songwriters on her first three platinum selling albums, contributing songs such as Square Moon, As We Speak, Mother Can't Do, Homecoming Song and The Ruins Live On. He also played with her band on occasion as a special guest.
Since 2012, Robbie has been a member of Scattered People, a group of musicians who rose out of the Asylum Seeker Centre in Brisbane in 1998. Refugee claimants from various countries were using music to create solidarity with one another. He produced, arranged, performed on and co-wrote their third album Sugarmill Road.
Among the highlights of Robbie's classical ventures, his string quintet arrangement of GANGgajang's Sounds Of Then was performed as part of the London Paralympics in 2012. This piece was also performed by the Sydney Youth Orchestra at the New South Wales Premier's Luncheon Concert in 2004. He was also commissioned twice by the City of Perth to compose extended semi-orchestral arrangements of his own song Nomadsland and Yothu Yindi's Treaty for their Australia Day Sky Shows in 2000 and 2001.

This album contains no booklet.