---
Album info
Album including Album cover Booklet (PDF)
Richard Stone (1953 - 2001), Georg Philipp Telemann (1681 - 1767): Chamber Concerto in F Major, TWV 54:F1 (Reconstr. R. Stone):

1

Chamber Concerto in F Major, TWV 54:F1 (Reconstr. R. Stone): I. Vivace

04:59

2

Chamber Concerto in F Major, TWV 54:F1 (Reconstr. R. Stone): II. Scherzando

02:33

3

Chamber Concerto in F Major, TWV 54:F1 (Reconstr. R. Stone): III. Vivace da capo

04:57

4

Chamber Concerto in F Major, TWV 54:F1 (Reconstr. R. Stone): IV. Bourrées I & II

04:30

5

Chamber Concerto in F Major, TWV 54:F1 (Reconstr. R. Stone): V. Menuett & Trio

03:46

6

Chamber Concerto in F Major, TWV 54:F1 (Reconstr. R. Stone): VI. Loure

01:27

7

Chamber Concerto in F Major, TWV 54:F1 (Reconstr. R. Stone): VII. Gigue

02:30

Georg Philipp Telemann: Concerto di camera in G Minor, TWV 43:g3:

8

Concerto di camera in G Minor, TWV 43:g3: I. Allegro

03:22

9

Concerto di camera in G Minor, TWV 43:g3: II. Siciliana

03:37

10

Concerto di camera in G Minor, TWV 43:g3: III. Bourrée

00:58

11

Concerto di camera in G Minor, TWV 43:g3: IV. Menuet

03:20

Violin Concerto in F Major, TWV 51:F4:

12

Violin Concerto in F Major, TWV 51:F4: I. Presto

06:01

13

Violin Concerto in F Major, TWV 51:F4: II. Corsicana

04:03

14

Violin Concerto in F Major, TWV 51:F4: III. Allegrezza

03:12

15

Violin Concerto in F Major, TWV 51:F4: IV. Scherzo

04:19

16

Violin Concerto in F Major, TWV 51:F4: V. La caccia

01:59

17

Violin Concerto in F Major, TWV 51:F4: VI. Polacca

03:10

18

Violin Concerto in F Major, TWV 51:F4: VII. Minuetto

03:41

Total Runtime

01:02:24
Info for Telemann: The Concerti-en-suite

Expert in baroque repertoire and making period discoveries, the Philadelphia-based ensemble Tempesta di Mare extends the commemoration of the 250th anniversary of Telemann's death with this unique album played on historically authentic instruments.
This recording is the first to bring together Telemann's three surviving concerti-en-suite, from the intimate Concerto di camera to the more extravagant and impressive Concerto-Suites.
Like many seventeenth-century German composers referring to their national idiom as a blend of French, Italian, and German styles, Telemann, who added rustic Polish music to this stylistic soup, quickly became the standard-bearer for this 'mixed taste' during the early eighteenth century, writing Italian concertos with a French accent, French overtures featuring moonlighting concerto soloists, and Polish folk tunes that exuberantly dance their way into arias, concertos, sonatas, songs, and suites. One of his more interesting mixtures is the concerto-suite, a subgenre in which a soloist is featured in an opening concerto-allegro and in a following series of French dance movements. The three surviving ones are brought together here for the first time.
"… it's all top-drawer stuff. Not least thanks to the beautifully blended sound of the whole: crisp strings, mellow woodwind, subtle-but-there harpsichord and theorbo and a gorgeous soft-focus halo of horns. In short, every instrumental timbre is beautifully looked after. As is every personality-rich note of Telemann's" (Charlotte Gardner, Gramophone magazine)
"... The writing is all these works revels in virtuosic effects, showing off the various instruments to brilliant effect … Their playing is full of boldness and sass … certainly ear-catching. The sound is very vivid…" (John Barker, American Record Guide)
"Tempesta di Mare capture the ebullient drive and wonderful contours of these grandiose pieces." (Early Music Review)
Emlyn Ngai, violin
Tempesta di Mare Baroque Orchestra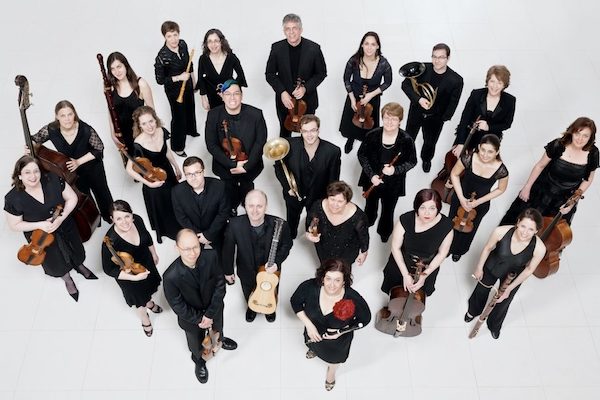 Emlyn Ngai
enjoys a diverse life as both a modern and historical violinist. In addition to being associate concertmaster of the Carmel Bach Festival and director of the festival's Circle of Strings, Emlyn is a member of the Adaskin String Trio with which he has performed extensively across Canada and the United States and has been recorded for broadcast by CBC Radio, Radio-Canada, and National Public Radio. As concertmaster of Tempesta di Mare, the Philadelphia Baroque Orchestra, he has performed across the US and in Europe, and has made eight releases on the British label Chandos. Tempesta's recordings and live performance broadcasts are distributed nationally through NPR and internationally via the European Broadcasting Union. His association with such early music groups as Apollo's Fire, Boston Baroque and Joshua Rifkin's Bach Ensemble has taken him to Bermuda, Germany, Spain, and the UK as well as across the US. Recording credits include Centaur, MSR Classics, New World Records, and Telarc. His recordings for the label Musica Omnia have received acclaim in American Record Guide, BBC Music Magazine, Gramophone, and The Strad. Emlyn holds degrees from McGill University, Oberlin College Conservatory, and the Hartt School. His teachers have included Frona Colquhoun, Sydney Humphreys, Thomas Williams, Eugene Drucker and Philip Setzer. It was during his studies with Marilyn McDonald at Oberlin that he won first prize on baroque violin in the 1995 Locatelli Concours Amsterdam and appeared at the Teatro Donizetti in Bergamo with Ensemble Il Giardino Armonico and the Berliner Tage für Alte Musik.
An enthusiastic educator, Emlyn has taught at Boston University, Mount Holyoke College, and McGill University and has been a faculty member of Amherst Early Music, Madison Early Music Festival and the Oberlin Baroque Performance Institute. Currently he teaches modern and baroque violin, chamber music and performance practice at The Hartt School, where he also co-directs the Collegium Musicum.
Tempesta di Mare
performs baroque music on baroque instruments with what the Philadelphia City Paper describes as "zest and virtuosity that transcends style and instrumentation." Led by co-directors Gwyn Roberts and Richard Stone with concertmaster Emlyn Ngai, Tempesta di Mare's repertoire ranges from staged opera with full orchestra to chamber music.
Tempesta di Mare is named for baroque master Antonio Vivaldi's concerto meaning "storm at sea," a title reflecting composers' belief in the power of their music to evoke drama. Roberts and Stone founded Tempesta in 1996 to pursue their ideal of baroque music as a rhetorical, dramatic art form. The group's debut CD of recorder sonatas by Veracini, released that year on PGM, received BBC Music Magazine's highest rating, with such praise as "world-class virtuosity" and "breathtaking results."
Hailed by the Philadelphia Inquirer for its "off-the-grid chic factor," Tempesta's Greater Philadelphia Concert Series has enjoyed a rapid rise to prominence since its launch in 2002, with press endorsements from Philadelphia to Paris. With an emphasis on breaking new ground, Tempesta di Mare has brought numerous world, national and regional modern premieres to the area. Tempesta di Mare—the only permanent baroque ensemble in Pennsylvania that consistently performs orchestral repertoire with truly orchestral forces—is one of just three baroque orchestras nationwide to receive the National Endowment for the Arts Artistic Excellence Award in 2007, and again with two more Artistic Excellence awards for 2008.
Tempesta di Mare's CD Flaming Rose, Handel's German Arias with soprano Julianne Baird, was released in August 2007 on the British label Chandos, the world's largest independent classical record company. In a market dominated by European ensembles, Tempesta di Mare is the first and only American baroque music group on the Chandos roster. Its first Chandos release, the world premiere recording of the complete lute concerti of Silvius Leopold Weiss, was released in June 2004. A third Chandos disc, modern premieres of orchestral music by Johann Friedrich Fasch, recorded live in concert on our Greater Philadelphia Concert Series in 2007, was released in April 2008.
Tempesta has toured from Oregon to Prague, with praise ranging from "the energy of a rock solo and the craft of a classical cadenza" (Washington Post) to "an experience of intimate dialogues" (Lidové Noviny, Prague). National broadcasts of performances include Performance Today, Sunday Baroque and Harmonia. Concerts are carried locally on WHYY-91FM's Showcase and video of recent performances can be seen on WYBE Public Television. WHYY TV12 has also produced three short documentaries about the group.

Booklet for Telemann: The Concerti-en-suite