---
Album info
Album including Album cover Booklet (PDF)
I`m sorry!
Dear HIGHRESAUDIO Visitor,
due to territorial constraints and also different releases dates in each country you currently can`t purchase this album. We are updating our release dates twice a week. So, please feel free to check from time-to-time, if the album is available for your country.
We suggest, that you bookmark the album and use our Short List function.
Thank you for your understanding and patience.
Yours sincerely, HIGHRESAUDIO
Diego Ortiz (1510 - 1570):

1

Canto

04:29

Traditional:

2

Alas My Love

04:38

Egberto Gismonti (b. 1947):

3

Palhaco

04:14

Traditional:

4

Molly Halfpenny (Carolan's Dream)

03:02

Marin Marais (1656 - 1728):

5

Muzette for 2

01:13

Tobias Hume (1569 - 1645):

6

Hit It in the Middle

01:35

7

Touch Me Sweetly

02:28

Sainte-Colombe (1640 - 1700):

8

La vignon

06:10

Antoine Forqueray (1672 - 1745):

9

Monsieur de Vaucel

02:40

10

Zeus: Jupiter Omnibus Maximus

06:11

Lee Santana (b. 1959):

11

Amsterdam

03:27

12

Pascal's Gaillard

02:50

13

Virtual Pearl

03:12

Traditional:

14

Saltarello

03:12

15

Katip Türküsü

05:25

Martha Bishop (b. 1937):

16

Maquam Hijaz (Hijazkiar)

03:59

Tarquinio Merula (1595 - 1665):

17

A Spiritual Song for Sleeping (Alla Nanna)

05:57

Charlie Haden (1937 - 2014):

18

Silence

05:12

Total Runtime

01:09:54
Info for Born to Be Mild

Hille Perl ist die erfolgreichste Virtuosin auf der Viola da gamba und eine ebenso brillante wie unkonventionelle Musikerin, die auf der Suche nach neuen Klangwelten schon immer auch musikalisches Neuland betreten hat.
Auf ihrem Album "Born to be mild" spielt Hille Perl nun zum ersten Mal auf einer elektroakustischen Gambe, mit der sie versucht, verschiedene Ethnien und Epochen in Einklang und zum Klingen zu bringen. Mit ihrem langjährigen Lautenisten Lee Santana, der diesmal eine E-Gitarre spielt, und ihrer Tochter Marthe Perl (E-Gambe) spannt sie einen musikalisch weiten Bogen durch sieben Jahrhunderte. Mit Kompositionen von Marin Marais, Tobias Hume, Antoine Forqueray, aber auch von Lee Santana selbst oder der Jazz-Legende Charlie Haden, erschaffen sie eine einzigartige Verbindung unterschiedlichster Genres und Stile und machen die Viola da gamba zu einem wahrhaft zeitlosen Instrument.
"Alte Musik im Sound von Rockballaden – mit ihrem Album "Born to be mild" schlägt die Star-Gambistin unerwartete Töne an. […] Hille Perl und ihre Tochter Marthe sorgen auf ihren E-Gamben für schillernde Wahwah-Effekte und Klangverzerrungen. Und Lee Santana […] sorgt nun auch an einer E-Gitarre durchweg für zart fluoreszierende Klangflächen." (Rondo)
"Was auf das erste Hören für viele ungewohnt klingen mag, erobert auf das zweite Hören neue Klangwelten. Und wieso auch sollte man ein Instrument wie die Gambe auch in der Vergangenheit begraben lassen und nur die ganz alten Werke noch älterer Komponisten spielen lassen. Dieses Streichinstrument mi seinen acht Saiten scheint ja geradezu prädestiniert auch in anderen Welten zu erklingen und nicht nur in der frühen Musik. Was Hille Perl, ihre Tochter Marthe und natürlich der lautenistische Gitarrist Lee Santana auf "Born to be mild" spielen, ist einfach nur Musik, der es Spaß macht zu lauschen. Dafür muss man weder Jazzfan sein noch Anhänger der frühen Musik, man braucht einfach nur zwei Ohren und das Wollen Grenzen zu überschreiten." (Deutschlandradio Kultur)
"Hille Perls schöpferisches Potential scheint grenzenlos zu sein. "Born to be mild" ist eine überraschende und abwechslungsreiche CD. Sie überzeugt, weil die drei Musiker mit den neu arrangierten Stücken nicht anders umgehen, als mit Werken der Alten Musik: Ernsthaft, detailgenau und hingebungsvoll – und das auf gewohnt hohem Niveau." (NDR Kultur)
"Eine Reise durch sieben Jahrhunderte […]. [Hille Perl] spielt […] entlegene, aber sinnenfrohe Standards der Musikliteratur. […] Auch wegen der nur auf den ersten Moment exzentrischen Besetzung spürt man den wärmenden Funken des Cross-Over zu Jazz, Rock und Freestyle." (Fono Forum)
Hille Perl, Viola da Gamba
Lee Santana, Gitarre
Marthe Perl, Viola da Gamba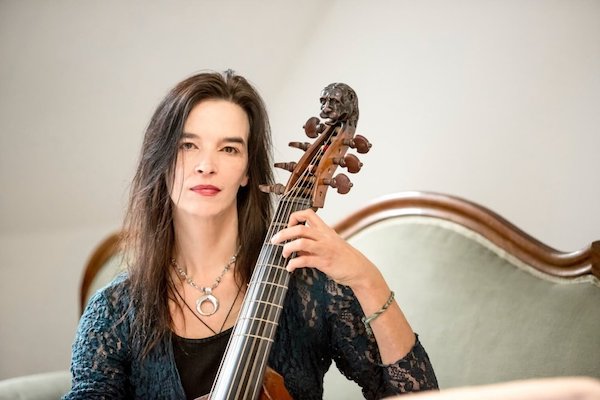 Hille Perl
Born in Bremen, Hille Perl is considered one of the world's finest viola da gamba players. Specialising in Spanish, Italian, German solo and ensemble music of the seventeenth and eighteenth centuries, she has a special interest in repertoire for seven string bass viola da gamba. For her, music is the foremost means of communication between human beings. After hearing a Wieland Kuijken concert when she was five, she decided she wanted to play the viola da gamba. Together with her long-time performing partner, Lee Santana, they have co-founded several ensembles, including Sirius Viols and Los Otros, with which they have recorded numerous CDs. Hille Perl also appeared in Michael Haneke's 2017 film Happy End, playing viola da gamba.

Booklet for Born to Be Mild