---
Album info
Album including Album cover
Coming soon!
Thank you for your interest in this album. This album is currently not available for sale but you can already pre-listen.
Tip: Make use of our Short List function.
1

Saba's Journey

05:28

2

Donso

06:36

3

Sultan

05:38

4

Nasty Sand

04:18

5

Uthopic

04:37

6

Portrait De Maure

04:26

7

Djolof Blues

05:39

8

Dalaka

05:12

9

L'ombre De L'ame

06:01

10

Lullaby for Sultan

04:14

11

Celebration

04:27

12

Café Oran

04:45

Total Runtime

01:01:21
Info for Sultan

Few artists would dare to tackle quite such a kaleidoscope of music styles and accompanying socio-political issues in the space of 12 songs and 66 minutes. And yet France-based Senegalese virtuosic bassist, vocalist and composer Alune Wade, who's worked with Joe Zawinul, Marcus Miller, Oumou Sangare, Bobby McFerrin, Youssou N'Dour and others, achieves this with effortless mastery on Sultan, his fifth solo album in 15 years.
The epic dozen-song Sultan, which represent 12 chapters of a voyage, features Wade's onstage band, including percussionist Adriano Tenorio DD, pianist and keyboardist Cédric Ducheman, trumpeter Carlos Sarduy, saxophonist Hugues Mayot and drummer Daril Esso. The 43-year-old Wade is also accompanied by many high-profile guest stars who have been regular accomplices in Wade's storied music career: Paco Séry, Cyril Atef, Lenny White, Josh Deutsch, Ismail Lumanovski, Hein Benmiloud, Mustapha Sahbi, Nasriddine Chebli, Harold López-Nussa, Christian Sands, Leo Genovese, Bobby Spark, Daniel Blake, Faris Ishaq and others. The guest artists help to expand the voices of Nora Mint, Seymali, Mounir Troudi, PPS the Writah, Aziz Sahmaoui, Mehdi Nassouli and Djam.
The seeds for Sultan were planted while Wade was wrapping up his fourth album, 2018's African Fast Food, which included "Pharaoh's Dance," a song he says allowed a peek into what he'd been wanting to develop for some time.
"In 2018, I was fascinated by a potential meeting between the musics of East Africa – notably Ethiopia – and Egypt," Wade says from his home base in Sartrouville, near Paris. "My ensuing travels – and there were many – allowed me to meet artists from the diaspora that you find in New York and Paris. This dynamic melting pot was enriched by my passion for jazz, highlife and Afrobeat. So, I just went deeper and deeper into my private musical laboratory, seeking to fuse these styles without losing any of their respective textures."
But Wade's reflections go well beyond mere music spheres. He has always displayed a sensitivity to the historical, social and political turmoil of our times and these infuse these 12 songs, as explained in the adjoining liner notes: "I have never stopped reading. And I decided to go on a philosophical mission based on Africa's untold history: I wanted to recount it in another way, take off layers of revisionism, inch closer to the original sources."
The COVID-19 lockdown gave him some breathing space in an Ile-de-France home shared by his partner and their child. Wade's vision sometimes strayed the Mother Continent's diaspora: "I read a book on the Falasha and their tragic uprooting and experiences in Israel. Its author, French Senegalese intellectual Tidiane N'Diaye reflects on the deep injustices and mistreatment these Ethiopian Jews went through in their odyssey, both at home and in the country that 'welcomed' them. Despite this, however, it made me feel that there remains an unbreakable link between Africa and the Middle East. I've been trying to expand on it."
Wade's focal point with Sultan was Tunisia. A 25-day residency supported by the Institut Français de Tunis kickstarted the project in January 2021. His residential villa in La Marsa, next to the Tunisian capital, became a rehearsal base for Wade and mercurial vocalist Mounir Troudi. The latter helped the former assemble the leading lights of the country's traditional music scene.
"It was a true discovery for me. I had been more acquainted to Moroccan and Algerian sounds. But much had familiar echoes: the Stambouli style, for example, mirrors the diasporic culture of the Gnawa, a music I've grown to embrace over the years."
Once the rehearsals consolidated the crossover experiments Wade sought, he took them to Tunis' modern Arpège studios. He then left the Mediterranean shores to share them in New York and Paris with multi-Grammy winning producer/engineer/mixer Nic Hard (of Snarky Puppy, The Klezmatics, Elizabeth Chan and-a-plethora-of-others fame). Hard used his years of experience to knead the long explorations of this bass conductor into cohesive whole.
This tapestry now goes by the name of Sultan. It's an Arabic name both masculine and feminine newborns, a word used not only in Arabic but also Turkish, Bengali, Avar and Urdu. This royal image and figure suits Wade to a tee: a graceful confidence, a calm authority, and an intensity that his bass playing echoes throughout these 12 musical chapters.
Like all wise leaders, he has surrounded himself with accomplices who shoulder the responsibility Wade delegates, entering a creative dialogue that he has the secret of. These outside artists have been part of the illuminati from Paris' world music sphere for decades. They do honor to the restless explorations of an artist whose initial inspirations balanced delicately along a fine invisible line – between the creative artistry of his conductor father and the down-to-earth realism of his nurturing mother.
While Sultan represents 12 chapters of a voyage, Wade has been on own journey of sorts since he began on guitar as a child, egged on by an inspirational father who, at the time, was conducting Senegal's Symphonic Army Orchestra. Precociousness was Wade's middle name. Within years, he learnt scales for the piano, guitar and bass. Ismaël Lo's bass player, Samba Laobé N'Diaye, lent him his first bass guitar at five and, irony of sorts, he took over from N'Diaye's successor 12 years later. In 1999, he began his recording career at the singer's side for Lo's seminal albums, first with Jiguen and, two years on Dabakh.
This was just one of a list of collaborations Wade enjoyed over the decades. They read like a who's who from the worlds of jazz and crossover music: Joe Zawinul, Marcus Miller, Oumou Sangare, Bobby McFerrin, Youssou N'Dour, Cheick Tidiane Seck, Harold López-Nussa, Lokua Kanza, Blick Bassy, Fatoumata Diawara… the list goes on. His inspirations – Weather Report, Charlie Parker, Salif Keita, to name but a few – reflect musical choices he made. Many were distilled in explorations with the aptly named University of Gnawa, an 'institution' Alune co-founded with the mesmeric Aziz Sahmaoui, the virtuoso singer and sinter player, formerly of L'Orchestre National de Barbès, also makes an appearance in Sultan.
Alune Wade, bass, vocals
Bobby Spark, keyboards
Hugues Mayot, saxophone
Carlos Sarduy, trumpet
Cyril Atef, drums
Christian Sands, piano, Fender Rhodess
Cédric Duchemann, organ
Mustapha Sahbi, oud
Guests:
Lenny White, drums
Aziz Sahmaoui, vocals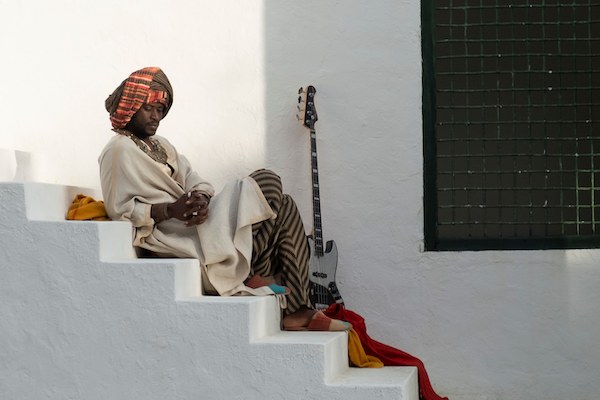 Alune Wade
The Senegalese singer and bass virtuoso, was asked by Marcus Miller to record on Miller's album 'Afrodeezia' from 2015 – then you know you're in for something special! Then again, the super talent had already been headhunted by Ismaël Lô at the age of 18, and then continued to perform and record with almost all the contemporary music legends one could think of: Salif Keita, Oumou Sangaré, Bobby McFerrin, Joe Zawinul, Fatoumata Diawara, Paco Sery, Wolfgang Muthspiel, Bela Fleck, Cheick Tidiane Seck, Deep Forest, Gregory Porter.. It seams obvious that Alune Wade is quite extraordinary, and it certainly shows with his latest solo album AFRICAN FAST FOOD released in 2018. A tasty, incredibly elegant & tight album, with utterly groovy bass lines, great melodies, warm sound with cool vocals & funky beats, hard to sit still to, it does inspire dancing with the coolest moves. A mix of Afro Beat and Afro Jazz it sounds as Urban as can be and includes some of the greatest musicians from Paris, New York, Havana and Dakar.
Alune was born on June 1978 in Dakar, Senegal. His father, the leader of a symphonic orchestra, taught Classical music to him. At 13 old Alune began to play bass with local bands in Dakar and made his first recordings at a friends studio at the age of 15. Three years later Wade made an audition for Ismaël Lô, one of the most prestigious musicians of the African continent. The young musician stayed with Lô for eight years. In 2006 Alune Wade released his debut solo album. MBOLO which means unity in Wolof combines his training in African rhythms with contemporary and modern jazz influences. In 2015 Wade released HAVANA-PARIS-DAKAR, an album that bridges Dakar and Paris as well as the birthplace of his featured and frequent collaborator Cuban pianist Harold López-Nussa. Alune Wade's versatile and deep-rooted touch on bass has established him as a virtuoso on the African Jazz scene. One of the masters to discover Wade's talent was the late Mr. Joe Zawinul, who invited him to be part of the legendary The Zawinul Syndicate. Since then Wade has been the bass player of versatile artists like Henri Dikongué, Paco Sery and Mokhtar Samba, to mention a few.

This album contains no booklet.