---
Album info
Album including Album cover Booklet (PDF)
I`m sorry!
Dear HIGHRESAUDIO Visitor,
due to territorial constraints and also different releases dates in each country you currently can`t purchase this album. We are updating our release dates twice a week. So, please feel free to check from time-to-time, if the album is available for your country.
We suggest, that you bookmark the album and use our Short List function.
Thank you for your understanding and patience.
Yours sincerely, HIGHRESAUDIO
1

Die ganze Welt ist himmelblau

02:49

2

After the Rain

03:53

3

Bei dir war es immer so schön

04:05

4

Happy Days Are Here Again

03:52

5

Das Lied ist aus: Frag' nicht warum ich gehe

03:42

6

Answer Me My Love

03:33

7

September Song

03:07

8

Sommer, See und Sonnenschein

03:16

9

It's Oh So Quiet

03:48

10

Der Wind hat mir ein Lied erzählt

04:18

11

Schlummerlied

03:56

12

Irgendwo auf der Welt

03:33

Total Runtime

43:52
Info for Berlin - New York

Die vierfache German Jazz Award-Preisträgerin und ECHO Jazz-Gewinnerin Lyambiko veröffentlicht Die vierfache German Jazz Award-Preisträgerin und ECHO Jazz-Gewinnerin Lyambiko veröffentlicht mit "Berlin – New York" ein so persönliches wie politisches Album. Zusammen mit dem Arrangeur Max Knoth (Ryuichi Sakamoto, Lou Reed, Danny Elfman, Alan Silvestri, David Newman, Matthew Herbert) und dem WDR Funkhausorchester, dirigiert von Frank Strobel, beleuchtet sie die vielfältigen globalen Verbindungen der Musikkultur in der "zerrissenen Zeit" der 1930er bis in die 1950er Jahre.
Nach zahllosen Auftritten, Tourneen und zehn erfolgreichen Alben bekommt Lyambiko ein Buch geschenkt: "Mach nicht so traurige Augen, weil du ein Negerlein bist". Es erzählt die Geschichte der Marie Nejar, Tochter farbiger Eltern, die im Dritten Reich unter Schikanen aufwuchs und in den 1950er Jahren unter dem Künstlernamen Leila Negra zum singenden Kinderstar in der jungen Bundesrepublik wurde. Lyambiko, selbst Tochter eines Tansaniers und einer Deutschen, findet in der Autobiografie Marie Nejars ihr lange vertraute Songs wieder, wie etwa "Answer Me My Love" (Gerhard Winkler – 1952), den sie schon unzählige Male aufgeführt hat. Das Buch über eine scheinbar ferne, turbulente Zeit, wirkt eigenartig aktuell und wird so zum Ausgangspunkt für eine musikalische wie persönliche Entdeckungsreise. Lyambiko stieß auf Tonfilmschlager, Radio-Hits und Musicals, einige davon verewigt im "Great American Songbook", die von amerikanischen und deutschen Komponisten in den 1920er bis 1950er Jahren geschrieben wurden. Wenngleich der Alltag von wirtschaftlichen Krisen, Kriegen und in Deutschland von einem Terrorregime geprägt war, gab es doch einen regen internationalen Austausch zwischen den Songwriter-Zirkeln in Berlin und Tin Pan Alley (New York City). Die Verbindung der europäischen und amerikanischen Unterhaltungskultur, wie sie in unzähligen Cover-Versionen populärer Songs dokumentiert ist – etwa der Comedian Harmonists –, gab es bereits seit den Anfängen der amerikanischen Musikindustrie um das Jahr 1900.
Die sorgsam von Lyambiko kuratierte, und von Max Knoth für das WDR Funkhausorchester adaptierte Liedsammlung "Berlin – New York" beleuchtet den popkulturellen Transfer zwischen Deutschland und den USA in den 30er, 40er und 50er Jahren. Songs wie "Der Wind hat mir ein Lied erzählt" (Lothar Brühne – 1937), "September Song" (Kurt Weill – 1938), "Irgendwo auf der Welt" (Werner Richard Heymann – 1932) oder "It's Oh So Quiet" (Hans Lang – 1948) zeigen die Widersprüche und Ambivalenzen dieser Jahrzehnte auf unvergessliche Weise.
Das Besondere dieser Lieder, von denen sich viele im "Great American Songbook" befinden, sind die eingängigen, meist optimistischen aber auch sentimentalen Melodien. Es sind Balladen, die, angereichert durch Elemente des Jazz, irischer Folkmusik oder mitteleuropäischer Operette, aus der großen Anzahl damaliger Lieder herausragen.
Lyambiko, Gesang
WDR Funkhausorchester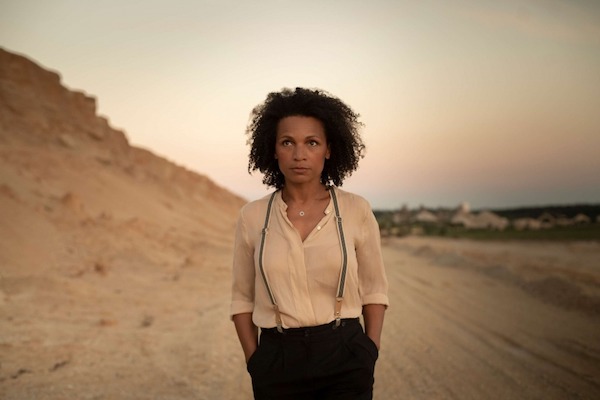 LYAMBIKO
wurde in Thüringen/Deutschland geboren und ist in einer musikalisch aktiven Familie aufgewachsen. In ihrer Kindheit genoss LYAMBIKO Unterricht in Saxophon, Klarinette und klassischem Gesang und spielte unter anderem in der Big Band der Musikschule als Tenorsaxophonistin. Mit 17 Jahren gründete die Sängerin ihre erste Band (Folk, Pop, Blues) und nahm als jüngste Teilnehmerin an einem Bandcontest teil, bei dem sie ihre erste Studioaufnahme gewann.
Nach einer längeren musikalischen Pause zog LYAMBIKO 1999 nach Berlin. Dort folgten erste Konzerte in den Jazzclubs der Stadt mit verschiedenen Besetzungen und ein regelmässiges Engagement "LYAMBIKO – Strange Fruit" im Duo mit Gitarre. Durch eine Empfehlung des Sängers Mark Murphy erhielt die Musikerin im April 2000 die Möglichkeit zu einem Auftritt im renommierten Club A-Trane.
Ab April 2001 lieh LYAMBIKO ihren Namen dem erfolgreichen Quartett, mit dem sie ihre Konzerttätigkeit auf Deutschland, später auch auf die europäischen Nachbarländer und die USA ausweitete. Der Boston Globe bezeichnete LYAMBIKO 2003 als die viel versprechendste Jazzsängerin seit langer, langer Zeit. Es erschienen bei Nagel/Heyer zwei viel beachtete CDs bevor das Quartett 2005 zu Sony BMG wechselte. Bereits diese ersten Alben hielten sich über mehrere Wochen in den Top Ten der Jazz Charts. Beim Major Label veröffentlichte LYAMBIKO mit "Lyambiko" eine Sammlung schmeichelnder Jazzstandards und mit "Love… And Then" eine zuckerfreie und zeitgenössische Reflexion über die Liebe (Berliner Zeitung). Beide Produktionen wurden vom Deutschen Phonoverband jeweils mit einem Jazz Award ausgezeichnet.
Bei Sony Music erschien im Februar 2007 die CD "Inner Sense", welche neben zwei Covers aus der Pop/Rockmusik nur Originalkompositionen beinhaltet und von der Presse durchgehend positiv als erfolgreicher Schritt zur musikalischen Eigenständigkeit bewertet wurde: So viel Charisma wie auf "Inner Sense" hat LYAMBIKO bislang noch nicht verströmt (Jazzthing).
Nach der Hommage an Nina Simone "Saffronia" (2008), welche erstmals auch in Frankreich grosses Interesse an der Künstlerin geweckt hat, erschien 2010 LYAMBIKOs Album "Something Like Reality" (Sony Music), für das ihr im Folgejahr der Echo Jazz in der Kategorie "Sängerin des Jahres national" verliehen wurde.
Wie nicht zuletzt ihre beiden jüngsten Alben "Lyambiko Sings Gershwin" (2012) und "Muse" (2015) gezeigt haben, liebt es die Sängerin, einen roten Faden durch die Songs ihrer Alben zu spinnen. Zum aktuellen Album "Love Letters" inspirierten Deutschlands erfolgreichste Jazzsängerin wiedergefundene Liebesbriefe aus der Familie. Das Ergebnis ist eine Mischung aus eigenen Songs mit Klassikern wie Close Your Eyes, Stardust oder Someday My Prince Will Come, die vor dem Hintergrund der Liebesbriefe eine ganz neue Geschichte erzählen. Mit großem Feingefühl werden die Oldtimer und neue Lieder zu einem stimmigen Ganzen verwebt, das ohne kalkulierte Vintage-Patina authentisch die altmodischste und doch zugleich aktuellste aller Empfindungen auf zwei verschiedenen Zeitebenen beschreibt.

Booklet for Berlin - New York