---
Album info
Album including Album cover Booklet (PDF)
Ludwig van Beethoven /1770 1827): Violin Sonata No.2 in A Major, Op. 12 No. 2:

1

Ludwig van Beethoven: Violin Sonata No.2 in A Major, Op. 12 No. 2: 1. Allegro vivace

06:49

2

Ludwig van Beethoven:Violin Sonata No.2 in A Major, Op. 12 No. 2: 2. Andante, Più tosto allegretto

05:30

3

Ludwig van Beethoven: Violin Sonata No.2 in A Major, Op. 12 No. 2: 3. Allegro piacevole

05:36

Violin Sonata No. 3 in E-Flat Major, Op. 12 No. 3:

4

Ludwig van Beethoven: Violin Sonata No. 3 in E-Flat Major, Op. 12 No. 3: 1. Allegro con brio

09:08

5

Ludwig van Beethoven: Violin Sonata No. 3 in E-Flat Major, Op. 12 No. 3: 2. Tema con variazioni: Andante con moto

06:08

6

Ludwig van Beethoven: Violin Sonata No. 3 in E-Flat Major, Op. 12 No. 3: 3. Rondo: Allegro

04:33

Violin Sonate No. 10 in G Major, Op. 96:

7

Ludwig van Beethoven: Violin Sonate No. 10 in G Major, Op. 96. 1 Allegro moderato

10:42

8

Ludwig van Beethoven: Violin Sonate No. 10 in G Major, Op. 96: 2. Adagio espressivo

05:55

9

Ludwig van Beethoven: Violin Sonate No. 10 in G Major, Op. 96: 3. Scherzo (Allegro)

02:08

10

Ludwig van Beethoven: Violin Sonate No. 10 in G Major, Op. 96: 4. Poco allegretto

08:38

Total Runtime

01:05:07
Info for Beethoven: The Complete Violin Sonatas, Volume. 1

This wonderful piece, Beethoven Sonata no.2, it is unknown when exactly this piece was composed. But as the result of Nottebohm's study on Beethoven's sketch note, it is assumed to be composed in 1795. The piece is still clearly inuenced by Mozart, but perhaps surprisingly, it is Beethoven's mood that is lighter. It lacks dynamics and articulations comparing to the other Beethoven sonatas. The first movement has a dierent character, more aable, witty and it ows with humour, fascinating interplay of violin and piano. The slow movement is based on a lyrical, melancholic theme. Each of its two parts is gently announced by the piano, then repeated by the violin. The Finale marks something of a return to the good-natured opening, Allegro piacevole denoting pleasure rather than re. It has a high-spirited rondo with frequent humourous touches. Among the three Sonatas in Op.12, it is possible to assume that Sonata no.2 has been composed first and this piece was dedicated to Antonio Salieri just as Sonata no.1.
Sonata for Violin and Piano no.3 in D major, Op.12 no.3
Beethoven Sonata No.3 features a sense of grandeur, power and majesty found in few other works of Beethoven's early years. The piano writing is often of near-heroic proportions, by far the most substantial in the first three sonatas. It might just as well have been channeled into a sonata for solo piano. It answers one each other and doesn't meet with violin accompaniment but so involved does the game of catch-up become in this delightfully playful movement, both instruments urging each other on to new deeds. The slow movement is the first Adagio in Beethoven's series, con molto espressione. It has very much the emotional core of the work and one of the nest slow movements in early Beethoven. The finale is energetic, joyous rondo with a catchy if hardly distinctive main theme. Frequent contrasts of dynamics and register are a constant feature of the movement. Beethoven's Sonata for violin No.1 through No.3 are included in Op.12. These three delicate pieces were composed in the same period between 1797 and 1789 when Beethoven was 27 to 28 years old.
Sonata for Violin and Piano no.10 in G major, Op.96
Beethoven composed his final violin sonata in 1812, nearly ten years after his second-to-last. It was written for the renowned French violinist Pierre Rode, who disliked overwrought virtuosity and gaudy endings and thus may have inuenced the calmness of this sonata. Gentle, musing atmosphere of Op. 96 is more probably an outgrowth of Beethoven's evolving inner life. We encounter a "kinder, gentler" Beethoven, passing from his heroic middle period into a more ruminative, profound late period. In this piece, pain and struggle recede and are replaced by an intimate, pastoral warmth, relatively lyrical, subdued work. The first movement begins with a rustling, feathery trill, establishing the pastoral tone of the sonata. Shimmering trills, symmetrical arpeggios and melodies, and seamless exchanges between piano and violin set this apart as one of Beethoven's most unique and fascinating violin sonata movements. The warm, hymn-like second movement, marked "slow and expressive," is one of Beethoven's most beautiful Adagios. A flowing, tranquil stream of melody is couched in rich harmonies. The peaceful movement concludes with a moment of suspended animation before diving into the more agitated third movement, Scherzo. Though distinguished by syncopated, end-of-the-bar accents, the music never becomes brusque. The Scherzo alternates with a graceful, waltzing Trio set over a bagpipe drone, again reinforcing the work's pastoral character. In the fourth movement, Beethoven finally settled on a genial, folk-like melody as the basis for an unconventional set of variations. Four increasingly active variations lead to a prolonged, expressive Adagio, somewhat reminiscent of the atmosphere of the second movement. The initial theme eventually returns, leading to a boisterous section that is interrupted by a quiet, mysterious canon before returning to the original theme.The listener is surprised by a short, final Adagio, after which the violin and piano regain their resolveto exciting and joyous conclusion.
Jiyoung Park, violin
Yoahn Kwon, piano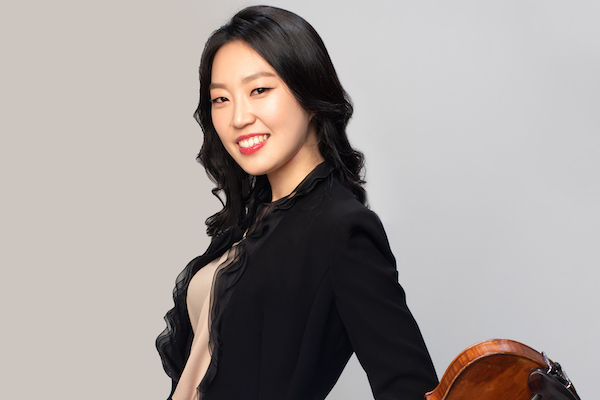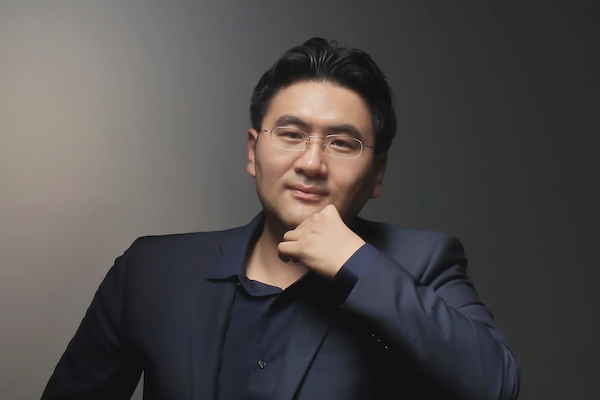 Jiyoung Park
A soloist underlining the existence of art in the process of making music, Violinist Jiyoung Park entered the Korea National University of Arts (KNUA) as a young talent musician at the age of 16 and obtained her Bachelor's Degree as a Violin performance and minor as Musicology in the Korean National University of Arts in Seoul, Korea. Following her studies at KNUA, she obtained her Soloist Diplomas at the 'Hochschule für Musik und Theater Hamburg' in Germany, and also earned a Certification as a Specialized Music Performance, the Diploma "En Interpretation Musicale Specialiseé avec orientation en Soliste" summa cum laude on admission and at graduation at the Haute Ecole de Musique de Lausanne (HEMU) in Switzerland.
She studied with violinist Pierre Amoyal, the one and only disciple who violin virtuoso Jascha Heifetz treasured, and violinist Kolja Blacher, former Concertmaster to the Berlin Philharmonic and soloist strongly confided in by maestro Claudio Abbado. Among her other teachers were violinists Anton Barovsky, Winfried Russman, and the renowned South Korean violin virtuoso, Nam Yun Kim.
Ms. Park started playing the violin at the age of seven in New Jersey, USA. By the time she had returned to Korea in 1991, she had already given several official concerts in South Korea. She was awarded the prize from the Competition for Young Musical Talent, and was presented as a young talented soloist on HCN. At the age of fifteen, she was designated as the leader (Concertmaster) of the Korea Chamber Orchestra while she was studying in the KNUA Pre-College Division Program for Young Artists in the Korean National University of Arts (KNUA).
Following her studies, she moved to Hamburg, Germany. She studied at the 'Hochschule für Musik und Theater Hamburg' with Kolja Blacher. During her studies in Hamburg, she has given concerts in Laeiszehalle, Mendelssohn Salle and given numerous chamber music ensemble concerts and house concerts.
After since she moved to Lausanne, Switzerland, Ms. Park performed at numerous festivals and ensemble recitals in Europe. She was a member of the Camerata de Lausanne directing by Pierre Amoyal, giving concerts in France, Russia, Singapore and Switzerland, etc.
As a member to various musical societies, she has been the guest member of the Sinfonietta de Lausanne and Ensemble de Musique Contemporaine de Conservatoire de Lausanne, Ateliers de Musique Conservatoire (AMC). Among her repertoires she has collaborated works with several contemporary composers which were German, Swiss, and Italian contemporary works of the 21st century.
During her studies in Switzerland, she was a finalist in the Jeunesses Musicales Romania, and a finalist in the International Lyceum Club of Switzerland Music Competition. Her unique talent and sensitivity drew critical acclaim from the local press. She also collaborated with the Orchestra Chamber de Lausanne (OCL), Ensemble de Musique Contemporaine de Conservatoire de Lausanne, Ateliers de Musique Conservatoire (AMC).
Ms. Park performed the complete sonatas for violin and piano works of Edvard Grieg, Johannes Brahms, Gabriel Fauré, Wolfgang Amadeus Mozart, Ludwig van Beethoven. Performing on stages at various venues, Ms. Park is as the Artistic Director of Ensemble de Rosemarie and teaching as a lecturer of violin in several Universities in Korea.
She had announced the album in August 2018 and her recent CD, The Complete Violin Sonatas of Beethoven, Volume. 1 was just released in June 2019.
Yoahn Kwon
a native of South Korea, has won extraordinary critical acclaim for his deep musicianship, sensitivity, and rare insight. Renowned critic Harris Goldsmith called him a 'versatile and interesting musician who keeps audiences' attention from beginning to end.'
Mr. Kwon started piano studies at the age of nine. He attended at the Pre-College Division of The Juilliard School. After graduating from the LaGuardia High School of Music and Arts, Mr. Kwon received his Bachelor's and Master's degree from the Mannes College of Music.
At Mannes, he studied piano with Diane Walsh, theory and analysis with Carl Schachter with a generous scholarship award from the Jerry Seinfeld Family Foundation. Furthermore, Mr. Kwon completed the Stages du Perfectionenment at France's L'Ecole Normale de Musiques de Paris, studying with Anne Queffelec for 4 consecutive years.
He studied and mentored by pianist Jacob Krichaf (who was a student of Claudio Arrau) in New York during his formative years. And later frequently taught by great pianists and Pedagogues such as Anton Kuerti, Jacques Rouvier, and John O'Conor at the Wilhelm Kempff's Positano Beethoven Master Kurs in Italy, Banff Centre and Orford Academy in Canada.
With the essential interpretation based on his unique touch and painstaking musical analysis, he is warmly welcomed by audiences and critics on important concert venues in the world. Recitals, concerto appearances and his chamber music performances with members of the New York Philharmonic, Metropolitan Opera, Chicago Symphony, and London Philharmonic Orchestra won critical acclaim. He has given complete performances of sonatas for piano and violin by Grieg, Faure, Brahms and Beethoven with violinist Jiyoung Park and has recorded several CDs for Audioguy, WFMT Chicago, and SONY Classical label.
Alongside his ongoing critically acclaimed concerts, Mr. Kwon's teaching is highly in demand by prospective students from East Asia. His recent private students successfully got accepted to many great conservatories and universities around the world such as Manhattan School of Music, Peabody Institute at John's Hopkins University, University of Southern California's Thornton School of Music, Ecole Normale de Music de Paris, HMDK Stuttgart, Hochschule für Musik Hanns Eisler Berlin.

Booklet for Beethoven: The Complete Violin Sonatas, Volume. 1