---
Album info
Album including Album cover
1

As A Button

05:12

2

Bass-ic' Instinct

07:05

3

Bass Up Front

04:53

4

Three-Quarter Bass

05:41

5

Bass-in' Street Blues

05:07

6

Base Mode

05:08

7

Base Time

04:06

8

Bassa-Nova

04:47

9

Bach To Bass

04:22

10

Bass For Brownie

06:07

11

First Bass

05:52

Total Runtime

58:20
Info for A Place for Bass - Chamber Jazz Duets

Greg Chako is a very skilled jazz guitarist and composer who performs music in his own individual voice with consistent creativity. But because he has spent long periods living overseas, he is not as well-known as his talents deserve. The release of his latest album, A Place For Bass – Chamber Jazz Duets should help improve the situation. The collaborations with bassist Mason Daugherty, which feature the duo operating as equals, is the latest accomplishment in his very productive career.
A Place For Bass originated when Greg Chako realized that "I've recorded duos with piano and voice but I've never written anything specifically for the bass. That was ironic because bass-guitar duos are the most common format for gigs. Because I'm less interested in virtuous guitar playing than in composing songs that are close to my heart, for this album I put the bass on top." The bass professor from the University of Cincinnati recommended Mason Daugherty and Greg knew within a couple of songs that the brilliant young bassist would be perfect for the project.
While there have been some notable guitar-bass recordings in the past, most notably by the teams of Jim Hall & Ron Carter and Joe Pass & Niels-Henning Orsted Pederson, A Place For Bass is quite a bit different due to the equal roles played by the two musicians (Daugherty is never just an accompanist) and Greg Chako's intricate arrangements and compositions. A Place For Bass has an impressive amount of variety including a jazz waltz, a major blues, a minor blues, some more contemporary-sounding songs, numbers inspired by Bach and Brazilian music, and a couple of contrafacts (originals utilizing the chord changes but not the melody of standards). It is also filled with unpredictable moments that add to the music's quiet excitement.
While Chako thinks of himself more as a composer than as a guitarist, both of his talents are very much in evidence throughout A Place For Bass, a subtle and quietly inventive work that grows in interest with each listen. (Scott Yanow, AMG)
"Greg set out to feature the bassist in more than an accompanying role with these compositions and it is really a seamless conversation between two great players. This is some beautiful music! (Dave Stryker, jazz guitarist)
"Masterful precision ... constantly lyrical and swinging ... Absolutely amazing! They've redefined playing together!" (Ron McClure, bassist)
Born and raised in Cincinnati, Greg played the accordion briefly before, after hearing Jimi Hendrix, he switched to the guitar when he was ten. He developed so quickly on his instrument that just a year later he won second place in a contest sponsored by the American Guild of Music, coming out ahead of over 1,000 other contestants.
"Early on I heard and liked Deep Purple, Led Zeppelin, Ritchie Blackmore, and Jimi Hendrix before exploring the classical rock of Yes and Genesis," remembers Greg. "While I had heard an Oscar Peterson record that my stepfather owned and it had an immediate appeal to me, it wasn't until I went to New York City and attended a summer-long guitar workshop that I became much more interested in jazz. That is when I first heard the jazz fusion of the Mahavishnu Orchestra and Return To Forever. I went backwards chronologically, discovering Wes Montgomery and Charlie Christian, and I studied bebop with pianist Dave Frank who was influenced in his teachings by Lennie Tristano."
Greg Chako attended the Berklee College of Music (making the Dean's list), was an important promoter and organizer of jazz events in Cincinnati and Amherst, Massachusetts, and gained experience as a working musician even while having day jobs as a cook in Amherst and as a successful real estate agent in New York City. He became a full-time musician during his periods in Hong Kong (1992-94), Singapore (1994-2003), and Tokyo (2004-2009) before moving back to the United States. "During my Singapore period, I worked every night and sometimes had as many as ten gigs a week, everything from playing solo classical guitar and leading a trio at the Raffles Hotel to being featured at a regular Sunday brunch with a seven-piece Latin group." Along the way the guitarist has played with such notables as Junior Cook, Bill Hardman, Victor Gaskin, Johnny Lytle, Bobby Watson, Herb Ellis, Jimmy Raney, Slide Hampton, Ray Copeland, Curtis Fuller and Richie Cole, and he produced a full-length documentary, An American Cat in the Lion City.
In addition, Greg Chako had led 12 albums before his recent project. "Integration, a double-CD that I made in Singapore, was the pinnacle of my time overseas. I was so happy at the time, playing every night with great musicians and incorporating my influences in my writing. That was my first major statement as a composer and arranger." Other highpoints in his recording career include Sudden Impact, Tokyo Live! (a 2008 concert with drummer Gene Jackson in a quartet), Paint A Picture, Tell A Story (which has Don Byron and Delfeayo Marsalis as guests), his solo guitar album My World On Six Strings, and a double-album called, Where We Find Ourselves, a tribute to his late-wife (who passed from cancer) featuring a tight, flowing three-horn sextet.
Greg Chako, guitar
Mason Daugherty, double bass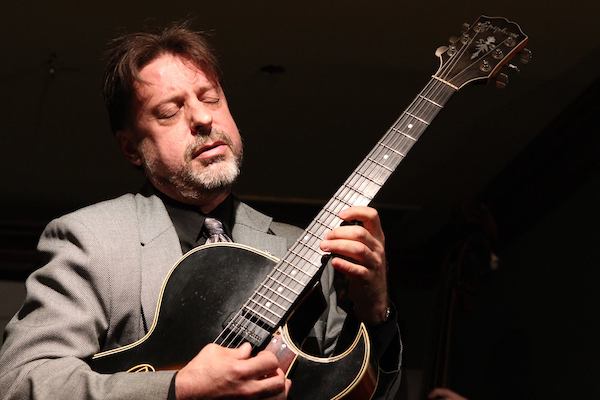 Greg Chako
In a pro career spanning 40 years and five countries, Cincinnati-born jazz guitarist Greg Chako has released ten albums and been the subject of a documentary called, "An American Cat in the Lion City." His most prolific period to-date as a recording and performance artist occurred while he lived in the Far East for 17 years, where he evolved into a masterful, expressive composer with rich story telling abilities. His varied arrangements and 50+ recorded original compositions merge Mainstream, Hard Bop, Latin & World instrumental music.
American Jazz guitarist Greg Chako was a major force in the Singapore jazz scene around the turn of the 21st Century. He led the 'House' Trio at Raffles' Bar & Billiard Room from 1995-2002.. He released four albums during that time: Live at Raffles, Sudden Impact, Integration & Integration II. He performed throughout the region. Notable shows included: Jazz in the Park, Chi-Jazz and Just Jazz Festivals, and the 2002 Heineken Jazz Festival in Kuala Lumpur.
After relocating to Japan in 2003, he visited Singapore frequently, recording three more albums at Lion Studios engineered by the late John Herbert. Those albums featured a wide variety of players from Singapore and were titled: Paint a Picture, Tell a Story, Where We Find Ourselves, and Everybody's Got a Name. It's clear that Chako's professional career got it's start in Singapore, and his return to the island after 20 years will be long awaited and much anticipated.
Three of the musicians participating on his records will be joining Greg for what could well be his final live performance in Singapore. They are: Christy Smith on bass, Mei Shuem on piano, and Greg Lyons on sax. Playing drums for this feature performance is a young titan of the modern Singapore scene, Ben Low.
The group will be playing songs from Greg's recorded works, including tracks from his newest 11th album, Friends, Old & New.
He can de-mystify complex musical concepts and facilitate students' mastery of all the skills and knowledge necessary for them to develop their own personal "voice," the ultimate goal of any artist or craftsman. He strives to teach you how to fish rather than merely feeding you a fish. As more than just one of his private students have said: "Greg has immense knowledge and knows how to simplify complex ideas into an easy-to understand language. His teaching style is down-to-earth."
He has invested significant time into developing interpersonal relationships that are based on mutual respect, with awareness, sensitivity and tolerance for our differences. He has a "teacher's heart," that is, an innate ability to build rapport with students and lead them towards their highest potential. And importantly, he's cognizant and grateful for the "two-way street" of communication which should exist between any student and teacher, as each collaborate on the learning process together. Nothing is more gratifying to him than to witness his students find their passion and exceed their initial expectations.
His formal education includes outstanding Doctor of Musical Arts (DMA) work at The Eastman School of Music, a Masters of Music (M.M.), and a Bachelors of Arts (B.A.) with an interdisciplinary focus on the Music Business and Performance.

This album contains no booklet.