---
Album info
Album including Album cover
I`m sorry!
Dear HIGHRESAUDIO Visitor,
due to territorial constraints and also different releases dates in each country you currently can`t purchase this album. We are updating our release dates twice a week. So, please feel free to check from time-to-time, if the album is available for your country.
We suggest, that you bookmark the album and use our Short List function.
Thank you for your understanding and patience.
Yours sincerely, HIGHRESAUDIO
1

Coffee

04:09

2

12/16/1992

00:18

3

Change Your Mind

02:57

4

Language

04:24

5

2 Places

03:01

6

8/28/1997

01:17

7

Kid I Used To Know

04:27

8

Pretty Fades

03:22

9

3/2/1991

00:55

10

Sorry Would Go A Long Way

03:11

11

Actress

02:57

12

The Lie

02:39

13

Until I Think Of You

02:37

14

3/26/1994

01:26

15

Your Words

03:37

16

Before The Dawn

03:39

Total Runtime

44:56
Info for Inspired by True Events

Two-time GRAMMY winner Tori Kelly will release her new album, Inspired By True Events, on August 9th on Capitol/School Boy Records.
After making her radiant debut with 2015's Unbreakable Smile, Tori Kelly found herself lavished with acclaim, including a Grammy Award nomination for Best New Artist. But in the years following the album's release, the L.A.-based singer/songwriter faced tremendous upheaval in her personal life. From her parents' sudden separation, a tumultuous engagement met with much disapproval, and the death of her beloved grandfather, it all led Kelly back into the studio to craft her bravest and most bracingly candid work to date.
Kelly's third full-length, Inspired By True Events marks a striking departure from the bright and breezy pop of Unbreakable Smile (an album made partly in collaboration with legendary hitmaker Max Martin). Like her 2018 passion project Hiding Place—winner of the 2019 Grammy Award for Best Gospel Album, with hit single "Never Alone" named Best Gospel Performance/Song—the album keeps closely centered on her warm yet powerful vocal presence and extraordinary range. But this time around, Kelly brings even greater depth to her songwriting, proving her profound generosity as an artist and capturing her recent heartache in exquisite detail.
"At first I was worried about whether people would want to hear these kinds of stories from me, but then I got to the point where I didn't let that hold me back—I just had to write about what was really going on in my life," says Kelly. "The hope was that by getting this vulnerable, it would help people to really connect with the songs."
Mainly co-written and co-produced with Jimmy Napes—an Oscar- and Grammy Award-winner known for his work with Sam Smith, Alicia Keys, and Mary J. Blige—Inspired By True Events unfolds in a gracefully minimalist yet impossibly rich sound rooted in live instrumentation. On opening track "Coffee," for instance, delicate guitar tones form the backdrop to one of the album's most lighthearted offerings: a playfully poetic love song inspired by Kelly's experience in long-distance dating, back when her now-husband was playing professional basketball in Germany.
"Our relationship was long-distance for a while and it was really hard at times," says Kelly, who met her husband in 2015 after first connecting with him through family friends. "That song came from missing him so much and just wanting to be near him. I had this silly thought about how his morning cup of coffee got to see him more than I did, and the whole song was built off that idea."
On lead single "Change Your Mind," Kelly delves into the more turbulent side of her journey toward marriage, her voice shifting from tender to soaring to stunningly gritty as she poignantly pleads her case to her father. "My parents weren't too thrilled about the engagement," Kelly explains. "Though arguable, I think the main issue was that they weren't ready to let their daughter go. On top of that, my husband had just had a career-ending injury, so it was a challenging season in his life. Even though I was completely heartbroken over their disapproval, I knew it was the right time for us. I needed to grow up and make my own decisions."
Another song inspired by her parents, "Sorry Would Go a Long Way" provides the most painfully charged moment on Inspired By True Events. With its stark acoustic guitar work, the tearful and timeless ballad finds Kelly's vocals turning heartbreakingly fragile as she assumes her mother's point-of-view. "That song is about my dad leaving my mom, which happened a year before I got engaged," says Kelly. "When I wrote it, it felt like I was processing all these emotions I'd been holding in for a long time, and it all just sort of poured out of me. Even to this day, it's still hard for me to sing that one."
An album deeply informed by Kelly's love for her family, Inspired By True Events also features songs like "Your Words": a beautifully hushed ode to her grandfather, adorned with glorious gospel harmonies and lovingly detailed lyrics. "One of my last memories of him is sitting down and asking him about his life and what it was like for him growing up," says Kelly. In a way she never could have anticipated, that simple question opened up a life story full of adventures and steeped in wisdom from her Jamaican-born grandfather—stories she gets to retell now that he's gone. "When I play that song at shows I always encourage the audience to get stories from the older people in their lives," says Kelly. "You'd be surprised at all the wisdom you can gain, and perhaps even more surprised at how fleeting these opportunities are."
Elsewhere on Inspired By True Events, Kelly confesses to everything from her bittersweet longing for the simplicity of childhood (on the lush and luminous "Kid I Used to Know") to her undeniable need for alone time (on the electric-guitar-fueled "Minute to Myself," co-written with Brit Award-winning singer/songwriter James Bay). As Kelly points out, that intense emotional exploration ultimately gave the album its title. "The first time I listened to the record all the way through, it felt like I was watching a movie of someone else's life," she notes. To augment that cinematic quality, Kelly laced the album with interludes crafted from old home movies, including a clip of her father declaring his love for his then-two-day-old daughter. "I grabbed a bunch of old home videos from my mom and spent days watching them," she says. "By the end my eyes were flooded with tears, but I think it made the album come together in a special way."
Though the emotional outpouring on Inspired By True Events feels entirely uninhibited, it took some convincing for Kelly to embrace that level of transparency. After spending over a year in co-writing sessions, she teamed up with Jimmy Napes in September 2017 and felt an instant kinship, quickly flying to London to continue working with him. "The first song we did in London was 'Change Your Mind,'" Kelly recalls. "As we were writing it, there was a line where I felt like I was getting too honest and personal. Jimmy just stopped me and said: 'If it feels uncomfortable, that's when you know you need to say it.' After that, everything flowed so naturally that we ended up doing most of the album together." In fall 2018, Kelly made another leap into the unknown by testing out a number of tracks from Inspired By True Events while touring North America on an intimate run called The Acoustic Sessions. Almost immediately, she received unmistakable confirmation that she had made the right choice by boldly baring her soul. "The scariest part about putting so much of myself out there is this little fear in the back of my head, telling me that no one is going to understand," says Kelly. "Playing these songs live was a reminder that everyone goes through these sorts of things, and we all need to know that we're not alone. If I were to put out an album that didn't talk about these personal stories, I would just be faking it and hiding from the truth. It turns out that the uncomfortable place was the most honest and true. It was right where I needed to be, and from there I could tell my story."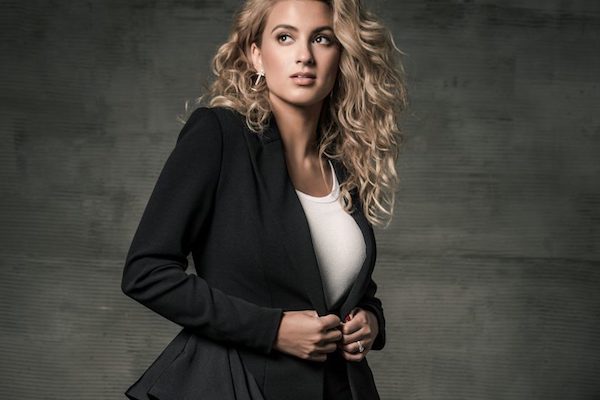 Tori Kelly
On her new album Hiding Place, L.A.-based singer/songwriter Tori Kelly honors her deepest musical passion and delivers an R&B-infused, infectiously melodic take on classic gospel. The follow-up to her full-length debut Unbreakable Smile—a 2015 release that premiered at #2 on the Billboard 200—Hiding Place finds the co-star of the 2016 feature film Sing teaming up with 12-time Grammy Award-winning gospel legend Kirk Franklin. With a lush yet simply adorned sound beautifully suited to Kelly's incomparable voice, the Franklin-produced album includes such standouts as the slow-burning, harmony-infused lead single "Help Us to Love" and the powerfully radiant, full-choir-driven "Soul's Anthem."
As she embraces gospel's boundless intensity and pushes her vocal performance like never before, Hiding Place offers up what Franklin refers to as "hope-pop"—a classification that fully resonates with Kelly. "One of the things I want for this album is for people to feel uplifted and encouraged when they listen," says the 2016 Grammy Award nominee for Best New Artist, who's now at work on her next pop album. "I want them to know that, no matter what they're going through, there's a God who loves them so much and so unconditionally, and there's always a reason to feel hope. That's what I really believe in, and I want everyone out there to hear my heart."

This album contains no booklet.