---
Album info
Album including Album cover Booklet (PDF)
1

Autumn Leaves, Lady Bird, Doxy, Days Of Wine And Roses

21:09

2

Turnaround, There Will Never Be Another You, Blue In Green

19:32

Total Runtime

40:41
Info for Bebop Sketches

"Bebop Sketches" is a project that started off in February 2021, a few days before the release and concert premiere of the 2020 album "Five Birds and Strings" (Axel Fischbacher Quartet & Kammerphilharmonie Wuppertal). As Fischbacher felt the need to depressurize and calm down from the oder hurly-burly of the strings venture, he decided to go into retreat and took his trio to Tim Dudek´s studio for two days and "Bebop Sketches" was recorded.
The studio session started off as "jamming" plus simultaneous recording without worrying about purpose or concept. But it is exactly this lightness with focus on music, without the pressure of having to deliver anything, created something very special. The joy and liveliness of the two studio days is audible in every bar of the recording.
The resulting album includes improvisations based on often very well-known jazz standards, which can definitely be called "the standards of standards". Some of the fantastic/awesome compositions that for one thing also "non-jazz people" are familiar with, then again they certainly leave an imprint on every jazz musician´s life.
These standards are a repertoire that Fischbacher and his band have known for decades, hence making it possible not so much to "play the songs" but to "play with them". Very little arranging and reviewing was done.
The album elegantly maps their own sound and approach to standard jazz. There are pieces and passages that reflect very abstract and sketchy playing, others are close to the original and some are really "old fashioned". But it always sounds like the Axel Fischbacher Trio.
Starting off from the gut, played in great ease and with focused musicality, something marvelous has been achieved. Just like legendary Dizzy Gillespie said: "As a musician you have to keep one foot back in the past and have one foot forward into the future!".
Axel Fischbacher, guitar
Nico Brandenburg, double bass
Tim Dudek, drums
Please note: the artist decided not not sell individual tracks. The source are the original files to cut the LP. Hence you'll receive side A and side B of the LP version.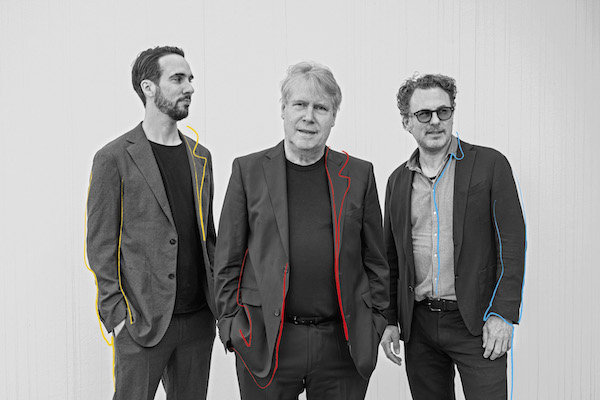 Axel Fischbacher
Jazz guitarist Axel Fischbacher, born in Lübeck in 1956, has long been one of the top soloists on the European scene. At the beginning of his career, he was often employed as a sideman for various rock and pop artists, but he quickly turned exclusively to jazz - Fischbacher masters all varieties of this genre from bebop to jazz rock to blues and combines them into his very own characteristic sound.
He has played numerous tours in Europe, Canada and the USA and performs at most of the renowned jazz festivals. He has released eleven albums as a bandleader (current project: "Bebop Sketches", Axel Fischbacher Trio), contributed to over 50 recordings and played with contemporary jazz greats such as Danny Gottlieb, Mark Egan, Adam Nussbaum, Ohad Talmor, Marc Johnson, Michael Urbaniak, Joe Haider, Barney Willen, Steve Grossman, Curt Cress, Stu Goldberg, Hermeto Pascoal and Ronnie Burrage.
In addition to focusing on his quintet and trio as well as many concerts and projects with renowned colleagues, Axel Fischbacher is also the initiator and artistic director of the concert series "Blue Monday" and "Jazz in der Klinik im Park" (Hilden), the "Jazzattack" (Krefeld), as well as a lecturer at the Jazzworkshop Lübeck.
Education:
guitar player as autodidact from 1973
high school diploma 1977, Theodor-Heuss-Gymnasium Ratingen
classical guitar studies 1978 - 79, Robert Schumann University Düsseldorf
studies of music and history as teaching subjects for secondary education 1979 - 80, Pädagogische
Hochschule Neuss:
Jazz guitar studies 1981, Cologne University of Music and Dance
Jazz guitar studies, Banff Center of Arts / Canada 1986
occasional private tuition by John Abercrombie and John Scofield, 1983 to 1986
Engagements:
1977 - 78 entertainment music "Las dos Palomas" Torremolinos Spain
1981 - 83 guitarist and composer at the Staatstheater Kassel, Germany
1987 - 88 guitarist and musical director at the Düsseldorfer Schauspielhaus
1989 - 90 guitarist at the Basel Theater
1993 - 94 guitarist and musical director at the Theater in der Josephsstadt/Vienna
Teaching activity:
1990 - 92 Jazz & Rock School Freiburg,
1993 - 99 Swiss Jazz School Bern,
2009 - 18 Guitar / Jazz theory and musical director at the Hilden Jazzworkshops (Summerjazz / Crossover
Bandmeeting / Vocaljazz / Guitar Meeting)
Concert / Tour / Recording activity:
1981 - 83 Señora / Newsic / Elrond's House
1983 - 87 Christoph Spendel Group
1993 - 2002 Daniel Küffer Quartet
1997 - 2013 Marcus Hueltz, Jazzscience and Friends
2004 - 2009 Jörg Kaufmann Quartett
1983 - today Axel Fischbacher Group (Trio, Quartet, Quintet, plus Horns, plus Strings)
Concert series as Musical Director:
1997 - today Jazzattack, Krefeld
2005 - today Blue Monday, Hilden
2010 - today Jazz in the clinic in the park, Hilden
Awards:
1983 Preis der Deutschen Phono Akademie (German Phono Academy Award) / Axel Fischbacher Trio
1987 WDR Stadtmusik Preis (WDR City Music Award) / Axel Fischbacher Quintet
1987 Preis der Deutscshen Schallplattenkritik (Prize of the German Record Critics) for Norbert Gottschalk "Light Weight Sight" as producer
1994 Prize of the Lugano Film Festival for the music of the film "Gänsehaut".
TV music:
1988/90 title track and scenic music for the TV series "Sekt oder Selters".
1991/92 title track and scenic music for the TV series "Tisch und Bett"

Booklet for Bebop Sketches