---
Album info
Album including Album cover
1

Scream

08:20

2

Lying Stone

03:45

3

Guilty as Charged

04:20

4

Flying Home

05:13

5

L.E.A.

07:06

6

Young Girls Dream

03:24

7

Kids of Glue

04:02

8

Million Dollar Smile

07:15

9

Awkward World

03:56

Total Runtime

47:21
Info for The Portrait of a Pregnant Bumblebee

"This music is a painting of life, a vision of the world, a scream transcending the sounds of the universe." So describes the Croatian drummer, composer and bandleader Lada Obradović her new project.
"The Portrait Of A Pregnant Bumblebee" explores the eclectic boundaries of truth, lies, pain, happiness, inspiration, weakness, and a multitude of other human emotions encapsulated in one word: music. Human sentiments take on different forms and are not only expressed through different mediums but they are also transcribed through different interpretations. Although one can find the complexities of human cognition and varying instinctive states of minds in each individual, the authenticity of emotions can only be captured and expressed through a single value: honesty.
"I began to collect the pieces of the project long ago. By obtaining traces of separate motifs which appeared as a frame of the same idea, repeating itself again and again over time, I realized that they gave a clear direction to my way of looking at the socio-problematic aspect of our society. After remembering, collecting, and finally writing down all of the small particles that were proclaiming the same messages it became apparent the project had gestated enough and could begin making its roots". "THE PORTRAIT OF A PREGNANT BUMBLEBEE" could thus be compared to a "musical pregnancy". Nine pieces like nine months of pregnancy. As a result, an exciting musical journey through this long way expecting to give birth.
On the first composition, "Scream", the concept focuses on the diverse notion of human appearance and the senses that challenge our beliefs of perfection, imperfection, and the visuals that make us feel most alive. "Lying stone" aims to relate to the familiar and recurrent feeling of being trapped in a directionless relationship; that is blinded and manipulated by a cold passion that leaves us as disappointingly alone as when it found us. "Kids of Glue", the third piece, is dedicated to children who live in hunger and poverty; to the children who belong to no parent beyond the streets. "Young Girls Dream" is the most "damaged" piece of the album. Inundated with mental turbulences, unexpected changes, and dissociated parts. This composition personifies the young girls who face self-destructive illnesses that diminish their self-esteem; the ones who lose sight of the meaning of life and an unredeemable loss. The fourth piece "Guilty As Charged?" was conceived through a recent experience where Lada Obradović was subject to a prejudice that left her feeling confined and imprisoned. "I was awoken by an aggressive thought pounding itself throughout my mind as I jolted into a state of weakness; in my wake, I surrendered and mouthed the words, "I am not guilty". I spiraled into a whirlwind of destructive thoughts, volatile and contrasting judgments, and a discomfiture that my inner thoughts could cause me to question of who I really am." Although "L.E.A" is one of the more recent compositions, fragments of its melodies date back to the days of childhood youth. "Flying Home" is the transience and the exhaustion from moving between different countries frequently, what causes one to feel lost in translation. "Awkward World" denotes the concept of bureaucracy. "I started to see the fabricated chaos that we are forced to live in. When the bureaucracy that governs us causes people to develop unwarranted pride, aggressive prejudices, and contempt towards all that is different, foreign, and unknown then we must ask ourselves – how do we survive in this awkward world?" wondered Lada Obradović. "Million Dollar Smile" is designed through the imagery of heartbreak. The piece is constructed with an interrupted style of writing phrases – one that conveys the struggle that stems from each step one takes in searching for a better life. The piece was originally titled "Immigrant Song" until it literally faded into the unassailable "Million Dollar Smile".
Lada Obradović, drums, percussion
Maxime Berton, tenor/ soprano saxophones
Matthias Legner, vibraphone, marimba
David Tixier, piano
Miha Koren, double bass, electric bass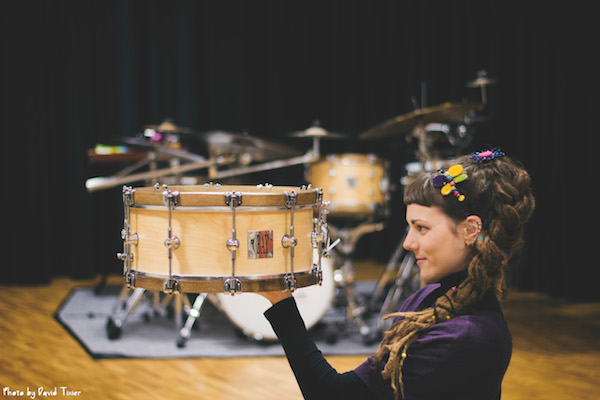 Lada Obradović
is a Croatian jazz drummer, composer, arranger, band leader and sideman. Falling in love on first sight with the instrument, she immediately started the preparations of entrance exam for Jazz studies, with her first drum teachers Branimir Njikoš and Robert Jambrušić, at "Pop – Rock Academy" in Zagreb, Croatia. She finished school in couple of years which proceeded passing entrance exam at Jazz University in Graz, Austria (Kunstuniversität Graz) for four years Bachelor Jazz Drums Performance program in class of Howard Curtis, in 2010. Within this four years journey, she had the opportunity to meet, work or perform with some great jazz names as Billy Hart, Jeff Ballard, Bill Stewart, Jimmy Cobb, Don Menza, Fay Claassen, Carla Bley, Steve Swallow, Joe LaBarbera… After finishing her bachelor in Graz, she moved to Bern where she is finishing the master performance jazz studies at University of Bern in Switzerland. Lada is an artist of the American company "TRX Cymbals" (Turkish Hand Made Cymbals) and the British Company "Bay Custom Drums" (British Hand Made Drums). She leads two projects, which are the "Lada Obradovic Project", and the "Obradovic-Tixier Duo", and is a sideman of "David Tixier Trio". In December 2017 she recorded a first album of her "Lada Obradovic Project" under the production of Radio and television Swiss. With three projects she tours and performs frequently around the world and participates in finals of many International Competitions.
Lada Obradovic Project: The first live performance happened 2016 at the festival "Les Créatives" in Versoix, Switzerland. The band performed in Grenoble, Lyon, London and as headliners on the Greek festival "Syros Jazz festival" and were sponsored by Onassis Cultural Centre-Athens. In May 2017 they were taken in the finals of Swiss competition "ZKB Jazzpreis" and performed in Moods, in Zurich. Meanwhile they were in finals of two international online American competitions "Made In New York Competition" and "Hit Like A Girl". In December 2017 they recorded an album under the production of Swiss Radio and Television, with the generous help of "Fondation ABPI" and "Die Mobiliar". The album is edited, mixed and mastered by drummer Ziv Ravitz. 2018 they performed at Fondation ABP and Gambrinus Jazz Plus, and are preparing to perform in St Gallen and at the Musiu Jazz Club in Delémont, Switzerland.

This album contains no booklet.