---
Album info
Album including Album cover Booklet (PDF)
Niccolò Paganini (1782 - 1840): Quartet No. 15 in A Minor, MS 42:

1

Paganini: Quartet No. 15 in A Minor, MS 42: I. Maestoso

10:18

2

Paganini: Quartet No. 15 in A Minor, MS 42: II. Minuetto a canone. Andantino

02:44

3

Paganini: Quartet No. 15 in A Minor, MS 42: III. Recitativo

01:48

4

Paganini: Quartet No. 15 in A Minor, MS 42: IV. Adagio cantabile

03:35

5

Paganini: Quartet No. 15 in A Minor, MS 42: V. Rondo. Allegretto

02:58

Quartet No. 14 in A Major, MS 41:

6

Paganini: Quartet No. 14 in A Major, MS 41: I. Allegro maestoso

08:07

7

Paganini: Quartet No. 14 in A Major, MS 41: II. Minuetto scherzo. Allegretto

02:02

8

Paganini: Quartet No. 14 in A Major, MS 41: III. Largo con sentimento

05:50

9

Paganini: Quartet No. 14 in A Major, MS 41: IV. Finale. Allegro vivace

03:28

Quartet No. 7 in E Major, MS 34:

10

Paganini: Quartet No. 7 in E Major, MS 34: I. Allegro moderato

08:26

11

Paganini: Quartet No. 7 in E Major, MS 34: II. Minuetto. Allegretto

05:13

12

Paganini: Quartet No. 7 in E Major, MS 34: III. Adagio cantabile. Sostenuto con passione

05:44

13

Paganini: Quartet No. 7 in E Major, MS 34: IV. Rondo. Vivace

06:38

Total Runtime

01:06:51
Info for Paganini: Quartets for Strings & Guitar Nos. 7, 14 & 15

Niccolò Paganini's Quartets for Strings and Guitar offer some of the best examples of his inexhaustible creativity, including ideas and themes that were later included in his more famous concertos. The Seventh Quartet combines mastery of form with endless melodic inventiveness, while the Fourteenth is more virtuosic, allowing its dedicatee to shine as a violinist with splendid effectiveness. The dark colour of the viola gives unique timbre to the Fifteenth Quartet which, with its moments of operatic expressiveness, is outstanding in Paganini's chamber music output. Volume 1 of this edition (CDS7912) was considered "first-rate" in every regard by the American Record Guide.
Paganini Ensemble Vienna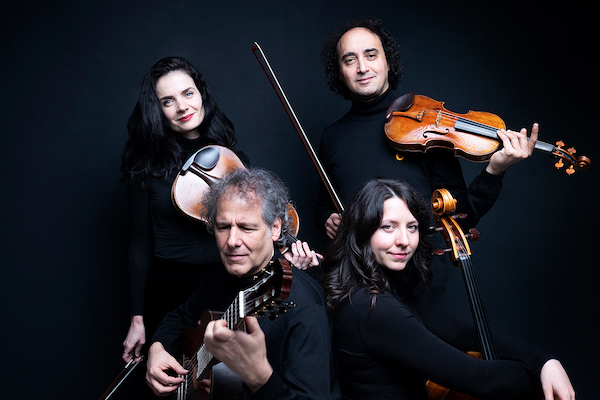 Paganini Ensemble Vienna
The name Niccolo Paganini is inextricably combined with the concepts of extraordinary virtuosity and intensity of the violin. And he was a man of such legendary stage presence that ladies of the audience would regularly faint during his performances. It is no wonder that the concept of the 'Devil's Violinist' comes to mind in connection with Paganini. Yet Paganini was far more than this – not only was his command of the guitar equal to his command of the violin, he also composed a body of extensive and extraordinary chamber music: 250 compositions in various instrumental combinations, i.e. solos, duets, and trios, as well as the quartets for violin, guitar, viola, and violoncello. He presented his compositions for violin and orchestra to larger audiences, while composing for the violin both solos and quartets with guitar, which were played in private concerts.
Other musicians and composers knew of Paganini's compositions, and even the great Rossini – himself composer of numerous operas – once sighed with relief and said it was a stroke of luck for Italian composers that Paganini did not compose operas, for with his talent, he would outshine all other composers.
The "Paganini Ensemble Vienna" is committed to these rarely played (chamber music) compositions. Indeed, Paganini's chamber music is exceptionally demanding of the musicians who interpret it. These are not pieces composed for a soloist and accompanists - to the contrary, they demand a maximum of every instrument, be it the violin, guitar, viola, or violoncello.
The "Paganini Ensemble Vienna" has set its goal high in presenting this rarely played programme which offers unique insight into Paganini's extensive oeuvre for the violin, guitar, viola, and violoncello. These works offer not only technical virtuosity and moments of tremendous passion, but also passages expressing great tenderness, suffering, and joy. Indeed, these emotional elements are essential to understanding the music of Nicolo Paganini, who once said "We must strongly feel to make others feel".

Booklet for Paganini: Quartets for Strings & Guitar Nos. 7, 14 & 15