---
Album info
Album including Album cover
Wolfgang Amadeus Mozart (1756 - 1791):

1

Rondo "Alla Turca" (From Piano Sonata No. 11, K.331) (Arr. Andrew Markel)

03:02

Leonard Bernstein (1918 - 1990):

2

Somewhere (From West Side Story)

03:09

Grigoras Dinicu (1889 - 1949):

3

Hora Staccato (Arr. Andrew Markel)

01:49

Giacomo Puccini (1858 - 1924):

4

Che gelida Manina (From La Bohème, SC 67) (Arr. Nicola Ferro)

05:14

Gilles Rocha (b. 1988):

5

Fly or Die

06:10

Nino Rota (1911 - 1979):

6

Parla più Piano (From The Godfather)

03:46

Ricardo Mollá:

7

Fantasia Concertante

11:38

Fritz Kreisler (1875 - 1962):

8

Liebesfreud

03:34

Richard Peaslee (1930 - 2016):

9

I. Up (From Arrows of Time)

04:05

10

II. Slow-Freely (From Arrows of Time)

06:34

11

III. Fast (From Arrows of Time)

02:28

Manuel de Falla (1876 - 1946):

12

Nana (Arr. Andrew Markel)

03:00

Total Runtime

54:29
Info for Sapphire

The chamber combination of trombone and piano is unusual and charming. On "Sapphire", Peter Steiner and his pianist partner Constanze Hochwartner give an insight into how this combination can work, thereby exploding the myth of commonly-held preconceptions about what the trombone is capable of. It is not just the instrument that shall sound on the Day of Judgment; it can sing tenderly and sweetly, producing a myriad of timbres that sparkle like a sapphire.
With his trombone, the solo instrument that is rarely featured in the field of classical music, Peter Steiner is at home all over the world. After studying at the Mozarteum and the Juilliard School in New York, the young Austrian not only won three solo instrument competitions staged by the International Trombone Association ITA as the first trombonist ever to achieve the feat; he went on tour round the world, from Brazil via the USA to Japan. In 2017 he got to know the young pianist and organist Constanze Hochwartner, with whom he recorded the album Sapphire in Columbus/Georgia, USA.
The programme of the album combines arrangements of works by Mozart and Puccini with melodies by Bernstein and complements contemporary trombone literature with film music from the movie "The Godfather". Peter Steiner wishes to illustrate how versatile his instrument is, and the sounds he produces are indeed astounding. Soft sounds that range through all the registers alternate with catchy and powerfully mesmerising musical concepts.
Peter Steiner, trombone
Constanze Hochwartner, piano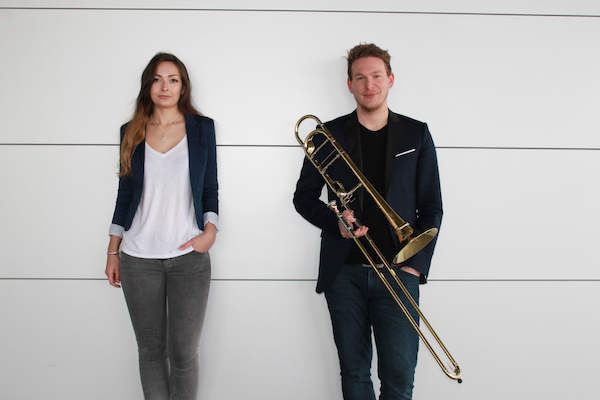 Peter Steiner
Italian trombonist Peter Steiner's playing has been described as "beautifully controlled with a vocal sound" and he is recognized around the world as "a new trombone star within his generation", "playing with total control".
At the age of 23, Peter Steiner was appointed Trombonist of the Vienna State Opera and Vienna Philharmonic for the 2016-2017 season. Prior to that engagement he served as Principal Trombonist with the Colorado Symphony for the 2014-2015 season. He has performed as guest trombonist with the Munich Philharmonic, Staatskapelle Dresden, New York Philharmonic, Dallas Symphony Orchestra, Seattle Symphony Orchestra and BBC Scottish Symphony Orchestra.
His 2018-2019 season involves extensive international travel and features over 100 performances, including a 3-month World Tour of the United States, Europe, Asia and South America with Constanze Hochwartner (piano/organ) as Duo Steiner-Hochwartner, as well as solo concerts with orchestras around the globe. Other highlights for this season include a 4-week tour in United States (February 2019), a CD release tour throughout Austria and Japan, and solo appearances at the Lille (France) Trombone Festival and International Trombone Festival (Indiana, USA).
Mr. Steiner has soloed with numerous ensembles around the world including the Orquestra Sinfõnica Brasileira in Rio de Janeiro and he has had the privilege of performing the world premiers of Eric Ewazen's Visions of Light (Chamber Orchestra Version) and Gilles Rocha's Fly or Die with Brass Band accompaniment. He has been featured in solo recitals during the 2016 and 2017 International Trombone Festival and the 2018 Wartburg Festival (Eisenach, Germany). He can be heard on his debut album, UNITED, which was released in January 2017 under the HELLOSTAGE Label, in collaboration with Hsiao-Ling Lin (piano) and Silver Ainomäe (cello). His second album, Sapphire will be released in 2019 in collaboration with Constanze Hochwartner (piano).
Mr. Steiner began his studies at the Music Conservatory in his hometown of Bolzano, Italy before continuing his study at The Mozarteum of Salzburg (Austria). In 2016 he graduated from The Juilliard School in New York City with a Performance Diploma. His major teachers and influences include Joseph Alessi, Warren Deck, Nitzan Haroz, and Dany Bonvin.

This album contains no booklet.