---
Album info
Album including Album cover Booklet (PDF)
Traditional, Suzzie Vango

1

Don oíche úd i mBeithil (Arr. S. Vango)

03:29

Traditional, Philip Lawson

2

Maria durch ein Dornwald ging (Arr. P. Lawson)

03:32

Traditional

3

Nowell, Tidings True There Be Come New

02:13

Traditional, Winnie Brückner

4

O Jesulein zart (Arr. W. Brückner)

04:00

John Tavener

5

A Nativity

02:28

Peter J. Wilhousky, Leontovych Mykola, Elizabeth Drury

6

Hark How the Bells (Adap. P.J. Wilhousky & Arr. E. Drury)

02:19

Traditional, Suzzie Vango

7

Balulalow (Arr. S. Vango)

04:46

Jim Clements

8

River (Arr. J. Clements)

05:49

Clytus Gottwald, Maurice Ravel

9

L'enfant et les sortilèges, M. 71: Toi, le cœur de la rose (Arr. C. Gottwald)

02:38

Traditional

10

Angelus ad Virginem

04:14

Anonymous

11

Sancta Mater Graciae (Dou way Robin)

03:53

Traditional, Suzzie Vango

12

Gaudete (Arr. S. Vango)

02:39

Traditional, Diarmaid Ó Muirithe

13

The Darkest Midnight (Arr. D.Ó. Muirithe)

02:45

Oliver Tarney

14

The Waiting Sky (Arr. for Women's Vocal Ensemble)

03:20

Traditional, Tone Krohn

15

Det lisle bånet (Arr. T. Krohn)

04:16

Traditional, Matthew Culloton

16

In dulci Jubilo (Arr. M. Culloton)

02:59

Michael Praetorius, Sarah Tenant-Flowers

17

Es ist ein Ros entsprungen (Arr. S. Tenant-Flowers)

02:42

Don Macdonald

18

When the Earth Stands Still

03:11

19

Fusion

03:08

Total Runtime

01:04:21
Info for The Darkest Midnight

Sparkling female vocalists Papagena present The Darkest Midnight, a programme of Celtic Medieval and Contemporary carols, with seasonal songs and refreshments: The all-female vocal ensemble Papagena makes its debut on SOMM Recordings with The Darkest Midnight, a sublime collection of songs for winter from the Middle Ages to the modern era embracing the secular and the sacred. Described as a stunning addition to the vocal music scene and la crème de la crème in the crowded a cappella space, Papagenas three sopranos (Elizabeth Drury, Abbi Temple, Suzie Vango) and two altos (Suzzie Purkis, Sarah Tenant-Flowers) look certain to add to their fast-growing reputation with this beautifully sung compendium. Casting a dark glamour all of its own, the bleakness of winter has prompted some of the most bewitching, brittle and bright songs. Alongside traditional Christmas anthems can be found legendary singer-songwriter Joni Mitchells The River in an achingly melancholic arrangement and American composer Don Macdonald, whose When the Earth Stands Still is movingly poignant and still, twilit and shining. Celebratory songs marking the Christmas season the exuberant In dulci Jubilo, burnished, glowing harmonies of Angelus ad virginem, sublimely serene Es ist ein Ros entsprungen and infectious Shchedryk/Hark How the Bells from Ukraine are heard alongside lilting Irish songs from antiquity and the charming Scottish lullaby Balulalow. Songs from England, Germany, Norway and Toi le coeur de la rose from Ravels Lenfant et les sortilèges round off a recording that includes first performances of eight arrangements and is marked by sheer beauty of sound.
Papagena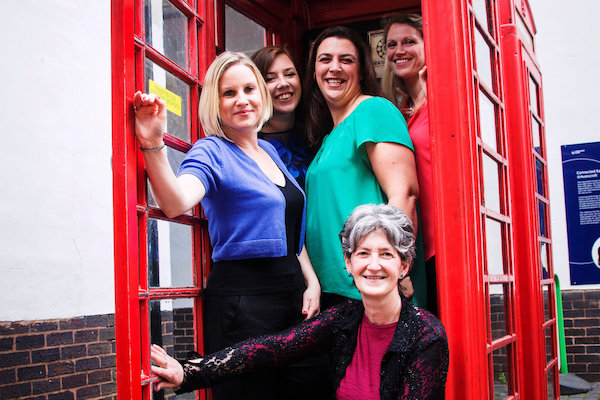 Papagena
...is an a cappella vocal group set up to explore the wealth of music from medieval times to the present day written specifically for female voices. No props, microphones or gimmicks, just five stunning voices form Papagena. The singers are all classically trained and include amongst their number a conductor, saxophonist, composer, opera and oratorio soloists.
But the group's programming defies pigeonholing; drawing richly on traditional folk music and women's working songs from around the world, Papagena juxtaposes these pieces with more classical repertoire from Hildegard of Bingen and Purcell to Winnie Brückner and Imogen Heap. As well as writing their own material, Papagena commissions new arrangements and pieces from an eclectic range of composers, including recent offerings from Jim Clements and Errollyn Wallen.
The group has toured Scotland, southern England, as well as giving performances in numerous UK festivals in London, Oxford, the South West and the Midlands.

Booklet for The Darkest Midnight