---
Album info
Album including Album cover
1

My List

02:52

2

Every Time You Leave

02:23

3

Not Dark Yet

04:19

4

I'm Looking for Blue Eyes

02:57

5

Lungs

02:54

6

The Color of a Cloudy Day

04:03

7

Silver Wings

02:34

8

Into My Arms

04:47

9

Lithium

05:38

10

Is It Too Much

04:45

Total Runtime

37:12
Info for Not Dark Yet

Shelby Lynne und Allison Moorer sind zwar Schwestern, doch gingen sie bisher unterschiedliche Wege... Bis jetzt! Grammy, Oscar und viele andere Awards wurden schon verliehen an beide. Zusammen kommen die beiden auf 24 Alben. Besonders Shelby Lynne ist auch in Deutschland sehr bekannt. Das erste gemeinsame Projekt der beiden Kritikerlieblinge und Geschwister wurde produziert von Teddy Thompson. Sie widmen sich hier countryfizierten Coverversionen von Kurt Cobain, The Killers, Nick Cave, Jason Isbell bis hin zu Merle Haggard.
"Despite singing together since they were old enough to talk, it took a lifetime for sisters Shelby Lynne and Allison Moorer to record together. United by blood, growing up in the backwoods of Alabama and sharing an unspeakable tragedy -- they witnessed their father take their mother's life and then his own -- their coming together on Not Dark Yet was perhaps inevitable, but it wasn't easy. The pair did a celebrated tour together in 2010 and tried to write a collective album afterwards. They ended up abandoning that project, but not the desire to collaborate.
With empathic producer Teddy Thompson and a cannily chosen cast of studio aces -- among them guitarist Doug Pettibone, keyboardist Benmont Tench, and steel guitar player Ben Peeler -- they deliver nine cover songs chosen from the canons of rock, country, Americana, and pop before closing with a lone original.
Commencing with the Killers' "My List," they deliver a love song as if facing one another, using the blood ties of sibling union as a hymn of commitment. Tench's piano and the twinned guitars of Pettibone and Val McCallum add a lonesome gospel feel to the languid, steely longing in the lyric. Jessi Colter's "I'm Looking for Blue Eyes" and Merle Haggard's "Silver Wings" are delivered with an intimate familiarity, as if the emotional truth these songs carry were part of their shared DNA. Bob Dylan's title track, penned as a metaphorical elegy to humanity, is underscored here. When Lynne follows her sister's lead, the mournful lyric is stretched toward ghost land where mercurial notions of loss and grief wrap around one another and bleed hard truths. Townes Van Zandt's "Lungs" is as steely as the original, but is articulated here through the clear lenses of country gospel and blues extending its reach out of death. Nick Cave's "Into My Arms" is a rootsy paean to enduring, committed love, while Nirvana's "Lithium" is not altogether successful because it's delivered with too much reverence. The album's lone original, "Is It Too Much," emerges as a whisper from the ether. Its lyric question addresses the unspeakable plainly, but it's sung as if the sisters are squarely facing one another, each completing the other's thoughts and sentences. They cover each other's grief with grief, and offer shelter and respite from the outside world -- that cannot hope to understand -- with the grain in their voices. They acknowledge a pain that can never be assuaged, just accepted as a shared transformative burden as they embrace it and one another. These two walk and stumble through that dark night, leaning together as the lyrics pour down like a river of tears. The song's question may never be answered, but its utterance is enough to guarantee another step for each. Not Dark Yet is a beacon, a glimmer of the possible. It's a stark, beautiful recording that hopefully proves something to both Lynne and Moorer: That what's here is a new beginning and that there is much more to explore." (Thom Jurek)
Shelby Lynne, lead vocals, harmony vocals, acoustic guitar
Allison Moorer, lead vocals, harmony vocals, acoustic guitar, piano
Val McCallum, acoustic guitar, electric guitar
Ben Peeler, electric guitar, pedal steel guitar
Doug Pettibone, acoustic guitar, electric guitar
Benmont Tench, keyboard, organ, piano, Wurlitzer
Teddy Thompson, bass, drums, acoustic guitar, background vocals
Taras Prodaniuk, bass
Don Heffington, drums, percussion
Michael Jerome, drums, percussion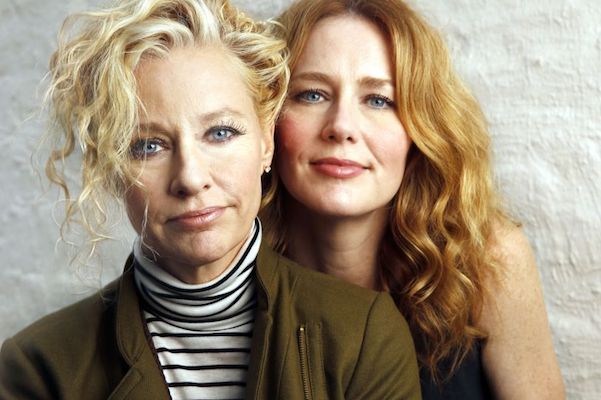 Shelby Lynne & Allison Moorer
The best relationships between singers are symbiotic yet mystical. They bear the demands of the song and revolve around what it needs without discussion. Whether it's a shared sixth sense or finely tuned intuition, no one has to ask who takes what part. It doesn't matter anyway — they are of equal importance when two voices nestle seamlessly into a melody, almost imperceptibly gliding across each other when it's time to switch. It's not a trick but a sacred dance.
Sisters Shelby Lynne and Allison Moorer, now with twenty-four albums and Grammy, Oscar, and many other kinds of awards and nominations between them, share that kind of transcendent musical bond. It's as deep, haunting, knowing, and beautiful as the Alabama woods they once called home. Both sang as soon as they could form words, but music is the only language they have ever needed to communicate with and understand each other. Not Dark Yet offers a glimpse into that understanding for the first time and finally, after years of trying to get it made, at the right time. Produced by Teddy Thompson and recorded in Los Angeles during the summer of 2016, the album provides a potent look at their individual and collective artistry through eclectic song choices from writers ranging from the Louvin Brothers, Nick Cave, Kurt Cobain, and back to Jessie Colter. Shelby and Allison wrap their arms around the past, plant their feet in the present, and nod toward what's around the bend with a co-written "Is it too much," to close out the ten-song set.
Not Dark Yet is not a duet record. It is no ordinary collaboration. It is not a creation, but rather a celebration of something that has always been, two voices becoming one and finding home within each other.
Shelby Lynne
was destined to be a singer. Born a singer. She was raised in rural Alabama by musical parents who stressed individuality and the importance of standing apart from others. A terrible student, but avid reader, she loved the written lyric and a beautiful melody. Around the house she was surrounded by country music from the past, Hank Williams, Dottie West, Waylon Jennings, as well as old 45?s that belonged to her parents stacked high with most all Everly Brothers, Beatles, Elvis. It was the old pop music that really turned her soul on. The harmonies that came so naturally to her from such an early age stemmed from her mother, a naturally gifted singer, who guided the diamond in the rough talent on rides to school on freezing Alabama mornings with her younger sister Allison. They sang three part harmonies to pass the time, which brought the threesome so close in life, and in music. The Mills Brothers, Ink Spots, Kay Starr, Everly's and anything that needed a harmony – this was the car in which to find it.
Shelby started playing guitar by age seven in order to accompany herself on these songs. Her father was a weekend guitar player in bands and bars and taught her a three-chord progression in E, and from there the hunger for more was so intense she learned the rest on her own. By high school graduation, her mind was made up and a trip to Nashville was inevitable. Married to her high school sweetheart with dreams of country music success in mind, they packed and moved to Music City where she met veteran songwriter Bob Tubert. With only a cassette demo in hand, he took a chance and played the tape for the TV producer of a long since gone program on the Nashville Network called "Nashville Now," hosted by Ralph Emory. After the performance, she was offered a record deal by CBS Records where legendary producer Billy Sherrill came out of semi retirement to produce her first record. It included a duet with country legend George Jones, who praised Lynne's ability to "own" a song at such an early age.
After five albums in Nashville, Lynne was hungry for a change from the Nashville system and searched for a record producer who wanted to collaborate on a project. She enlisted Bill Bottrell, who had produced for Michael Jackson, Madonna, and had big success with Sheryl Crow on the highly successful Tuesday Night Music Club. The album, I Am Shelby Lynne, was recorded on the Northern California coast in 1998.
With the critical success and recognition of I Am Shelby Lynne, she was awarded the Best New Artist GRAMMY® in 2000 – after nearly 13 years in the business. Love, Shelby was released in 2001, followed by a pair of intimate, self-produced albums – Identity Crisis (2003) and Suit Yourself (2005). She made her acting debut in 2005, playing Johnny Cash's mother in the Fox Searchlight motion picture Walk the Line. Just a Little Lovin', her critically acclaimed tribute to Dusty Springfield, was released in 2008.
Never one to go with the crowd, Shelby continues to stand apart from the mainstream music world. She recently founded her own label, EVERSO RECORDS. Lynne's Tears, Lies, And Alibis, EVERSO's first release, debuted at No. 16 on Billboard's Top Independent Albums chart in April of 2010. A Top 10 hit at Americana radio, it was hailed by Newsday as "her strongest album in a decade," a sentiment echoed by numerous critics. She followed Tears, Lies, And Alibis with her first-ever holiday collection, Merry Christmas, released in the fall of 2010.
Revelation Road – Shelby's most personal record yet – was released on October 18, 2011. She wrote, recorded and produced the album, which included the single ""Heaven's Only Days Down The Road." The track was tapped by NPR Music as the "Song of the Day" and the accompanying video was added by CMT. After a yearlong solo acoustic tour, she released Revelation Road Deluxe Edition. In addition to the original disc, the box set included her first-ever live album, Live At McCabe's, and her first live DVD, Live In London, plus five bonus acoustic tracks, a documentary on the making of Revelation Road and more.

This album contains no booklet.