---
Album info
Album including Album cover
Franz Liszt (1811 - 1886):

1

Années de pèlerinage, Première année (Suisse), S. 160: IV. Au bord d'une source

04:17

Franz Schubert (1797 - 1828): 4 impromptus, D. 899:

2

4 impromptus, D. 899: No. 1 Impromptu in C Minor

10:35

3

4 impromptus, D. 899: No. 3 Impromptu in G-Flat Major

06:05

Franz Schubert:

4

Gretchen am Spinnrade Op. 2, D. 118

04:41

Franz Liszt:

5

Années de pèlerinage, Première année (Suisse), S. 160: VI. Vallée d' Obermann

14:18

6

Liebestraum S. 541: No. 3 Oh Lieb, so lang du lieben kannst

04:36

7

Études d'exécution transcendante, S. 139: No. 12 Chasse-neige

06:38

Total Runtime

51:10
Info for The Innermost Side - Unfold

Camiel Boomsma: "Many of the pieces on this album I have been carrying with me for many years already. In choosing these works for the recording, I was very conscious of that fact. The longer you carry a piece with you, the more you see 'who' the piece is rather than what it is.
Liszt's music is like an unspoiled landscape. It's raw, fragile, strong, uncontrolled, poetic and paradoxical. One of the very first works I discovered was Vallee d'Obermann. When I play this piece, I ask myself to open up to this and observe the story that unfolds.
To unfold is essential as well in Liszt's Liebestraum No.3, Au bord d'une source and Chasse Neige. The common character of these pieces is in a way averse of expectations. It is as if Liszt himself as well did not know exactly how the musical story would unfold. And when the pieces unfold, they all communicate something very profound.
The three works by Schubert – Gretchen am Spinnrade and Impromptus D899 No.1 and No.3 - are in a subtle dialogue with Liszt. They represent my own inner dialogue as well, a dialogue between a certain poetic discretion and passion.
With this album I have attempted again to search for the layers of the soul, that very specific moving language. Every piece I play is about this endless search. The beauty and expression lie in the fact that I will never find it. It is a continuous journey."
Camiel Boomsma, piano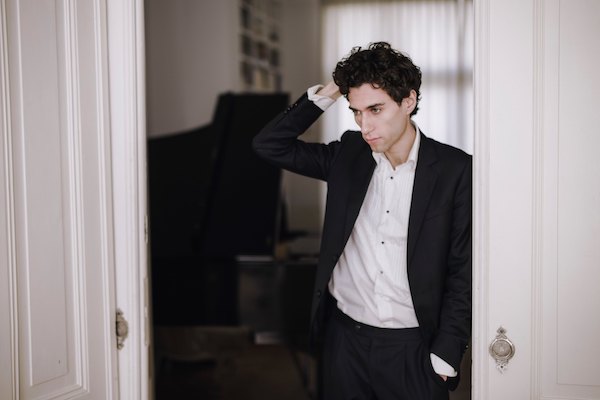 Camiel Boomsma
Master pianist Camiel Boomsma is praised by press and public for his remarkable maturity, his extraordinary sound and unique touch. His playing emphasis on telling the musical story. Boomsma has performed worldwide at many major venues including the Concertgebouw in Amsterdam, St John's Smith Square in London, Klavierfestival and Wagner Festspiele in Bayreuth, the series Master Pianist in Heerlen (NL), Schloss Elmau (DE) as well as in many key venues in China.
Boomsma has received great critical acclaim for his Wagner journey. His recordings for EtceteraRecords with Wagner transcriptions and Porazzi, published in 2015 and 2016, received excellent reviews in BBC Music magazine (5 stars), Diapason (4 stars), Trouw, NRC, De Volkskrant, Luister Magazine, Classica and many more, and have been broadcasted extensively by France Musique, Dutch radio 4, Hr2Kultur and ORF. His first CD with Challenge Records is dedicated to Chopin and Schubert and received rave reviews worldwide. Dutch newspaper De Volkskrant wrote: "Boomsma has velvet attached to his fingers!"
Camiel loves to play chamber music as well and he performs on a regular basis with master pianist Severin von Eckhardstein and violinist Gwendolyn Masin.

This album contains no booklet.