---
Album info
Album including Album cover Booklet (PDF)
I`m sorry!
Dear HIGHRESAUDIO Visitor,
due to territorial constraints and also different releases dates in each country you currently can`t purchase this album. We are updating our release dates twice a week. So, please feel free to check from time-to-time, if the album is available for your country.
We suggest, that you bookmark the album and use our Short List function.
Thank you for your understanding and patience.
Yours sincerely, HIGHRESAUDIO
1

Dry Mountain

04:33

2

Black Cauldron

04:44

3

Frozen Silence

07:21

4

High Stone

06:14

5

Rainbow Leaves

07:36

6

Twilight

05:24

7

Waves of Glyma

07:09

8

Flying Pixies

04:14

Total Runtime

47:15
Info for Frozen Silence

Fozen Silence is the third ECM release from alto saxophonist Maciej Obara's Polish-Norwegian quartet, bringing the story forward from Unloved and Three Crowns, recordings which confirmed the ensemble's standing as one of the most strikingly original European bands of the present moment. The quartet's creative sense of musical interplay is again to the forefront of this newest album, recorded in Oslo in the summer of 2022, which may be their strongest statement to date. Obara's new music optimally highlights his intuitive musical relationship with Dominik Wania, while Ole Morten Vågan and Gard Nilssen continually transcend rhythm section roles to interact persuasively with the saxophonist and the pianist.
Alert interactivity is the hallmark of the group's approach. The new repertoire, however, was shaped by Maciej in isolation. When pandemic lockdowns shut the door on the Polish jazz scene and ruled out international touring, he left Warsaw and headed for the hills and forests. The compositions heard here are reveries of the solitary walker: direct responses to nature, in particular the starkly dramatic landscapes of the Karkonosze region in south-west Poland, where his family roots are. Song titles single out some special locations – "Black Cauldron" (in Polish, Czarny kocioł jagniątkowski), "High Stone" (Wysoki kamień), and "Dry Mountain" (Sucha Góra).
The craggy outline of the balladic "High Stone" suggests both an ascent and a view of the territory. If the constantly changing winter light and the "frozen silence" of snow-capped peaks provided one set of inspirations there were also subtle musical influences at work. "At the time, I had been listening a lot to the music of Bill Dixon, my favourite trumpet player, which seemed to fit the emptiness and silence of the mountains. And I think you can hear the impact of Dixon on pieces like 'Black Cauldron' or 'Flying Pixies'." The latter title, he says, refers to the flickering reflections of sunlight on hardened snow.
Two titles fall outside the conceptual framework of high atmospheres. "Waves of Glyma" shifts the geographical focus from the mountains of Poland to the beaches of south Crete with vivid memories of blue waters against red sandstone cliffs.
"Rainbow Leaves", meanwhile, co-credited to Obara and Nikola Kołodziejczyk, was written originally to augment Maciej's Concerto for saxophone, piano and chamber orchestra, a major work which had been premiered by the AUKSO Orchestra in Poland. Kołodziejczyk had contributed the string arrangement to the orchestral version. The quartet version characteristically steers the music to new places, following the lead of Maciej's saxophone, by turns reflective and impassioned.
The core line-up of the two Polish musicians, Maciej Obara and Dominik Wania, and the two Norwegian players, Ole Morten Vågan and Gard Nilssen, has been together for 11 years now. Four strong individual musicians, all bandleaders and project leaders in their own right, their contrasting but complementary styles defining the group's character.
Dominik Wania, prominently featured throughout Frozen Silence, is increasingly recognized as one of the outstanding improvisers of his generation. Obara says, "We've been great friends from the very beginning but now I can feel that his work on his solo album [2020's Lonely Shadows] also helped us to develop the music and his contribution to this band, opening even more the classical approach in his soloing with the quartet. I'm not talking about a single style, but about the way in which he really cares about dynamics in every moment and focuses on the tiny details that make music better. "
Drummer Gard Nilssen's profile has also been raised with the release, last year, of Elastic Wave, his first ECM leader date. "Gard's touch on the drums, the sounds he draws from them, and his flowing feeling for time is fantastic, and the combination with Ole Morten in the quartet is very special. Ole Morten's so experienced through his years of directing the Trondheim Jazz Orchestra. And his way of bringing together a lyrical feeling for melody with classical awareness of form and the simultaneous commitment to free playing – well that's a rare combination." Frozen Silence was recorded at Oslo's Rainbow Studio in June 2022, and mixed and completed in Munich, in April 2023, by Manfred Eicher.
Maciej Obara Quartet:
Maciej Obara, alto saxophone
Dominik Wania, piano
Ole Morten Vågan, double bass
Gard Nilssen, drums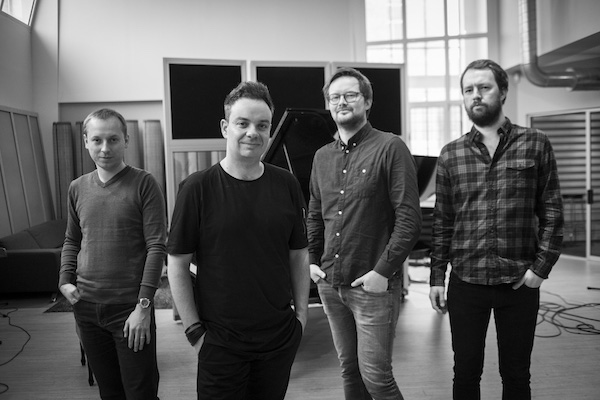 Maciej Obara
is a Polish saxophone player and improviser, characterised by his discernible phrasing and powerful sound.
Obara is a musician who has consequently developed his own musical language from the very beginning of his career, and, despite collaborations with artists from Japan, USA and Europe, his main focus remains his original quartet with Dominik Wania on piano, Ole Morten Vaagan on double bass and Gard Nilssen on drums. The members of the band represent a narrow group of European jazz musicians who consciously and uncompromisingly avoid musical literality, and create their own clearly distinguishable sound.
The most recent album, "Unloved", is Obara's ninth original recording, and will be released in Autumn 2017 on the prestigious Munich record label ECM. Released recordings and live concerts at the most important jazz festivals in the world have built well-deserved and unmistakeable brand of the saxophonist.
Whilst still at the Music Academy, Obara established his first trio with Maciej Garbowski on bass and Krzysztof Gradziuk on drums, going on to win the competition for the young bands and recording two albums ("Message from Ohayo" and "I can do it"). This powerful debut attracted the first positive reviews from the Polish jazz community.
In 2008 Obara received an invitation from the legendary and world-renown trumpet player Tomasz Stańko. Together they performed with the project "New Balladyna Quartet" and recorded the music to the "Terminal 7" spectacle. It was in Stanko's band that Obara met his musical soulmate, the distinguished pianist Dominik Wania. This friendship has significantly influenced their further musical development.
Initially, Obara's artistic interests leaned towards the contemporary jazz from the East Coast of the USA. He invited Antoine Roney for a tour in Poland, and travelled to New York in order to record the new material with musicians centred around the artistic and pedagogical community of SIM – School for Improvised Music. As a result, two more recordings were released with the support of cultural institution Ars Cameralis Silesiae Superioris - "Three" with John Lindberg on bass and Harvey Sorgen on drums, and "Four" with Ralph Alessi on trumpet, Mark Helias on bass and Nasheet Waits on drums.
Obara's next step was the enlargement of the original line-up of the band, inviting Dominik Wania and creating the quartet which recorded his fifth album, "Equilibrium", opening a new stage of Obara's musical career, based on a distinctly more tonal concept and complex compositions. The album received positive reviews and Obara become a recognisable musician on Polish jazz scene.
In 2012 Obara was selected to join the group of ten most talented musicians from Europe that took part in the project The Five: Europe, the professional development scheme produced by Serious in the UK, who also produce the London Jazz Festival. Take Five: Europe brought together some of the most talented emerging jazz musicians from France, Holland, Norway, Poland and the UK.
Participation in this project was a turning point in Obara's career for many reasons, leading not only to performances at some of Europe's most significant jazz festival (London Jazz Festival, North Sea Jazz Festival, Molde International Jazz Festival, Jazztopad and many others), but mostly to the artist's cooperation with the Norwegian artists – bass player Ole Morten Vaagan and drummer Gard Nilssen. After Take Five: Europe he established his first permanent international quartet, which includes the above mentioned musicians as well as the pianist Dominik Wania.
This very quartet turned out to be Obara's longstanding priority - this new sound and resulting possibilities becoming the main inspiration of the saxophonist.
During the following years the quartet performs concerts in the most prestigious venues such us Jazz at Lincoln Center NY, Jazz Standard NY, Porgy & Bess in Vienna, Cotton Club Tokyo as well as at festivals like London Jazz Festival, Tokyo Jazz Festival, Jarasum Intl Jazz Festival, Vancouver Jazz, Ottawa Jazz Festival, Molde Jazz Festival, Festiwal Jazztopad, Izmir Jazz Festival, or New Haven Jazz Festival.
During this time the band recorded three albums for the Polish record label ForTune ("Live at Manggha", "Komeda" and "Live in Minsk Mazowiecki").
At the beginning of 2017 Maciej Obara received an invitation from Manfred Eicher to record an album for the most prestigious record label in the world – ECM. As a result, a new recording titled "Unloved" is being released in September 2017, which includes compositions by Maciej Obara with an exception of one piece by Krzysztof Komeda.

Booklet for Frozen Silence