---
Album info
Album including Album cover Booklet (PDF)
I`m sorry!
Dear HIGHRESAUDIO Visitor,
due to territorial constraints and also different releases dates in each country you currently can`t purchase this album. We are updating our release dates twice a week. So, please feel free to check from time-to-time, if the album is available for your country.
We suggest, that you bookmark the album and use our Short List function.
Thank you for your understanding and patience.
Yours sincerely, HIGHRESAUDIO
Henry Purcell (1659 - 1695): King Arthur, Z. 628:

1

King Arthur, Z. 628, Act I: No. 1, Overture

02:05

2

King Arthur, Z. 628, Act II: No. 10, Introduction

01:13

3

King Arthur, Z. 628, Act II: No. 11, Symphony

00:35

4

King Arthur, Z. 628, Act II: No. 16, How blest are the shepherds

04:58

5

King Arthur, Z. 628, Act III: No. 20, Prelude

00:49

6

King Arthur, Z. 628, Act III: No. 30, Hornpipe

00:40

7

King Arthur, Z. 628, Act V: No. 38, Symphony (Andante maestoso)

01:53

8

King Arthur, Z. 628, Act V: No. 38, Symphony

01:08

9

King Arthur, Z. 628, Act V: No. 42, Fairest Isle

03:27

10

King Arthur, Z. 628, Act V: No. 46, La grande Danse - Chaconne

03:36

Matthew Locke (1621 - 1677): The Tempest:

11

The Tempest: Introduction

01:04

12

The Tempest: Galliard

01:18

13

The Tempest: Gavot

01:12

14

The Tempest: Saraband

04:23

15

The Tempest: Lilk

00:50

16

The Tempest: Curtain Tune

05:35

17

The Tempest: Rustick Air

01:15

18

The Tempest: The Second Act Tune, Minoit

00:45

19

The Tempest: Corant

01:00

20

The Tempest: A Martial Jigge

01:41

21

The Tempest: A Canon 4 in 2

02:26

Henry Purcell: Dioclesian, Z. 627:

22

Dioclesian, Z. 627: First Musick

02:17

23

Dioclesian, Z. 627, Act I: Tune

00:58

24

Dioclesian, Z. 627, Act II: Tune

00:39

25

Dioclesian, Z. 627, Act II: Two in One upon a Ground

03:09

26

Dioclesian, Z. 627, Act III: Tune

00:36

27

Dioclesian, Z. 627, Act IV: Soft Music - Butterfly Dance

02:39

28

Dioclesian, Z. 627, Act V: Dance of Bacchanals

01:15

The Fairy Queen, Z. 629:

29

The Fairy Queen, Z. 629: Prelude

01:42

30

The Fairy Queen, Z. 629, Act I: Hornpipe

01:22

31

The Fairy Queen, Z. 629, Act I: Rondeau

01:03

32

The Fairy Queen, Z. 629, Act I: Entry Dance

01:37

33

The Fairy Queen, Z. 629, Act III, Hornpipe

01:00

34

The Fairy Queen, Z. 629, Act III, Dance for the Fairies

01:14

35

The Fairy Queen, Z. 629, Act V: Prelude

01:09

36

The Fairy Queen, Z. 629, Act II: Air

02:06

37

The Fairy Queen, Z. 629, Act V: Chaconne

03:01

Total Runtime

01:07:40
Info for Purcell & Locke: Orchestral Works

Gerade mal 36 Jahre alt wurde Henry Purcell, doch in diesem kurzen Leben erwies er sich als enorm produktiv. 860 Kompositionen führt das vom amerikanischen Musikwissenschaftler Frank B. Zimmerman angelegte Purcell-Verzeichnis. Neben Kammer- und Kirchenmusik sowie immerhin 60 Fest- und Prunk-Musiken komponierte Purcell vor allem für die Bühne. Mit »Dido and Aeneas« entstand seine einzige klassische Oper. Auf dem Gebiet der von ihm geprägten Form der »Semi-Opera«, in der Schauspiel und Musik miteinander verknüpft wurden, hinterließ er hingegen Meisterwerke wie »King Arthur« und »The Fairy Queen«. Aus diesen beiden Semi-Operas hat das auf die historische Aufführungspraxis spezialisierte Vox Orchester unter der Leitung von Lorenzo Ghirlanda nun jeweils eine Suite mit Instrumentalsätzen aufgenommen. Von Purcell gibt es außerdem eine Instrumentalsuite seiner ersten Semi-Oper »Dioclesian« (1690). Zudem sind Stücke aus der Bühnenmusik zu Shakespeares »The Tempest« (»Der Sturm«) zu hören, die Matthew Locke 1674 komponiert hat. Mit diesen beschwingten, oftmals auch an der englischen Volksmusik angelehnten Suiten präsentieren das junge, international besetzte Vox Orchester sowie der Schweizer Dirigent und Orchestergründer Lorenzo Ghirlanda Instrumentalwerke von den damals berühmtesten Komponisten Englands nach John Dowland und vor der Ankunft Georg Friedrich Händels in London.
Vox Orchester
Lorenzo Ghirlanda, künstlerische Leitung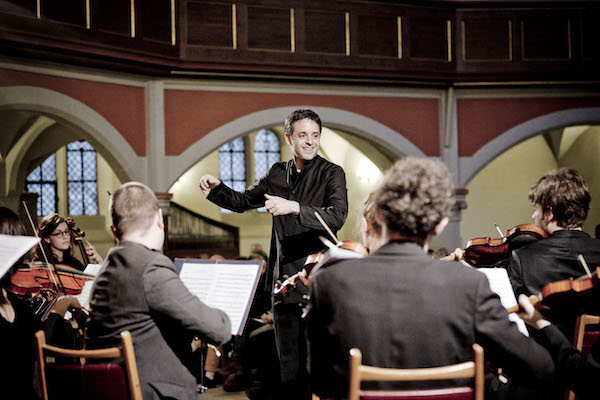 Vox Orchester
Mit dem Vox Orchester tritt erstmals eine Generation von jungen Profimusikern auf die Bühne, die sich von Beginn an der Alten Musik und ihrem Instrumentarium verschrieben hat, eine Generation, die mit gesammeltem Wissen um historische Aufführungspraxis aufgewachsen und in ihr zu Hause ist: frei von Legitimationsdruck, frei von Ringen und Suchen um die richtige – authentische - Interpretation und Spielpraxis: frei für freies Spiel und Experiment.
Seit einigen Jahren forciert der Dirigent Lorenzo Ghirlanda – u.a. für das Barockorchester Bachs Erben - die Zusammenarbeit zwischen diesen jungen Musikern und Stars der Alten Musikszene wie Dorothee Oberlinger, Luca Pianca und Dmitry Sinkovsky. Mit der Gründung des Vox Orchesters, zusammen mit dem jungen Blockflötisten und Oboisten Jan Nigges, gibt Lorenzo Ghirlanda den gemeinsamen Erfahrungen ein Profil für die Zukunft.
Seit dem Debut bei den Thüringer Bachwochen im Jahr 2015 – dem Jahr seiner Gründung – ist das Vox Orchester bei zahlreichen Festivals und Konzertreihen wie den Bachkonzerten in Frankfurt am Main aufgetreten und hat dabei Konzertpublikum wie Presse begeistern können.
CD-Produktionen und Studioaufnahmen entstanden bei Sonymusic (DHM) mit dem Bariton Christoph Prégardien und in Kooperation mit dem Schweizer Rundfunk (RSI) mit der Sopranistin Samantha Gaul.
Lorenzo Ghirlanda
Der Schweizer Dirigent und Posaunist Lorenzo Ghirlanda hat sein Studium als Posaunist an den Musikhochschulen in Bern und Weimar sowie an der Schola Cantorum Basiliensis in Basel absolviert. Noch während seines Studiums gründete er mit seinen Kollegen das Instrumentalconsort Canto Antico, um eine Plattform für die Rekonstruktion historischer Instrumente und die Aufführungspraxis von Musik der Renaissance und des Barock zu schaffen.
Von 2004 bis 2006 entwickelte Ghirlanda die "Europa Werkstatt" beim von Nike Wagner geleiteten Kunstfest Weimar. Im Jahr 2007 war er Co-Direktor und Solist in einer Multimedia-Produktion von Buxtehudes "Membra Jesu nostri" bei der traditionsreichen "Semana de Música Religiosa" im spanischen Cuenca.
Im Jahr 2008 gab Lorenzo Ghirlanda sein Debüt als Dirigent mit Georg Friedrich Händels Oper "Alcina" bei den Händel-Festspielen in Halle. In der Folge leitete er eine konzertante Rekonstruktion des Händel-Opernfragmentes "Genserico". Am Deutschen Nationaltheater Weimar dirigierte Ghirlanda in der Saison 2012 die Neuproduktion von "Alcina". In den folgenden zwei Jahren war er als Gastdirigent u.a. des Berner Kammerorchesters tätig. 2015 gründete er das Vox Orchester. Im Dezember 2016 übernahm Lorenzo Ghirlanda drei Messias Konzerte für Helmuth Rilling. Als sein Assistent dirigiert er in diesem Jahr das Orchesterkonzert mit den Absolventen der Weimarer Rilling Bach Akademie.
Neben seinen Dirigaten widmet sich Lorenzo Ghirlanda der musikwissenschaftlichen Forschung. Als früherer Stipendiat des schweizerischen Nationalfonds arbeitete er mit Bezug auf Sprache und Artikulation in der Alten Musik. Er leitete ein Forschungsprojekt am Conservatorio della Svizzera Italiana in Lugano und gibt regelmäßig Meisterklassen an den Musikhochschulen in Frankfurt am Main, Mailand, Lausanne, Salzburg und Kapstadt. Als Posaunist tritt er seit 10 Jahren unter anderem mit dem Ensemble La Claudiana für den Bach-Kantaten-Zyklus am Wiener Konzerthaus auf.

Booklet for Purcell & Locke: Orchestral Works