---
Album info
Album including Album cover
I`m sorry!
Dear HIGHRESAUDIO Visitor,
due to territorial constraints and also different releases dates in each country you currently can`t purchase this album. We are updating our release dates twice a week. So, please feel free to check from time-to-time, if the album is available for your country.
We suggest, that you bookmark the album and use our Short List function.
Thank you for your understanding and patience.
Yours sincerely, HIGHRESAUDIO
1

For The First Time

03:17

2

Bring It On

03:13

3

Life's Too Short

03:35

4

If I Told You

03:32

5

Don't

03:54

6

Twenty Something

03:11

7

Straight To Hell

04:14

8

Count The Beers

03:28

9

Another Night With You

03:00

10

Hands On Me

03:44

11

She

04:53

12

Story To Tell

03:17

13

Straight To Hell (Full Length Version)

05:35

Total Runtime

48:53
Info for When Was The Last Time

When Was The Last Time, the long-awaited fifth studio country album on Capitol Records Nashville, will be released nationwide Friday, October 20. The Platinum-selling star released the album's second single, a song he wrote with Derek George and Travis Hill, "For The First Time", which is the follow-up to his most recent No. 1 single, "If I Told You, marking eight country No. 1 singles for Rucker since his country music debut in 2008. Earlier this week, Rucker spoke with Billboard about teaming up with esteemed Nashville producer Ross Copperman (Dierks Bentley, Brett Eldredge, Keith Urban) to bring his vision for the album to life. "On top of being a genius with the equipment, Ross is so high-energy and funny; that kid is never not laughing." He added, "Every time we were in the studio we had a great band who had great ideas of their own, so it was the farthest thing from tedious, but just, let's get in and do it. I think for the whole record we spent just three days tracking music." This fall's release will be yet another signature moment in the multiplatinum career of one of music's most beloved figures. Rucker has never been busier while working on his new album with a slate of television appearances this spring and summer including a CMT Crossroads episode with John Mellencamp, an appearance in Adam Sandler's Netflix original, Sandy Wexler, and his own episode of Celebrity Undercover Boss on CBS.
Darius Rucker, vocals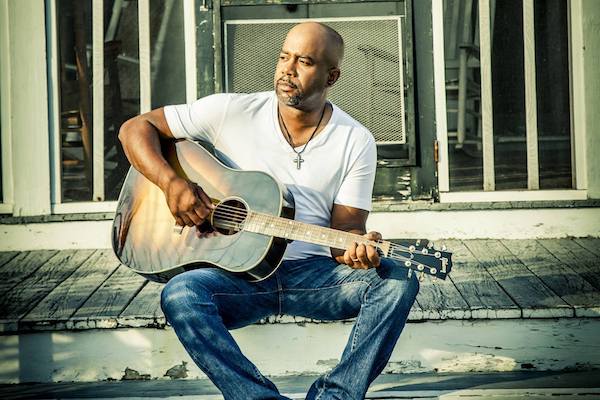 Darius Rucker
It's right there in the title— Southern Style.
"To me, the South means a laid-back lifestyle, beaches, family, and being able to have a good time when you want to," says Darius Rucker. "In Charleston, where I'm from, nobody's in a rush to get anywhere. And there's a mentality that there's room for everybody.
"So with these songs, I wanted to bring out the way I live, the way my friends live, and all the things that are important to us."
The results, Rucker's fourth solo album as a country artist, reveal a sound and a spirit that bring him closer than ever to the genre's fundamentals. From "Homegrown Honey" 's country-girl-gone-uptown to the back-porch party in "Dixie Cup," the thirteen songs on Southern Style are filled with the instruments and images that define a region and its musical traditions.
"I knew that I wanted to do what great country songs do, which was to write and record songs that you just couldn't deny," says Rucker. "You never know until after you have the songs, but tracks like 'High on Life' started steering us to where we wanted to go. In the end, this might be my country-est record so far, and that really was the first thought."
The title track and first single illustrate Rucker's intentions. Gently rolling and irresistibly hook-filled, it's a precisely detailed celebration of modern Southern womanhood in all its dimensions; "You can love her, you can hate her/But you'll damn sure never change her," he sings of the sun-kissed girl, a "Billy Graham fan like her mother" who "loves Lil' Wayne and Lynyryd Skynyrd."
Rucker's three previous albums—Learn To Live; Charleston, SC 1966; and True Believers—all topped the Billboard Country Album chart, spinning off six Number One singles. But a few events in the last couple of years may have helped him dig even deeper into his country roots, even in the face of new trends that have been pushing the music into a more pop direction.
First was his induction into the Grand Ole Opry in 2012, after Brad Paisley broke the news to Rucker in the middle of a show. Then came his triumphant version of "Wagon Wheel," the Old Crow Medicine Show song initially based on a sketch by Bob Dylan (with an assist from his tour partners and labelmates Lady Antebellum). The song hit Number One on the Country charts, and won the GRAMMY Award for Best Country Solo Performance.
" 'Wagon Wheel' was one of those great anomalies in a career—you have to just be happy with something like that and go on and try to make another record," says Rucker. "But it did help me realize that fans really do want country music from me. With everything happening in the music, on the radio, 'Wagon Wheel' showed that you can still have big hits with real country songs."
Darius Rucker first attained multi-platinum status as the lead singer and rhythm guitarist of Hootie & the Blowfish, Since re-introducing himself to the world as a country artist, his musical life has had a truly remarkable Second Act. In 2008, he released Learn to Live; the album's first single, "Don't Think I Don't Think About It," made him the first African-American with a Number One country song since Charley Pride in 1983. It was followed by two more singles that topped the chart—"It Won't Be Like This For Long" and "Alright"—and earned him the New Artist award from the Country Music Association. His 2010 follow-up, Charleston, SC 1966, included two more Number Ones, while True Believers contained another four hit singles.
Following his first Christmas album, Home for the Holidays, when it came time to work on a new album, he and long-time producer Frank Rogers went in deep. "We wrote 50 songs, so it was really fun," says Rucker. "I fell in love with so many demos, it was a matter of sitting down and having to throw things out—and that was the tough part, because there was so much great in these songs."
When they came up with "Good for a Good Time," they knew they were on the right track. "That was what I was looking for," he says, "a big, old-fashioned, sing-a-long drinking song. I'm older now, I'm a dad, I don't go out that much. But if it's a good song, a song I really want to sing, I can still channel the old Darius, the one who's always ready to party. I think that's the signature song on the record."
Vocally, Southern Style sees Rucker expanding his range and pushing his limits. "I definitely took a bit more chances in my singing," he says. "I didn't record everything in that very low key; a few of the songs are up in a higher key, and it was fun hitting those notes."
As a songwriter, Rucker also challenged himself this time around, with some of his most personal efforts to date. "So I Sang" is the confession of a man who's always felt more comfortable expressing himself through melody than through speech, even at such turning points as his mother's funeral.
"That's the most honest song I've ever been a part of," he says. "When you hear that, it's telling you what my life was really like growing up. When my mom died, I couldn't speak, I just remember singing in church with the choir, and then going home and putting on Al Green's 'Tired of Being Alone,' which was her favorite song. That song is just me singing about me."
Even after it seemed that Southern Style was finished, Rucker had a lingering sense that he wasn't done yet, and that he could lean even harder into its countrified side. He pulled out the demos and decided to record some more of the songs with producer Keith Stegall (Alan Jackson, Zac Brown Band), eventually adding five new tracks.
"The record had been evolving for so long," he says, "I just wanted to go back in to some of the things we threw out, to see if they were great." One thing that got called off the bench was "Baby I'm Right," a bright swing duet with young vocal powerhouse Mallory Hope—"I kept going back to that one, and I couldn't believe we hadn't cut it. I'm so in love with that song!"
For all of the different facets of Southern Style, perhaps the song that best fulfills Darius Rucker's intentions is the bittersweet "You Can Have Charleston," set in his beloved hometown. "That song is all about the place—the topsails and steeples," he says. "Even though the guy in the song is leaving, you can tell how much he loves the city. It describes Charleston so well, and when you get to that chorus, it's just unbelievable.
"That is my south, my favorite city in the world," he says. "It's such a big part of who I am. I was born there, and I never plan to leave."

This album contains no booklet.