---
Album info
Album including Album cover
I`m sorry!
Dear HIGHRESAUDIO Visitor,
due to territorial constraints and also different releases dates in each country you currently can`t purchase this album. We are updating our release dates twice a week. So, please feel free to check from time-to-time, if the album is available for your country.
We suggest, that you bookmark the album and use our Short List function.
Thank you for your understanding and patience.
Yours sincerely, HIGHRESAUDIO
1

102 Years of Comedy (Intro)

00:33

2

Fishtown

02:57

3

Ohio

02:51

4

Karpehs Don't Flinch

02:09

5

The Tide Is My Witness

03:39

6

Take a Half (a Feeling We Chase)

00:42

7

Another Half

02:29

8

Repeat Myself

02:08

9

Glass Face

03:17

10

Walls & a Roof (Interlude)

00:27

11

Unfinished House

02:33

12

Blue Lips

04:07

13

Tears of Fate

04:33

14

Yesterday's Price

05:16

15

Moments Stolen

03:57

Total Runtime

41:38
Info for KARPEH

Cautious Clay is releasing today his Blue Note debut KARPEH, a deeply personal new album which finds the singer, songwriter, multi-instrumentalist, and producer also known as Joshua Karpeh taking a giant artistic leap forward with an ambitious yet introspective song cycle about growth, conceptions of intimacy, and lineage that reveals a new side of his artistry by delving deeper than ever into his jazz roots.
Across the album's 15 tracks Cautious can be heard on vocals, flute, tenor saxophone, soprano saxophone, bass clarinet, guitar, synthesizer, and bass. He also invites a wide range of collaborators into the fold including leading lights of the modern jazz world including Lage, trumpeter Ambrose Akinmusire, saxophonist Immanuel Wilkins, vibraphonist Joel Ross, keyboardist Julius Rodriguez, bassist Joshua Crumbly, and drummer Sean Rickman. Other guests on the album include his uncle, bassist Kai Eckhardt, and the acclaimed Pakistani vocalist Arooj Aftab.
For all of Cautious' dexterity around multiple instruments, it's always in service of the music's narratives. "I wanted it to be musical for the sake of telling a story," he explains. "Throughout this album, I am equating my life's journey to an amalgamation of my family's past life experiences, an exploration of my present, and how those pieces will influence by future."
Cautious sequenced the album thematically in three sections with interludes throughout containing audio recordings of his relatives recounting bits of family history. The first section he calls "The Past Explained" with songs that touch upon his early experiences growing up in Cleveland including the album's lead single "Ohio." The middle section of the album is what Cautious calls "The Honeymoon of Exploration." These five songs depict some of his experiences with psychedelics, which inspired self-reflection and the desire for deeper forms of intimacy with others. The concluding four songs constitute the third thematic section, which Cautious calls "A Bitter & Sweet Solitude." Cautious posits that when we allow ourselves to spend quality time in solitude it enables us to forge better relationships with ourselves and others, therefore sparking deeper intimacy.
Cautious Clay, vocals
Joshua Karpeh, saxophone, flute, guitar, synthesizer, bass, bass clarinet
Additional Musicians:
Alwyn Robinson, drums
Joshua Crumbly, bass
Julius Rodriguez, piano
Julian Lage, guitar
Sean Rickman, drums
Daniel Pappalardo, bass
Kai Eckhardt, bass
Arooj Aftab, vocals
Joel Ross, vibraphone
Immanuel Wilkins, alto saxophone
Ambrose Akinmusire, trumpet
Meryl Cooper, spoken word
Titee Marion Karpeh, spoken word
Olivia Howell, spoken word
William Dingus, spoken word
Caitlyn Harris, spoken word
Georgia Heers, additional vocals
Sarah K. Pedinotti, additional vocals
William Dingus, additional vocals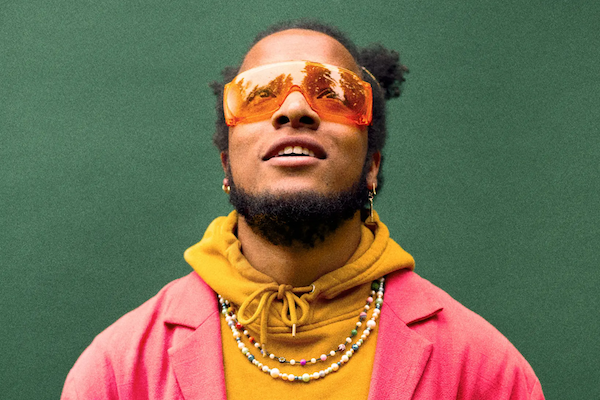 Cautious Clay
Since 2017, Cautious Clay has been steadily building a devoted fanbase with his heartfelt songwriting and a unique sound that moves fluidly between pop, alternative R&B, and indie rock. He began receiving wide recognition with the 2018 release of Blood Type featuring the breakthrough single "Cold War," a naked call for emotional honesty and transparency that resonated deeply with listeners and has since been streamed more than 150 million times. The song was featured on Issa Rae's hit HBO TV show, Insecure, and Olivia Wilde's movie, Booksmart, and was interpolated by Taylor Swift and Jack Antonoff on "London Boy" from the pop star's album Lover. Cautious' other outside writing and production credits include working with Billie Eilish, John Mayer, John Legend, Khalid, Kavinsky, Melanie Martinez, Remi Wolf, and more. Following two more EPs—Resonance and Table of Context—Cautious released his debut full-length, Deadpan Love in 2021, delivering on his early promise with an album that centered on the balance between oneself and others. With his Blue Note debut KARPEH, Cautious Clay offers an even more intimate glimpse inside his highly biographical artistic vision.
"Ever since I started playing music, it was always about the feel," says Josh Karpeh, AKA Cautious Clay. "There are a lot of things in art that you can learn by practicing or studying, but feel's not one of them. It's something you've just got to have."
It's that feel, that deep emotional intuition that fuels Cautious Clay's sound. Blending R&B, hip-hop, and experimental indie, his productions are dark and engrossing, built upon a unique combination of organic instruments, digital programming, and soulful vocals. He writes with unflinching honesty, engaging in deeply personal self-reflection with boldly vulnerable and vividly poetic lyrics. At times recalling contemporaries like James Blake or Sampha, Cautious is a profoundly modern songwriter and a forward- thinking producer, but he's also steeped in the past, quick to cite Burt Bacharach as an idol and credit Stevie Wonder and Quincy Jones as ever-present influences in his artful arrangements.
"I used to think about songwriting and production as completely separate," he explains, "but when I learned how to merge those two things, that's when I was able to start creating music that really connected with people."
Originally from Cleveland, OH, Cautious began his artistic journey at the age of seven when he picked up classical flute. His studies led him deep into the worlds of blues and jazz, and by the time he hit college in Washington, D.C., he'd added a number of other instruments to his repertoire in addition to songwriting and production. Now based in Brooklyn, Cautious is consistently working on music for both his own project and for others.

This album contains no booklet.