---
Album info
Album including Album cover
I`m sorry!
Dear HIGHRESAUDIO Visitor,
due to territorial constraints and also different releases dates in each country you currently can`t purchase this album. We are updating our release dates twice a week. So, please feel free to check from time-to-time, if the album is available for your country.
We suggest, that you bookmark the album and use our Short List function.
Thank you for your understanding and patience.
Yours sincerely, HIGHRESAUDIO
1

Watch Out (Narrated by Paul McGann)

04:42

2

Pilgrim Brother (Narrated by Paul McGann)

04:25

3

Westward Bound (Narrated by Paul McGann)

04:16

4

A Pilgrim's Warning (Narrated by Paul McGann)

05:07

5

Sailing Time (Narrated by Paul McGann)

03:09

6

The Great Iron Screw (Narrated by Paul McGann)

04:05

7

Dear Isle of England (Narrated by Paul McGann)

03:53

8

Saints and Strangers (Narrated by Paul McGann)

03:26

9

Foreign Man (Narrated by Paul McGann)

03:42

10

Bury Nights (Narrated by Paul McGann)

03:47

11

The Digging Song (Narrated by Paul McGann)

03:58

12

Mayflower Waltz (Narrated by Paul McGann)

02:57

Total Runtime

47:27
Info for A Pilgrim's Tale

Seth Lakeman releases his new album 'A Pilgrim's Tale' on February 7th 2020, in a year that marks four centuries since The Mayflower ship departed the UK. The album will be released amidst a selection of UK concerts where Seth will visit locations significant to The Mayflower tale such as Immingham – where Separatists made a dangerous escape from England to Holland in their search for religious freedom – and Dartmouth – where the ship was anchored for repairs – will be visited in this expansive tour. This stirring and beautiful record is narrated by the actor Paul McGann (Dr Who/Withnail and I/Hornblower/Luther), and features a host of guest performers including Cara Dillon, Benji Kirkpatrick, Ben Nicholls and Seth's father Geoff Lakeman.
2020 marks the 400th anniversary of The Mayflower ship setting off to the Americas. The ship carried British and Dutch passengers with hopes of fresh settlement, and who were famously met by the Wampanoag first nation tribe upon their arrival. Bottling the spirit of the 17th century pilgrimage, Seth has written and performed a selection songs that shape a fictional narrative of the journey, informed by extensive research from text such as the journals of William Bradford, conversations with modern day ancestors of the Wampanoag people at the Plymouth Plantation in Massachusetts, and information sourced at the national heritage sites that still exists in the UK.
Chronicling the voyage and early settlement in these songs, Seth has created a drama that celebrates the history, but doesn't lose sight of the journey's tribulations. It stays sensitive to important facets of the story; the religious liberation that passengers were trying to achieve, the nefarious deeds enacted upon the Wampanoag, and the deaths that followed on both sides. It's a story Seth feels he is intrinsically linked to, "I didn't have far to go for inspiration. The Mayflower Steps, on Plymouth's cobbled Barbican streets are 20 minutes away from me. I fished from this quay as a boy, sang songs on tall ships tied up here and played music in just about every old sailors' pub in this Elizabethan quarter." Furthermore, as one of the most celebrated members of British folk music, Seth is wholly qualified to replicate the trappings of traditional 17th century musical styles; whether it be through his vocals, stringed instrument arrangements, fiddle playing, or percussion.
The stories in the songs are told from a variety of perspectives, from personal accounts such as the opening number 'Watch Out' detailing deadly premonitions of a Wampanoag girl, to tales of the collective travellers in songs such as 'Pilgrim Brother' and 'Sailing Time', which march at a hopeful cadence reflecting their early optimism. Close your eyes, and with each track you feel possessed by one of those 17th century characters; a crewman wrestling to control the ship, a pilgrim celebrating in rapturous faith, or the solemn Wampanoag tribesmen forlornly surrendering to the new way of life thrust upon them. Seth has married mood to pulsing rhythms in an immersive tale of struggle that, 400 years later, still holds an emotional impact.
Inspiration for the project came when Seth was on tour with Robert Plant, and paid a visit to the Plymouth Plantation in Massachusetts to talk to the Wampanoag that still reside in the area. It didn't take long for the songs to form upon his return to England, "After I travelled home from the "New World" to Plymouth, Devon everything happened in a quite mystical way. The songs came together so speedily and with exactly the vibe I wanted, and we recorded in a very short time in my studio at home on Dartmoor." To supplement the recordings, a between-song narration was written by associate director of Plymouth's Theatre Royal, Nick Stimson, and read by Paul McGann. Seth was elated to have the prestigious actor on board, "As we finished the album another quite magical thing happened, when Paul agreed to voice the narration between the tracks on the record. He pitched it perfectly."
On top of Seth's own vocal and instrumental performances (Violin, Viola, E tenor Guitar, Bouzouki, Drums, Harmonium) on the record, additional instrumentation is provided by some of the UK's finest talents, including Irish vocalist (and sister in law to Seth) Cara Dillon (additional vocals & co-lead on 'Saints And Strangers'), English multi-instrumentalist Benji Kirkpatrick (Vocals, Bouzouki, Guitar, Side Drum), long-time collaborator Ben Nicholls (upright Bass, Jew's Harp), and Seth's father Geoff Lakeman (additional vocals). The album was recorded at Seth's Crossways Studio in Devon, and mixed by Richard Evans (New Order, Peter Gabriel, The Pogues).
"A challenging piece of work, one that needs listening to properly, but if you do, "A Pilgrims Tale" is a journey with rich rewards." (maximumvolumemusic.com)
Seth Lakeman, vocals, guitar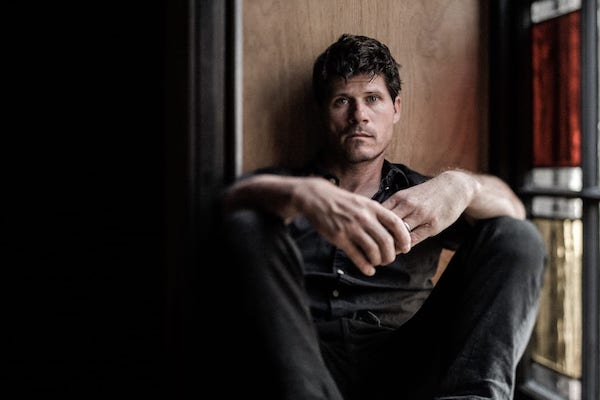 Seth Lakeman
takes a break from the Robert Plant musical juggernaut in Autumn 2018 to release his ninth studio album 'The Well Worn Path' and head out on tour around the UK with a new band line-up.
The charismatic singer-songwriter and multi-instrumentalist found time at the beginning of the year, in between charging around the globe with Robert Plant and his band, the Sensational Space Shifters, to record his new studio album The Well Worn Path.
It's a return to a no-nonsense, organic, classic folk-rock approach with hints of Fairport Convention, Neil Young, Nick Cave and Billy Bragg – plus Lakeman's trademark foot-stomping, fiddle bow-shredding and soaring vocals.
Seth brought in top producer Ben Hillier and along with long-time collaborator Ben Nicholls on upright and electric bass, he was joined by new boys Kit Hawes on electric and acoustic guitar and drummer Evan Jenkins. One of the finest female folk voices Kathryn Roberts (Seth's sister-in-law) also contributes sublime backing vocals to the album.
Seth has performed everywhere from Libya to Texas, as well as featuring on just about every major festival bill across the UK. In addition, Seth has toured extensively around Europe too where he's also performed with Tori Amos and Clannad and has toured with other artists including Jools Holland, Runrig and Billy Bragg.
Since the Mercury Prize nominated "Kitty Jay" (recorded in his kitchen for £300), the follow-up gold selling "Freedom Fields" and his last, highly acclaimed offering, "Word of Mouth", a deft collection of mini musical biographies of colourful West Country characters, Seth Lakeman has relentlessly pushed his musical boundaries and those of folk and roots music. With 'Ballads of the Broken Few' Seth demonstrated yet again that, far from being complacent, he is constantly exploring new and bold musical paths.

This album contains no booklet.