---
Album info
Album including Album cover
Ludwig van Beethoven (1770 - 1827): 7 Bagatelles, Op. 33:

1

7 Bagatelles, Op. 33: I. Andante grazioso, quasi allegretto

03:58

2

7 Bagatelles, Op. 33: II. Scherzo allegro

02:58

3

7 Bagatelles, Op. 33: III. Allegretto

02:11

4

7 Bagatelles, Op. 33: IV. Andante

03:14

5

7 Bagatelles, Op. 33: V. Allegro, ma non troppo

03:12

6

7 Bagatelles, Op. 33: VI. Allegro quasi Andante

03:57

7

7 Bagatelles, Op. 33: VII. Presto

02:16

11 Bagatelles, Op. 119:

8

11 Bagatelles, Op. 119: I. Allegretto

02:16

9

11 Bagatelles, Op. 119: II. Andante con moto

01:13

10

11 Bagatelles, Op. 119: III. à l Allemande

01:37

11

11 Bagatelles, Op. 119: IV. Andante cantabile

01:44

12

11 Bagatelles, Op. 119 : V. Risoluto

01:11

13

11 Bagatelles, Op. 119: VI. Andante

01:44

14

11 Bagatelles, Op. 119: VII. Allegro, ma non troppo

01:02

15

11 Bagatelles, Op. 119: VIII. Moderato cantabile

01:36

16

11 Bagatelles, Op. 119: IX. Vivace moderato

00:40

17

11 Bagatelles, Op. 119: X. Allegramente

00:11

18

11 Bagatelles, Op. 119: XI. Andante, ma non troppo

01:47

Ludwig van Beethoven:

19

Bagatelle No. 25 in A minor, Für Elise, WoO 59

02:49

6 Bagatelles, Op. 126:

20

6 Bagatelles, Op. 126: I. Andante con moto. Cantabile e compiacevole

02:56

21

6 Bagatelles, Op. 126: II. Allegro

02:50

22

6 Bagatelles, Op. 126: III. Andante. Cantabile grazioso

02:44

23

6 Bagatelles, Op. 126: IV. Presto

04:09

24

6 Bagatelles, Op. 126: V. Quasi allegretto

02:17

25

6 Bagatelles, Op. 126: VI. Presto - Andante amabile e con moto

03:51

Total Runtime

58:23
Info for Beethoven: Complete Bagatelles

A genius is also interesting in his little things. And what seems small on the outside, it does not necessarily have to be. Thus the Bagatelles are among the remarkable piano works of Ludwig van Beethoven.
"Vive la Bagatelle! – From a great man everything is interesting, and the trifles of the same are not the least of it." This statement by Jean Paul could well have been applied to Ludwig van Beethoven and his bagatelles. In any case, it reinforces doubts that the Piano Pieces op. 33, 119 and 126 are only by-products of the intellectual arrangement of the great sonatas and variation cycles.
The mere fact that Beethoven provided the pieces with opus numbers, thus including them in the "list of my great works", suggests a different evaluation. According to this, the bagatelles would not have the rank of "major works", but they would have an eminently important function in the composer's work: the exploration of creative freedom, the playful testing of innovative solutions in a small format.
Each individual bagatelle has its own unique musical characteristics, and the spectrum ranges from the lyrical-song-like cantabile to the sometimes elegantly swinging, sometimes primeval-dark dance to the robust-motor Presto. Grace and wrath, wit and melancholy, soft and brusque suddenly meet and clash with each other.
There is something for every musical temperament: for subtle sound poets, for provocative eccentrics, for noble and brilliant virtuosos and for bold avant-gardists. In his approach, pianist Christoph Scheffelt tries to find a synthesis of all these interpretative approaches and to find the appropriate, individual tone for each bagatelle.
It is important to him that in some details even future musical developments are anticipated. When Beethoven said goodbye to his instrument, the piano, with the group of works op. 126, which he certified as "cyclic", this was at the same time a caesura, a departure for new peaks in the composer's later works.
The German-Chilean pianist Christoph Scheffelt, who is considered a proven Beethoven specialist, was born in Santiago de Chile in 1981. He completed his education as a master student of Prof. Homero Francesch at the Zurich University of the Arts. Christoph Scheffelt has received the renowned Rahn Music Prize, the "Claudio Arrau" Prize, and the Werner and Berti Alter Prize for Pedagogy. In 2008 he will make his debut at the Tonhalle Zurich under the direction of Howard Griffiths with the 1st piano concerto by Ludwig van Beethoven.
Christoph Scheffelt, piano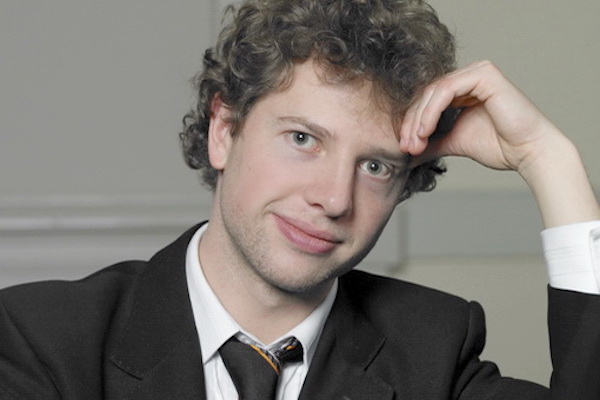 Christoph Scheffelt
was born in Santiago de Chile.
On finishing his Diploma in Piano Studies at the University 'Católica de Chile' under Prof. Maria Iris Radrigán, Christoph completed his studies with 'Magister Artium' and the highest possible grade at the Mozarteum in Salzburg under Prof. Rolf Plagge.
Further studies with 'excellence' followed while attending Prof. Homero Francesch's master classes at the Zurcher Hochschule der Kunste, Switzerland.
Great musicians like Paul Badura-Skoda, Cyprien Katsaris, Rudolf Buchbinder, Bernd Goetzke, Eckart Heiligers (Jean-Paul Trio) and Rainer Schmidt (Hagen Quartett) have left a significant impression on his appreciation for music.
Christoph performs regularly as soloist and as member of the "Eldering Ensemble" in countries of Western Europe, Australia and South and Central America.
Scheffelt won the "Rahn Musik-Preis", the "Claudio Arrau" special prize, and the "Berti Alter-Preis" for pedagogy, among others.
In 2008 Scheffelt made his debut at the Tonhalle in Zürich under Howard Griffiths.
Christoph Scheffelt performed as soloist with international orchestras - among others the Karlsbader Symphony Orchestra, the Orchestra of the Zürcher Hochschule der Künste, the Chamber Orchestra of Musikkollegium Schaffhausen, Orquesta de Cámera de Chile, Orquesta Sinfónica Nacional Juvenil, the Orquesta UNAB under conductors Leo McFall, Rodolfo Fischer, Francisco Rettig, Santiago Meza and Jaime Donoso.
Christoph Scheffelt lives and works as a freelance musician and piano teacher in Zürich, Switzerland.

This album contains no booklet.