---
Album info
Album including Album cover
1

Intro

05:08

2

Giz

06:09

3

The Cat

06:06

4

Adrasan

06:01

5

ZT Blues

05:02

6

Babushka

06:05

7

When I Fall In Line

05:11

8

7 Reggae Forde

06:43

9

Pulling The Head Alone

06:44

10

Giant In Love

04:09

Total Runtime

57:18
Info for Alright!

A leading guitarist, composer and arrangement-writer in Turkey, Cem Tuncer's first solo album "Alright!" is released through Lin Records label. Tuncer, who has worked on award-winning TV series and film scores as well as sharing the stages and studios with Turkish pop and jazz stars, has included many surprises in his album. Ricky Ford has worked with a Turkish musician for a first time while recording with Cem Tuncer for "Alright!". Grammy-winning musician and sound engineer David Darlington has done the album's mastering…
Cem Tuncer, jazz guitarist, composer, arrangement-writer and producer, released his first solo album "Alright!" through Lin Records. He is accompanied by the members of his band Cem Tuncer Quartet, founded in 2011, who are Engin Recepoğulları on the saxophone, Volkan Hürsever on the double bass, Ediz Hafızoğlu on the drums and Ricky Ford. The album was released on digital platforms as well as in CD and LP formats, and consists of 10 pieces—9 of which were composed by Cem Tuncer and one by Ricky Ford.
Ricky Ford, who has shared the stage with jazz legends like Abdullah Ibrahim, Charles Mingus, Mercer Ellington and George Cables, is accompanying Cem Tuncer this time. It is the first time that the legendary jazz saxophonist Ford records with a Turkish musician.
The album's title "Alright!" is a familiar term used among Turkish jazz musicians as a salute. Tuncer salutes jazz lovers with "Alright!" and jazz master Neşet Ruacan's opinions about this album are as such: "An amazing jazz album! A wonderful studio recording and an album that is fully embodied by jazz. The compositions held these great musicians together so well. Great melodies, live solos—this album is a must to have in your collection with its suitability to both concert and club atmospheres. The compositions shine through and the presence of the soloists is balanced. The best piece of course is Z.T Blues. Congratulations M. Cem Tuncer!"
The mix and recording of "Alright!" was done at Hayyam Studios in Istanbul by Sinan Sakızlı and the mastering was done by the Grammy Award-winning musician and sound engineer David Darlington at Bass Hit Studios in New York. The album illustration belongs to Burcu Ürgüt and its design was done by Yiğit Gürevin.
Cem Tuncer, guitar
Ricky Ford, tenor saxophone
Engin Recepoğulları, tenor saxophone
Volkan Hürsever, double bass
Ediz Hafızoğlu, drums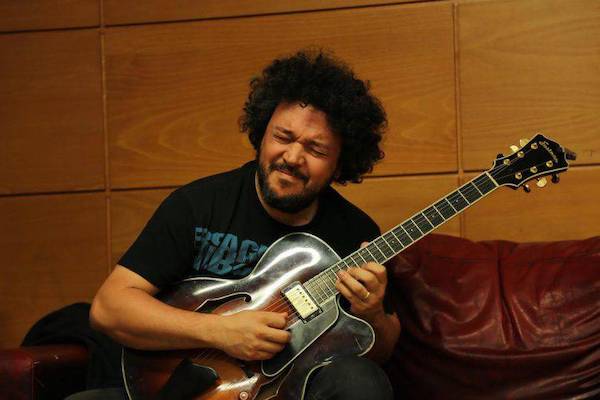 Cem Tuncer
born in 1978, is a leading Turkish guitarist and producer in the Turkish jazz world. He studied guitar with Sarp Maden and Gökçen Taşkıran, music theory with Semih Korucu and Mehmet Nemutlu, ensemble with Bülent Ortaçgil and Önder Focan at Akademi Istanbul's Jazz Department. He finished his studies at Bilgi University's Music Department and worked with prominent musicians like Neşet Ruacan, Kamil Özler, Ali Perret, L. Butch Morris, Can Kozlu, Aydın Esen, İmer Demirer, Ricky Ford, Selen Gülün, Mike Wilkens, Jeff Mcaulley and Ayşe Özbekligil. He performed in music festivals around the world such as , Sfinks (Belgium), Amsterdam (Holland), Hildesheim (Germany), Gent and Brüksel Ethnic (Belgium) while finishing his studies. He represented Turkey in International Estonia Young Jazz Guitarist Competition in 2008 and won the second place. He played at Romania Garana and Pori jazz festivals with Ted Curson, Harvey S., Enrico Granafei, Önder Focan, Vitali Imereli, Reiska Laine, Toivo Unt, Marian Petrescu and Jyrki Kangas as a winner of this competition. He started to write compositions for TV shows and movies in 2006. He won awards with "Ali'nin Sekiz Günü" in Istanbul Film Festival, with "Dilber'in Sekiz Günü" in Ankara Film Festival in 2008. He composed scores for many well-known TV shows like "Adını Feriha Koydum", "Umutsuz Ev Kadınları'", "Adını Kalbime Yazdım", "Anne", "İstanbullu Gelin", "Kadın" and "Bizim Hikaye" and has received the award for Best TV Show Score in Kral TV Music Awards in 2011. He has played and recorded with the leading jazz and pop musicians such as Önder Focan, Sezen Aksu, Aykut Gürel, Jülide Özçelik, Gürol Ağırbaş, Melis Sökmen, Deniz Seki, Elif Çağlar Muslu and Zuhal Olcay. Cem Tuncer still plays with TRT Istanbul Radio Light Music and Jazz Orchestra since joining in 2008, and with his own band Cem Tuncer Quartet (CTQ) which consists of Engin Recepoğulları on the saxophone, Volkan Hürsever on the double bass and Ediz Hafızoğlu on the drums. After his first single "Intro", his first solo album was released by Lin Records.

This album contains no booklet.