---
Album info
Album including Album cover
Georg Friedrich Händel (1685 - 1759): Alcina, HWV 34:

1

Alcina, HWV 34: Sta nell'ircana pietrosa tana

05:29

Nicola Antonio Porpora (1686 - 1768): Arianna in Naxo:

2

Arianna in Naxo: Nume che reggi 'l mare

07:13

David e Bersabea:

3

David e Bersabea: Dolce è su queste alte mie logge a sera

02:17

4

David e Bersabea: Fu del braccio onnipotente

05:58

Polifemo, ouverture:

5

Polifemo, ouverture: I. Ouverture

01:27

6

Polifemo, ouverture: II. Allegro

01:52

7

Polifemo, ouverture: III. [...]

02:21

Calcante e Achille:

8

Calcante e Achille: A questa man verrà

04:12

Georg Friedrich Händel: Ariodante, HWV 33:

9

Ariodante, HWV 33: Scherza infida

09:17

Nicola Antonio Porpora: Polifemo:

10

Polifemo: Il gioir qualor s'aspetta

05:46

Georg Friedrich Händel: Ariodante, HWV 33, suite de ballet:

11

Ariodante, HWV 33, suite de ballet: I. Entrée des songes agréables

01:25

12

Ariodante, HWV 33, suite de ballet: II. Entrée des songes funestes

01:52

13

Ariodante, HWV 33, suite de ballet: III. Entrée des songes agréables effrayés

00:41

14

Ariodante, HWV 33, suite de ballet: IV: Le combat des songes funestes et agréables

01:30

Nicola Antonio Porpora: Mitridate:

15

Mitridate: Alza al soglio i guardi

04:14

Georg Friedrich Händel: Tolomeo, HWV 25:

16

Tolomeo, HWV 25: Inumano fratel, barbara madre

01:49

17

Tolomeo, HWV 25: Stille amare, già vi sento

04:15

Catone in Utica, HWV A7:

18

Catone in Utica, HWV A7: Quando piomba improvvisa saetta

04:12

Total Runtime

01:05:50
Info for Duel. Porpora and Handel in London

Despite the rivalry between the operatic companies leaded by Haendel and Porpora in London (1734-1737), much has to be said about the real nature of the connection between the two composers. Both the musicians were considered outstandingly original for their aesthetic choices. Both admired each other's music. The few whirlwind years of their defiance in Great Britain produced memorable scores: among them, Ariodante by Haendel and Polifemo by Porpora, performed with simultaneous runs in the city theaters. The fight between the two operatic company was an opportunity for the composers to meet and discover each other, to deal with the taste of the audience and to experiment new ideas, getting strength from the incredible skills of the members of the vocal casts (Farinelli, Senesino, Carestini, etc.). This CD tries to capture the soul of such a complicated intellectual relationship, presenting significant exemples of the composers' style and outlining the borders of the mutual esteem between two giants in the history of music. On her debut solo album, the young talented mezzosoprano Giuseppina Bridelli performs with effortless bravery the difficult pages written for some of the most famous singers of the 18th century: between them, a version with original variations of Haendel Scherza infida.
Giuseppina Bridelli, mezzo-soprano
Le Concert de l'Hostel Dieu
Franck-Emmanuel Comte, direction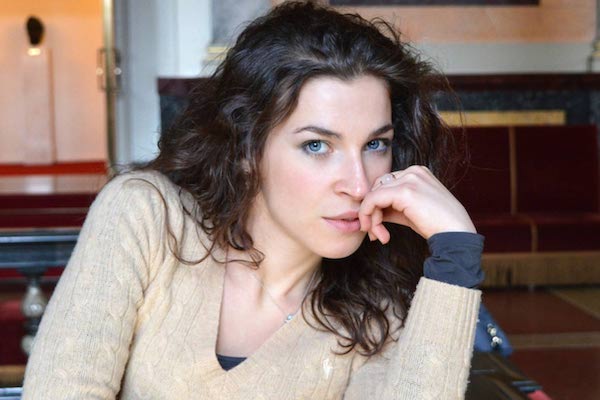 Giuseppina Bridelli
Born in Piacenza in Italy, Giuseppina began studying singing at a very young age, she graduated at the Conservatoire in Piacenza under the guidance of Maria Laura Groppi.
Winner of several singing competition like Francesco Provenzale (Napoli), Baroque singing competition in Vicenza, Concours de chant de Froville, International Vocal Competition Stanislas Moniuszko in Varsavia and the Renata Tebaldi Competition in San Marino. In 2007 Giuseppina won the As.li.co International Singing Competition and made her debut at only 21 as Despina in Così fan tutte conducted by Diego Fasolis.
Afterwards, she has been Idamante in Mozart's Idomeneo (conducted by M. Mariotti and directed by D. Livermore), Enrichetta in I Puritani, Lucia in La gazza ladra, Despina in Cosi fan tutte, Zerlina in Don Giovanni for Teatro Comunale in Bologna; Fidalma in Il matrimonio segreto at the Stresa Festival 2010, I Puritani and Carmen in Japan and in Cagliari; Flora in La Traviata (with a tour in Hong Kong) and Rusalka at Teatro San Carlo in Napoli; Zaida in Il turco in Italia at Opera de Nantes Angers and in Luxembourg; Die Zauberflöte at Teatro Petruzzelli in Bari; Sesto in La clemenza di Tito in Opera de St.Etienne.
On the concerts side, she sang: Cinque frammenti di Saffo by Dalla Piccola and the Mahler's Ruckert Lieder in Bologna; Das Knaben Wunderhorn by Mahler and the monologue Le Bel indifferent by Tutino at Festival della Valle d'Itria. She sang for the celebration of Premio Celletti at Festival della Valle d'Itria 2014 with a Rossini program conducted by F. Luisi; Mysterium by Rota with Orchestra Sinfonica di Milano Giuseppe Verdi (the label DECCA recorded the project); Les Mozart de l'Opera at Théâtre des Champs Elysées in Paris, Les nuits d'ete by Berlioz at the Philharmonie of Luxembourg; Passio secundum Johannes by Scarlatti (with L.G. Alarçon); Requiem by Donizetti in Paris at the Saint Denis Festival. Particularly appreciated in the baroque and classical repertoire, she regularly works with Cappella Mediterranea, L'arpeggiata, Il Pomo d'oro, Accademia bizantina, La venexiana, Ensemble pygmalion, Le cercle de l'armonie, La nuova musica, Auser musici, Le concert d'hostel dieu, Stile galante.
In the past seasons she sang: Ernesto in Il mondo della luna by Haydn at Opera di Montecarlo; Ippolita in Elena by Cavalli for the Festival d'Aix en provence at Opera de Lille and Lisbonne; Clori in Gli equivoci nel sembiante by Scarlatti and Asteria in Bjazet by Gasparini at Opera Barga with Auser Musici; Cesti's Orontea (title role) and Incoronazione di Poppea (Ottavia/Virtù) in the Innsbruck Festwochen; Amore in Orfeo ed Euridice by Gluck at San Carlo in Napoli; Novello Giasone by Cavalli (Poesia) at Festival della Valle d'Itria; Incoronazione di Dario by Vivaldi (O. Dantone conducting) in Bremen and Beaune; Poppea in Incoronazione di Poppea with la Venexiana (conducted by C. Cavina) in Krakow; El Tiempo and Minerva in La guerra de los gigantes by Duron (conducted by L. G. Alarcon) at Teatro de la Zarzuela in Madrid; Selene in Händel's Berenice at the Gottingen Handel Festival; Euridice in Monteverdi's Orfeo in Bremen with L'arpeggiata alongside Rolando Villazon.
Among her last engagements: Il viaggio a Reims (Corinna) at the Rossini Opera Festival; Cosi' fan tutte (Despina) at the Florence Opera House; Carmen (Mercédès) at the Teatro San Carlo in Naples (conducted by Z. Mehta); Orfeo (Aristeo) by Luigi Rossi with the Ensemble Pygmalion, conducted by R.Pichon, at the Opéra National de Lorraine, at the Opéra Royal of Versailles, in Bordeaux and in Caaen; concert version of Le nozze di Figaro in Copenhagen and at the Malmo summer Opera Festival, and again Cherubino at Teatro San Carlo in Naples, and for a new production by P.Stein at the Malmo Opera; Carmen and Traviata at the San Carlo in Naples; the Monteverdi trilogy (Messaggiera, Nerone, Penelope) in Schwetzingen with La venexiana; Monteverdi's Vespri with Ensemble Pygmalion in Amsterdam, Paris, Leipzig and London (BBC Prom at the Royal Albert Hall) and in Cremona (with L'arpeggiata). Mrs Bridelli held recitals in Paris, Lyon, New York (Carnegie Hall); she also sang in the Nepi Stradella Festival with Il Pomo d'oro; in a world tour for Monteverdi Orfeo (La Messaggiera) with Cappella Mediterranea and L.G. Alarcon (Bruxelles, Paris, Rio de Janeiro, Buenos Aires); Beethoven's Symphony n.9 and Charpenter Te Deum (A. Manacorda conducting) in Berlin at the Postdam Festival; Mozart Paukenmesse, Missa in tempore belli (G. Antonini conducting) for the Wratislavia Cantans in Eisenstadt and Wroclaw; Il prometeo by A. Draghi at the Opera de Dijon.
She already worked with conduct such as Z. Mehta, N. Santi, M. Mariotti, F.Luisi, A.Zedda, R.Abbado, J.Cura, L.G. Alarcon, R. Pichon, J. Jones, D. Fasolis, O. Dantone, J. Rhorer, C. Pluhart, and directors like E. Sagi, P. Stein, F. Ozpetek, A. Antoniozzi, L. Mariani, S. Vizioli, P. Pizzi, D. Livermore, C. Muti, D. Abbado, L. Podalydes. She recorded with major labels: Gasparini's Bajazet and Porpora Cantatas (Glossa); Rota's Mysterium (DECCA); Habanera with Elina Garanca (Deutsche Grammophon); Cavalli's Novello Giasone (Bongiovanni); Vivaldi's Incoronazione di Dario (Naive); Scarlatti's Passio secundum Ioannem (Ricercar); Vivaldi Cantatas (Tactus); Stradella's Doriclea (Arcana); Rossini's Peches de vieillesse (Naxos).
In the next seasons she will perform again with L'arpeggiata (Mupa Festival Budapest), Divino Sospiro (in Lisbon and Sevilla), Il Pomo d'oro (Grenoble and Venice), Cappella Mediterranea and Ensemble Pygmalion (Vichy); Il Barbiere di Siviglia (Rosina) in St.Etienne; Sacrati's La finta pazza in Dijon, Krakow, Geneva, Versailles; Cavalli's L'Ercole amante in Paris (Opèra Comique).

This album contains no booklet.