---
Album info
Album including Album cover
1

Ditty

00:46

2

All That You Have Been

04:33

3

Let The Cards Fall

05:01

4

Let It Calm You Down

05:58

5

Trip the Switch

04:38

6

Untie Me Now

06:15

7

Hide Out

04:54

8

Will You Wait

04:03

9

What You Owe

05:15

Total Runtime

41:23
Info for Let The Cards Fall

'Let the Cards Fall' is the new album from Manchester's The Breath. Underscoring the remarkable connection between guitarist Stuart McCallum and singer, lyricist and flautist, Ríoghnach Connolly, their music journeys from lush, beguiling storytelling to uplifting, punch-the-air anthems.
The follow-up to their 2016 breakthrough album, 'Carry Your Kin', 'Let the Cards Fall' is a bewitching collection of songs allowed to mature and breathe without losing the widescreen, multi-textured kaleidoscope of sound that marked their debut, while refining their trademark Manchester take on alt-folk.
For the Breath, it's all about the song. Connolly writes the only way she knows how; a stream of poetic consciousness giving rise to honest, personal, heartfelt songs as likely to touch on childhood summers and first love as cultural dislocation, post-colonial injustices and grief. But it's her deeply soulful, utterly engaging, stop-you-in-your-tracks voice – whether delicate and hushed or powerful and gutsy - coupled with Stuart's understated brilliance and their exquisitely crafted songs, that give The Breath such emotional depth.
Ríoghnach Connolly and Stuart McCallum are the creative heart of The Breath. They make an unlikely couple. Ríoghnach, known for her work with Afro Celt Sound System and Honeyfeet is a daughter of Armagh who has made Manchester her home. She has a gift for singing, a remarkable voice, a deep elegiac sensibility and a puckish, mischievous character. Stuart, by contrast, is a Mancunian urbanite who's worked with Cinematic Orchestra and is given to dry understatement and calm confidence. Both seem poised on the brink of revelation.
Let the Cards Fall is the second album by The Breath. It offers a continuous renewal of hope, catharsis and remembrance, and, as the title suggests, a new willingness to let go. Whereas the songs on their 2016 debut Carry Your Kin were honed over a number of years, Let the Cards Fall is a more organic affair. "All the material has been written on two local gigs, three days in Hull, a basement in Ramsgate and a garden in Reigate," says Stuart, the guitarist/composer. It was a deliberate decision. For Stuart and Ríoghnach, writing is spontaneous and the words and music come quickly. It is part of what makes their music so special. On Let The Cards Fall they opted to put the songs front and centre, stripping away some of the layers and bombast from Carry Your Kin in search of a softer, more organic palate. They choose to work quickly and hone closer to the creative spark which is at the heart of their music. To Let the Cards Fall.
Like many of The Breath's songs, 'Let It Calm You Down' was created in the amount of time it took to play. The group were on home turf at Manchester's famed haunt, Matt and Phred's when Stuart struck up 'Bewitched, Bothered and Bewildered' (now unrecognisable, yet it's somewhere in the song's DNA). The band followed. That is, keys man John Ellis (Ríoghnach's mentor and the producer of her 2012 solo, Black Lung), drummer Luke Flowers (Stuart's "musical brother") and bassist Sam Vicary (Luke's inviolable partner in rhythm). In walked Ellis Davies, Ríoghnach's co-star from Honeyfeet, who sat at the bar. Rio, in a rage from an earlier incident, saw him, yet the audience faded from view leaving only "my soul mate in the crowd, the only bastard that can calm me". Plucking words from the air she sang "I'll hold my weapon out and raise a glass…for all you've done to me and all you've cost…", and wept. "I've cried to that tune. Many times," owns Stuart. Ellis has cried to it too. It is that rare thing, a love song of unfeigned emotion, and charts the course of love from storm to tranquillity.
Ríoghnach Connolly writes the only way she knows how; a stream of poetic consciousness that addresses her great themes — diverse subjects which are all interlinked in her mind— Ireland, the pain and joy of family life, and abandoned and sacred places. "For me, the lyrics always have to speak a little truth in them. I know this is pretty, but I'm still going to get the boot in. I need that release". Interestingly, the word 'history' occurs in four of the eight songs on Let the Cards Fall.
'All That You Have Been' describes the forces of history at work in our lives. It's a hat tip to Walter Benjamin, the German philosopher who killed himself in 1940. "He knew the Nazis would erase all elements of his people's existence," says Rioghnach, whose songs deeply reflect her belief in preserving the full reservoir of human experience. The identity of 'her people' is hinted in the raggle-taggle retention in the songs riff.
On 'Let the Cards Fall', the album's wistful, delicate title track, Queen Macha makes a subtle appearance. Everyone needs a role model and Ríoghnach opts for Macha; an Ancient Irish legend (of whom Armagh is named after) who "rode on to the battlefield nine months pregnant, slaughtered all around her and then gave birth right there." She can be maternal as well as murderous. Ríoghnach also invokes Suhail, a bright star on the southern horizon that becomes a protective deity, for 'my brothers, caught in the crossfire': ordinary people, vulnerable to the processes of history. The song exemplifies the great clashing virtues of the pair. Ríoghnach, possessed of Celtic primitivism and visionary intimacy, Stuart, a guitarist of considerable tonal range, is ethereal and searching, never content to slip into conventional form and thrives in the gap between freedom and restraint. The picking pattern, he informs, derives from Villa-Lobos' Etude No. 1. There's a feeling of a lull before the storm, a respite that offers space for nurturing and healing.
And who is the specific target of Ríoghnach's wrath on 'Trip the Switch'? Her exceptional gift for the spontaneous lyric, together with the fact that the singer was confined to an airless booth in a basement studio during the recording points to one chief suspect. "Sometimes we have friends who are arseholes, but when you know the script you enjoy the show," Ríoghnach retrospectively comments. "Right", says Stuart apologetically, "but we got the song out of you, didn't we?" The song's lyrics, 'Hould your whisht' and 'pick it up off the ditch', incidentally, come from Armagh's rich compendium of sayings and proverbs. The former is a command to silence ("keep schtum, say naahun and keep saying it") whilst the latter describes behaviour that's in keeping with family tradition. 'Ditty', the album's opener is a dreamy duet for voice and guitar in parred down form and proves perfectly the potency of their chemistry. And that all is forgiven!
A lot of Irish history can be glimpsed, tangentially in 'Will You Wait'. Mass emigration. The Magdalene Laundries. Mass graves in Galway. In a land depopulated by men, it was a woman's role to love and to mourn and to remember. The imperative to remember becomes more urgent when so much has been forgotten. The song's inspiration comes from the lost art of keening – the crying lamentation of professional mourners who led the funeral processions down country roads. All women, they translated grief into vocal utterances for a living. "That tradition of keening doesn't exist anymore. In fact there's very little record of it at all," says Ríoghnach. It occurs that The Breath might be Ríoghnach's way of reviving this lost art. "Maybe that's what I am. But I don't think I'm a good enough keener, or Caoíneamh, in Irish. I'm not fluent. Because I don't have my home dialect. The dialect of Armagh has been lost, you know."
The Breath:
Ríoghnach Connolly, vocals & flute
Stuart McCallum, guitar
John Ellis, keyboards
Sam Vicary, bass
Luke Flowers drums
Ben Cashell, cello (tracks 2, 3, 4, 7, 8 & 9)
Emma Sweeney, violin (tracks 2, 3, 4 & 9)
Simmy Singh, violin (tracks 5 & 6)
Laura Senior, violin (tracks 5 & 6)
Lucy Nolan, viola (tracks 5 & 6)
Peggy Nolan, cello (tracks 5 & 6)
Caoimhín Ó Raghallaigh, Hardanger fiddle (track 7)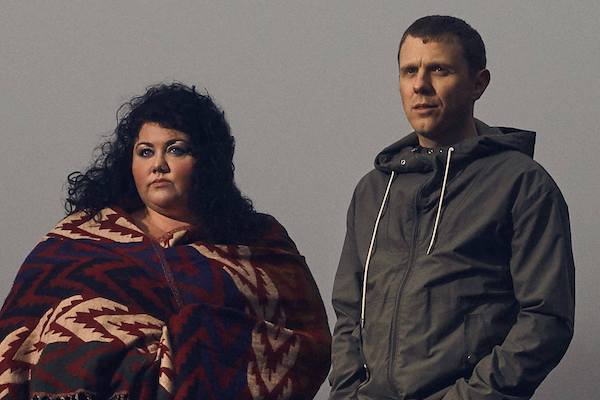 The Breath Ríoghnach Connolly and Stuart McCallum are the creative heart of The Breath. And for them, it's all about the song.
Connolly writes the only way she knows how; a stream of poetic consciousness giving rise to honest, personal, heartfelt songs as likely to touch on childhood summers and first love as cultural dislocation, post-colonial injustices and grief. But it's her deeply soulful, utterly engaging, stop-you-in-your-tracks voice – whether delicate and hushed or powerful and gutsy – coupled with Stuart's understated brilliance and their exquisitely crafted songs, that give The Breath such emotional depth.
'Let the Cards Fall' – with pianist John Ellis, bassist Sam Vickery and drummer Luke Flowers – is the follow-up to their 2016 breakthrough album, 'Carry Your Kin'. A bewitching collection of songs allowed to mature and breathe without losing the widescreen, multi-textured kaleidoscope of sound that marked their debut, while refining their trademark Manchester take on alt-folk.

This album contains no booklet.