---
Album info
Album including Album cover Booklet (PDF)
1

The Return of Mohammed (Live)

08:05

2

Desperation and Hope (Live)

09:11

3

Someday My Prince Will Come (Live)

06:58

4

Always and Forever (Live)

07:32

5

Endlose Erms (Live)

09:16

6

Si Tu Vois Ma Mere (Live)

03:35

7

Ominous Sky (Live)

06:21

Total Runtime

50:58
Info for The Gallery Concerts I (Live)

Manz and Summer are two of the most outstanding talents to emerge from the young German jazz scene in recent years. As a duo, their dialogue is intimate, open and scintillating. From the very first note, it is evident how perfectly matched Manz and Summer are. A magic and freedom emerge in the way they play together. Inspired by the spirit of discovery, they have the courage to surrender to the moment and be totally spontaneous, fresh and carefree in their music-making.
The Art in Music – Siggi Loch has had the clear objective to foster creative interaction between jazz and visual art ever since he founded ACT in 1992. As a producer who is also an art collector, he loves to bring not only topflight musicians together around him, but visual artists as well. Works by Philip Taaffe, Gerhard Richter, Martin Noël, Martin Assig and many more don't just adorn album covers, they are also on display at the ACT Gallery in Berlin.
And it is there, in the gallery, before a small and select audience, that private musical evenings known as the Gallery Concerts take place. The works of art provide an inspiring visual backdrop for artists to try out new things. The house concerts are special, up close and personal; these extraordinary musical experiences are now being made available for a wider public to enjoy. On 27 October 2021 Jakob Manz and Johanna Summer were performing...
Manz and Summer are two of the most outstanding talents to emerge from the young German jazz scene in recent years. As a duo, their dialogue is intimate, open and scintil-lating. The saxophonist (b. 2001) has shown above all through his band the Jakob Manz Project that he is a passionate exponent of contemporary jazz-rock, playing "amazingly sophisticated, powerful, soulful-funky music with groove" (Jazzthing).
In partnership with Johanna Summer (b. 1995), he also shows his mastery of the quiet and the lyrical. German jazz icon Joachim Kühn admires his young pianist colleague, and is full of praise for her "music, so full of fantasy and beyond category". With Summer, nothing is ever done for the sake of surface effect; it is all about the storytelling, and her fully-formed instincts for dramaturgy, dynamics and harmony. From the very first note, it is evident how perfectly matched Manz and Summer are. A magic and freedom emerge in the way they play together.
Inspired by the spirit of discovery, they have the courage to surrender to the moment and be totally spontaneous, fresh and carefree in their musicmaking. Any flaws just become part of the charm. Manz and Summer's "Gallery Concert" is a musical prologue: one can still only guess where and how this artistic relationship, still in its early stages, might develop.
Jakob Manz, alto saxophone & recorder (track 5)
Johanna Summer, piano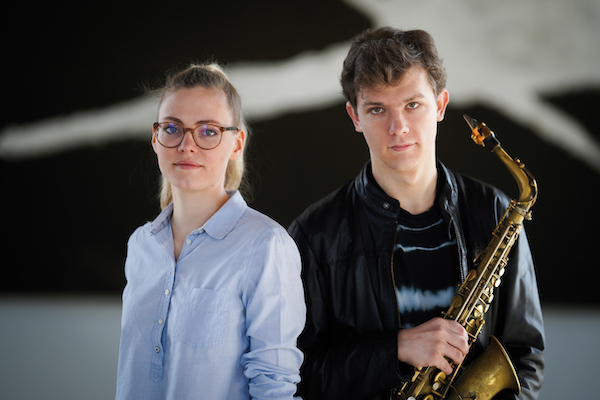 Jakob Manz
His music-making parents put it in his cradle: his talent for music. At the age of five, he hit the drums, at 8, the recorder was added, then the alto saxophone, with which he has remained. Someone like Jakob Manz is perceived as an exceptional talent. At the age of 15, he was already studying jazz & pop at the Musikhochschule Stuttgart. A year later, he was accepted into the Bundesjazzorchester (BuJazzO), with whom he performed in such sound-worthy concert halls as the Elbphilharmonie.
As a bandleader, he won 1st prize with his Jakob Manz Project at the Future Sounds 2018 of the Leverkusen Jazztage: standing ovations from the audience. Further awards followed, such as the Audience Award at the International Jazz Prize Biberach 2018. Since 2019, Manz has been studying jazz and pop saxophone at the Cologne University of Music and Dance. The saxophonist continuously works with his musical co-creators Paul Albrecht (dr) , Hannes Stollheimer (p), Frieder Kleins (e-b) to shape their group sound.
Jakob Manz has worked with Randy Brecker, Ack Van Rooyen, SWR BigBand, Wolfgang Dauner, Paul Heller, Wolfgang Niedecken (BAP), Günter Baby Sommer, Dusko Goykovich, Wildes Holz, Fola Dada, Klaus Graf, Wolfgang Schmid, Soul Diamonds and many more.
Johanna Summer
started her piano career at age seven. She took lessons in classical music and was awarded several times at the german federal competition "Jugend musiziert". Until 2018 she studied jazz piano at "Hochschule für Musik" in Dresden. Johanna is playing in a variety of lineups and as a soloist. She was honored with the composition prize of "Biberacher Jazzpreis" and with "Junger Münchner Jazzpreis" as first soloist ever. 2019 she won the 2nd prize at "EASTplugged Junior Award" and the prize for the best soloist at "Junger Deutscher Jazzpreis".
Her album "Schumann Kaleidoskop" was released in April 2020 on ACT Music, dealing with the music of composer Robert Schumann.
Besides concert tours to many European countries, Russia and the US, she was able to work with musicians like Jiggs Whigham, Django Bates, Sebastian Studnitzky, Randy Brecker, Milan Svoboda and Richard DeRosa.
Johanna's work focuses on the encounter of classical music's fidelity and the spontaneity of jazz.

Booklet for The Gallery Concerts I (Live)