---
Album info
Album including Album cover Booklet (PDF)
Ralph Vaughan Williams (1872 - 1958): Concerto accademico in D Minor:

1

Concerto accademico in D Minor: I. Allegro pesante

05:44

2

Concerto accademico in D Minor: II. Adagio

06:46

3

Concerto accademico in D Minor: III. Presto

04:28

Kenneth Hesketh (b. 1968):

4

Inscription-Transformation

14:07

Henri Dutilleux (1916 - 2013): Au gré des ondes (Arr. K. Hesketh):

5

Au gré des ondes (Arr. K. Hesketh): I. Prélude en berceuse [À Claude Pascal]

03:07

6

Au gré des ondes (Arr. K. Hesketh): II. Claquettes [À Jacqueline Bonneau]

01:18

7

Au gré des ondes (Arr. K. Hesketh): III. Improvisation [À Pierre Sancan]

01:58

8

Au gré des ondes (Arr. K. Hesketh): IV. Mouvement perpétuel [À Leon Kartun]

02:18

9

Au gré des ondes (Arr. K. Hesketh): V. Hommage à Bach [À Claude Arrieu]

03:36

10

Au gré des ondes (Arr. K. Hesketh): VI. Étude [À Geneviève Joy]

01:32

Maurice Ravel (1875 - 1937):

11

Tzigane, M. 76 (Version for Violin & Orchestra)

10:17

Violin Sonata No. 2, M. 77:

12

Violin Sonata No. 2, M. 77: I. Allegretto

08:00

13

Violin Sonata No. 2, M. 77: II. Blues. Moderato

05:05

14

Violin Sonata No. 2, M. 77: III. Perpetuum mobile. Allegro

03:59

Total Runtime

01:12:15
Info for The Deeper the Blue...

SOMM Recordings' The deeper the blue... offers an intriguing exploration of colour and timbre in music and a revealing investigation of the connections between four very different composers over a near-100-year period. Taking its title from painter Wassily Kandinsky's assertion that a deepening colour ultimately 'turns into silent stillness and becomes white', the recording illuminates the intimate relationship between student and teacher: Vaughan Williams and Maurice Ravel, Kenneth Hesketh with Henri Dutilleux and the influence on Dutilleux of Ravel.
Janet Sung, violin
Simon Callaghan, piano
Britten Sinfonia
Jac van Steenm, conductor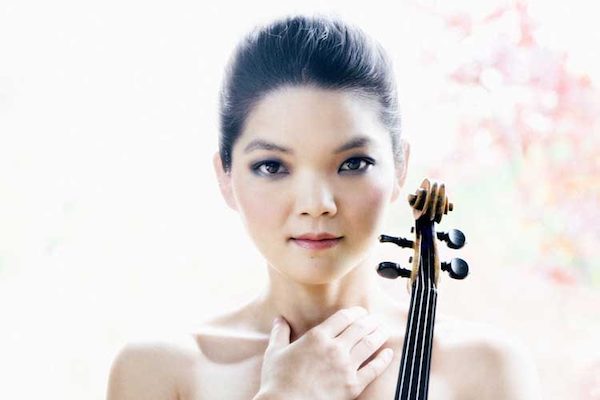 Janet Sung
Violinist Janet Sung enjoys an acclaimed international career as a virtuoso soloist, recognized for her intense, exhilarating performances, and by her signature lustrous, burnished tone. Hailed by The Washington Post for her "riveting" playing and "exquisite tone", her playing possesses the rare blend of fierce intelligence, subtlety and brilliant virtuosity.
Since her orchestral debut with the Pittsburgh Symphony at age 9, she has performed with leading orchestras and in recitals worldwide. Recent seasons has seen her as soloist with, among others, the Buffalo Philharmonic Orchestra, Aspen Festival Chamber Symphony and the Pro Arte Chamber Orchestra of Boston, as well as the orchestras of Boise, Bozeman, Corpus Christi, Delaware, Dubuque, Fargo-Moorhead, Hartford, Las Cruces, Springfield (Massachusetts and Ohio), Tacoma and Wyoming. Abroad, she has been heard with South Korea's Pusan Philharmonic Orchestra, Germany's Stelzen Festival Orchestra and Russia's Omsk Philharmonic Orchestra and National Symphonic Orchestra of Bashkortostan.
An artist of remarkable versatility, Ms. Sung is celebrated for her compelling performances of traditional works from Bach to Berg, and is passionate about promoting works of the 20th and 21st centuries. In recent years, she has performed repertoire as diverse as Henri Dutilleux's Violin Concerto, L'Arbes des Songes, to Astor Piazzolla's Cuatro Estaciones Porteñas. In 2009, Ms. Sung presented the world premiere of Kenneth Fuchs' American Rhapsody for Violin and Orchestra, and, in 2011, the world premiere of Augusta Read Thomas' Double Helix, which was recently released on Nimbus Records. Additionally, she has toured throughout the United States with fiddler Mark O'Connor's American String Celebration, showcased in performances of Vivaldi's The Four Seasons, Sarasate's Zigeunerweisen, and original compositions by O'Connor.
Her solo performances have frequently been aired on radio and television, nationally and internationally, including multiple broadcasts of her performance of Korngold's Violin Concerto on NPR's "Performance Today," and regular featured performances on Chicago's WFMT. She is featured on recordings of Vivaldi's The Four Seasons and Bach's Brandenburg Concerto No. 1, the latter with members of the Gewandhaus Orchestra recorded at the Thomaskirche in Leipzig, Germany. Her latest recording project will include the complete works by J.S. Bach for Violin and Keyboard with pianist and Bach specialist, Sean Duggan.
In recital, Janet Sung has been presented in Boston, Chicago, Cleveland, Louisville, New York City and Pittsburgh, as well as in Odense, Denmark, Lausanne, Switzerland and Queenstown, New Zealand. She is frequently heard as concerto and recital soloist at distinguished festivals, including the Aspen Music Festival, Bellingham Festival, Britt Festival, Hot Springs Music Festival, Sewanee Summer Music Festival, Germany's Sulzbach-Rosenberg International Music Festival, and Switzerland's Lucerne Festival. She is also a performing artist at numerous chamber music festivals, including the Bowdoin International Music Festival, the Kreeger Chamber Music Festival in Washington, D.C., the Green Mountain Chamber Music Festival, and the Newport Music Festival, and is a regular guest with the Finger Lakes Chamber Ensemble and the American Chamber Players, which tour nationally.
Janet Sung was chosen by Leonard Slatkin as the recipient of the Passamaneck Award, for which she performed at Pittsburgh's Carnegie Hall for the Y Music Society Concert Series.
Born in New York City, Janet Sung began her violin studies at age seven, making her public debut the following year. At age nine, she began a decade of private studies with renowned violinist and pedagogue, Josef Gingold, a period that overlapped with her attendance at Harvard University. She graduated with honors earning a double degree in anthropology and music, a reflection of her inquisitive passion and curiosity. Ms. Sung was subsequently invited to study on full scholarship with Dorothy DeLay at The Juilliard School. Other influential teachers include Masao Kawasaki, David Cerone, Eugene Phillips and the Juilliard String Quartet.
Currently Associate Professor of Violin and Strings Coordinator at the DePaul University School of Music in Chicago, Ms. Sung is a highly sought after artist-teacher and regularly conducts master classes at conservatories throughout the U.S. and abroad. She also serves as associate faculty at The Juilliard School (initially as the Starling/DeLay Fellow). During the 2003-2004 season, she was invited as the Clifton Visiting Artist at Harvard University for the "Learning from Performers" program, whose previous guests included Isaac Stern, James Galway, Mark Morris and Quincy Jones.
Janet Sung plays a c.1600 Maggini violin crafted in Brescia, Italy.
Simon Callaghan
Steinway Artist Simon Callaghan performs internationally as a soloist and chamber musician. His recent tours have taken him to Japan, Malaysia, Thailand, throughout Europe and on two occasions to the Banff Centre in Canada. He has performed at all of the UK's major concert halls including Wigmore Hall, Royal Festival Hall, Birmingham Symphony Hall, Liverpool Philharmonic Hall, St David's Hall Cardiff and Manchester's Bridgewater and Stoller Halls.
Simon's interest in rarely-performed works has led to invitations to perform concerti by Françaix and Tippett and to give the first UK performance since 1946 of Medtner's 3rd Concerto. His rapidly-expanding discography includes solo works by Sterndale Bennett, Parry, Sacheverell Coke, chamber music by Brahms, Schumann, Chopin, and two volumes of Delius with Parnassius Duo partner, Hiroaki Takenouchi (on Somm). Following his début recording for Hyperion's lauded Romantic Piano Concerto series in 2017 (Roger Sacheverell Coke's Concerti with the BBC Scottish Symphony Orchestra and Martyn Brabbins), in 2018 Simon joined conductor Ben Gernon to release a further disc in the same series, of concertos by Rheinberger and Scholz. The disc reached No. 2 in the specialist classical charts and garnered enthusiastic reviews across the press. Simon's first solo disc for Hyperion, world-premiere recordings of works by Jean Louis Nicodé, was released in May 2019 to critical acclaim, with Gramophone Magazine praising his "superb artistry". He has also signed with Lyrita Recordings, for whom he will make recordings with Raphael and Simon Wallfisch, Hiroaki Takenouchi and others.
Festival invitations have included Highgate, Husum, Whittington and Cervo Chamber Music. Callaghan has also broadcast frequently on BBC radio and television. In chamber music he has collaborated with Feng Ning, Jack Liebeck, Giovanni Guzzo, Tim Hugh, Thomas Gould, Raphael Wallfisch and the actors Timothy and Samuel West, and Prunella Scales. His extensive repertoire has included complete cycles of Beethoven and Brahms chamber works, and a three-concert residency at St John's Smith Square in London, exploring the piano quartet medium. Contemporary music performances have included works by Joseph Phibbs, Julian Anderson and Kenneth Hesketh, and he was invited by the Royal College of Music to play Boulez's 'Dérive II' as part of their 'Variable Geometry' series. His world premiere recording of Paul Patterson's 'Allusions' for two violins and piano (with Midori Komachi and Sophie Rosa) was released in 2017.
Simon puts great value on teaching and this season will give masterclasses, lead a course at Benslow Music and continue his work as Head of Piano at the Ingenium Academy (Winchester). In addition to his performing schedule, Callaghan is Director of Music at Conway Hall, where he oversees the longest-running chamber music series in Europe. He is also a PhD Researcher at the Royal Northern College of Music, working to bring the oeuvre of Roger Sacheverell Coke into the public domain.

Booklet for The Deeper the Blue...