---
Album info
Album including Album cover
I`m sorry!
Dear HIGHRESAUDIO Visitor,
due to territorial constraints and also different releases dates in each country you currently can`t purchase this album. We are updating our release dates twice a week. So, please feel free to check from time-to-time, if the album is available for your country.
We suggest, that you bookmark the album and use our Short List function.
Thank you for your understanding and patience.
Yours sincerely, HIGHRESAUDIO
Ennio Morricone (1928 - 2020):

1

Morricone: Playing Love (From "The Legend of 1900")

03:01

Domenico Paradies (1707 - 1791):

2

Paradies: Harpsichord Sonata in A Major, P 893.06: II. Allegro (Toccata)

01:26

Ottorino Respighi (1879 - 1936):

3

Respighi: 6 Pieces for Piano, P. 44: No. 5, Studio. Presto

01:49

Francesco Cilea (1866 - 1950):

4

Cilea: Flatterie, Op. 11

02:14

Domenico Scarlatti (1685 - 1757):

5

Scarlatti: Keyboard Sonata in D Minor, K. 141

03:46

Luciano Berio (1925 - 2003):

6

Berio: 6 Encores: No. 3, Wasserklavier

02:43

Alfredo Casella (1883 - 1947):

7

Casella: Toccata, Op. 6

05:53

Ezio Bosso (1971 -2020):

8

Bosso: Emily's Room (Sweet and Bitter)

05:23

Giovanni Sgambati (1841 - 1914):

9

Sgambati: 4 Pezzi di seguito, Op. 18: No. 4, Toccata in A-Flat Major

04:22

Johann Sebastian Bach (1685 - 1750):

10

Bach: Partita for Violin Solo No. 2 in D Minor, BWV 1004: Chaconne (Arr. Busoni for Piano)

14:07

Nino Rota (1911 - 1979):

11

Rota: Valse lento molto cantabile

03:13

Baldassare Galuppi (1706 - 1785):

12

Galuppi: Harpsichord Sonata in B-Flat Major, TG 14: III. Giga

04:02

Giacomo Puccini (1858 - 1924):

13

Puccini: Foglio d'album, SC 81

01:58

Gian Francesco Malipiero (1882 - 1973):

14

Malipiero: Preludi autunnali: No. 4, Veloce

03:30

Giuseppe Verdi (1813 - 1901):

15

Verdi: Waltz in F Major

01:50

Marco Stroppa (b. 1959):

16

Stroppa: Miniature estrose, Book 1: II. Brichino, come un furetto

03:25

Goffredo Petrassi (1904 - 2003):

17

Petrassi: Partita for Piano: IV. Giga

01:53

Gioachino Rossini (1792 - 1868):

18

Rossini: Péchés de vieillesse, Vol. X: No. 6, Petite caprice (Style Offenbach)

02:41

Alfredo Mazzucchi (1878 - 1972), Eduardo Di Capua (1865 - 1917):

19

Mazzucchi, Di Capua: I' te vurria vasà

04:29

Francesco Filidei (b. 1973):

20

Filidei: Toccata

02:47

Total Runtime

01:14:32
Info for Italia

300 years of Italian piano in a programme that is surprising for its unusual chronological vastness: it starts in the early 18th century with Scarlatti's Sonata K 141 and arrives in 2015 with Ezio Bosso's piece. But the most astonishing aspect is the juxtaposition of composers who are very distant from each other not only in terms of historical period, but also in terms of styles. But the red thread that clearly runs through the sequence of pieces chosen by Vanessa Benelli Mosell is that of the insistent reference to a 'touchy' treatment of the piano in both a historical (Scarlatti) and historicised (Sgambati) or even provocative (Filidei) sense. And the juxtapositions seem to be made in pairs, either by symmetry or opposition, fishing exclusively among Italian composers and with a taste for rediscovering pages of rare execution. There is also a Neapolitan song tribute, another segment of the great Italian musical heritage, with 'I' te vurria vasà' performed by the famous tenor Francesco Meli.
"Powerful, emotional, romantic and dramatic, she sweeps us along in a dazzling display of assured technique." (The Guardian)
"Her pianism is extremely refined and nuanced" (Gramophone Magazine)
Vanessa Benelli Mosell, piano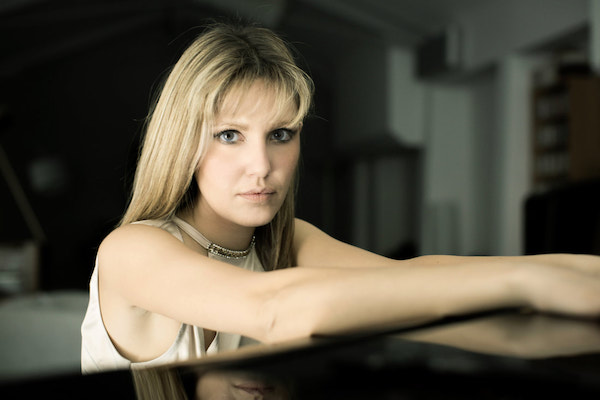 Vanessa Benelli Mosell
is a rising star on the international music scene, much praised for her virtuosity and technical brilliance, and for the sensitivity of her musical insight which she brings to her piano playing and now also to her conducting and directing from the keyboard. Vanessa is acclaimed for her passion, in equal measure, for the great classics and her championing of the newest composers. She has received praise for her recordings of Stockhausen and for her debut concerto cd for DECCA Classics of Rachmaninov's Piano Concerto No.2 with the London Philharmonic Orchestra.
Recent highlights include her debuts at the Teatro alla Scala Milan and Teatro Regio Turin at the MiTo Festival; tours to China; Stockhausen Marathons; her debut at Amsterdam's Muziekgebouw aan 't IJ; a portrait concert at the National Concert Hall, Dublin for RTÉ with concerti by Rachmaninov and George Benjamin, as well as her much praised conducting debut with the Divertimento Ensemble in Milan.
This season includes Vanessa's debuts with the Royal Scottish National Orchestra; at the Seoul Arts Centre, South Korea; a tour of Iran; her concerto debut in the USA, and her debut at the Royal Festival Hall, Southbank Centre and a return to the Southbank in their Stockhausen Festival. She also performs in festivals across Europe, including debuts at the Holland Festival, Al Bustan Festival in Beirut, and at the Festival Présences in Paris where she will also return in 2020 to open the Festival with George Benjamin's concerto conducted by the composer.
​Vanessa Benelli Mosell began her studies at seven years old at the International Piano Academy in Imola studying with Franco Scala. She gave her debut at eleven years old with Pascal Rogé, who described her as "the most natural musical talent I have encountered in my entire life". In 2007 she travelled to the Moscow Tchaikovsky Conservatory to study with Mikhail Voskresensky, and then studying with Dmitri Alexeev at the Royal College of Music in London, graduating in 2012, supported by the Russell Gander Award.
Following Vanessa's own private recording of Karlheinz Stockhausen's Klavierstücke I-IV when she was 17, she was invited by the composer to study under him, as he believed that she "has the power to let people appreciate my music". Vanessa worked closely with Stockhausen who remains an important influence on her music making, encouraging her passion for contemporary music and her championing of composers of today as well as the great classics. Since becoming a key figure in the music of Stockhausen Benelli Mosell has had collaborations with many leading contemporary composers including George Benjamin, Hugues Dufourt, Stefano Gervasoni, Martin Matalon and Marco Stroppa among others.
She has worked with the Moscow Soloists, Orchestre Philharmonique de Strasbourg, Münchner Symphoniker, Berliner Symphoniker, Zurich Chamber Orchestra, Jerusalem Symphony Orchestra and Orchestra del Teatro Comunale di Bologna. She has played at the Berliner Philharmonie, Hamburg's Laeiszhalle, Philharmonie de Paris, Madrid's Auditorio Nacional and the Palau de la Musica Barcelona, UNESCO Auditorium, Zurich Tonhalle, and at venues across the Americas, Spain, China, Israel, Turkey and Russia. She has played at London's King's Place and gave her Wigmore Hall debut in 2012.
Vanessa's debut recording, 'Introducing Vanessa Benelli Mosell, Virtuoso Piano Music', was released in 2011 and featured music by Prokofiev, Haydn, Scriabin and Liszt. It received great international praise for her "extraordinary artistic talent" and "sparkling technique in demanding music" (Gramophone Magazine) and was quickly followed by her equally acclaimed "Liszt Recital". Vanessa made her DECCA Classics debut album in 2015 with "[R]Evolution", a juxtaposition of Stockhausen and Stravinsky. Vanessa has now released 5 cds for DECCA, most recently a disc of Debussy's Preludes and Suite Bergamasque. Her next disc, of Ravel, with the Royal Scottish National Orchestra, will be released in 2019.
Vanessa was awarded the Elba Festival Prize by Yuri Bashmet, and the first Festival Pietrasanta Award as an outstanding young talent. She has been supported by the Keyboard Charitable Trust and in 2016 was appointed as a Steinway Artist.

This album contains no booklet.