---
Album info
Album including Album cover Booklet (PDF)
Igor Stravinsky (1882 - 1971): Suite italienne (Version for Cello & Piano):

1

Suite italienne (Version for Cello & Piano): I. Introduzione

02:06

2

Suite italienne (Version for Cello & Piano): II. Serenata

03:15

3

Suite italienne (Version for Cello & Piano): III. Aria

04:42

4

Suite italienne (Version for Cello & Piano): IV. Tarantella

02:17

5

Suite italienne (Version for Cello & Piano): V. Minuetto & Finale

04:13

Alfred Schnittke (1934 - 1998): Cello Sonata No. 1:

6

Cello Sonata No. 1: I. Largo

03:40

7

Cello Sonata No. 1: II. Presto

05:48

8

Cello Sonata No. 1: III. Largo

08:34

Violin Sonata No. 2 "Quasi una sonata" (Arr. for Cello & Piano):

9

Violin Sonata No. 2 "Quasi una sonata" (Arr. for Cello & Piano): I. Senza tempo

02:47

10

Violin Sonata No. 2 "Quasi una sonata" (Arr. for Cello & Piano): II. Allegro

04:08

11

Violin Sonata No. 2 "Quasi una sonata" (Arr. for Cello & Piano): III. Largo

03:26

12

Violin Sonata No. 2 "Quasi una sonata" (Arr. for Cello & Piano): IV. Allegro

02:00

13

Violin Sonata No. 2 "Quasi una sonata" (Arr. for Cello & Piano): V. Lento

01:51

Dmitri Smirnov (b. 1948):

14

Tiriel, Op. 41c

09:30

Alfred Schnittke:

15

Musica nostalgica

03:14

Total Runtime

01:01:31
Info for Russian Visions: 20th-Century Music for Cello & Piano

Cellist Bozidar Vukotic and pianist Alissa Firsova make their debuts on SOMM with Russian Visions, a revealing survey of chamber duets by three 20th-century giants: Stravinsky, Schnittke and Dmitri Smirnov.
Five contrasting works reveal the diversity of stylistic approaches in modern Russian music while also paying tribute to the country's revered school of cello playing in pieces dedicated to legendary Russian cellists of the last century – Gregor Piatigorsky, Natalia Gutman and Mstislav Rostropovich.
The modernism of Schnittke's Second Cello Sonata is heard alongside the romantic lyricism of his First Sonata and Smirnov's Tiriel, and against the neo-classical leanings of Stravinsky's Suite Italienne and Schnittke's Musica nostalgica.
Heard here in its first recording, Dmitri Smirnov's Tiriel – one of many pieces inspired by the artist William Blake – was drawn from his similarly titled 1985 opera and takes the form of a lilting, lyrical lullaby welcoming the release from sorrow afforded by sleep.
Bozidar Vukotic is a founder-member of the Tippett String Quartet and has been guest principal cellist with leading orchestras in the UK and Europe. He studied with Rostropovich protégé Stefan Popov at the Guildhall School of Music, where he was awarded the prestigious Premier Prix, completing his studies with William Pleeth in London and Alexander Kniazev in Moscow. He teaches at the Purcell School and is Cello Professor at Trinity Laban Conservatoire.
A much in demand pianist who made her Wigmore Hall and BBC Proms debuts in 2009, Alissa Firsova is also a former BBC Proms Young Composer whose music has enjoyed widespread international exposure in the concert hall and on disc. Her solo performing is complemented by chamber collaborations with distinguished artists such as Stephen Kovacevich, Steven Isserlis, Tim Hugh and Andrew Marriner. She also has a burgeoning career as a conductor. Dmitri Smirnov is her father.
Bozidar Vukotic, cello
Alissa Firsova, piano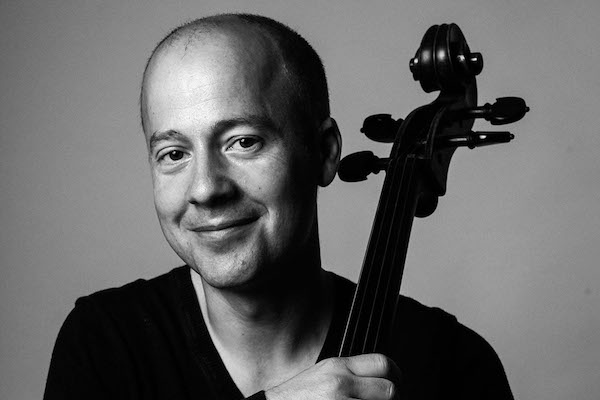 Bozidar Vukotic
was born in London and started playing the violin at the age of three and the cello at seven. As the Performance Scholar he graduated with a BA (hons) in music from the University of East Anglia. In 1991 he was awarded the prestigious Goldsmith Company Scholarship to study with Stefan Popov on the Advanced Solo studies course at the Guildhall School of Music and Drama in London. After winning the concerto, sonata and string quartet prizes he was awarded the coveted Performance Recital Diploma (Premier Prix) in 1993. With the aid of Wingate Trust and Hattori Foundation Scholarships he completed his studies with Alexander Kniazev in Moscow.
In 1994 he was a prizewinner in the National Federation of Music Societies competition, which included a debut recital in London's Purcell Room and in the following year he was a finalist and prizewinner in the Jeunesses Musicales International Cello Competition.
As a soloist and a chamber musician Bozidar has performed throughout the UK, Europe and has been acclaimed in The Times as " a glorious individual player.." He is a founder member of the Tippett String Quartet whom give regular recitals in London's Purcell Room and Wigmore Hall and were recently described in the Daily Telegraph as " a quartet of such exciting ideas and vital interpretative insight that it promises to make a significant contribution to the realms of chamber music."
This year has seen Bozidar give a sell out solo recital at the Purcell Room in which he premiered works by David Matthews and Alexander Levine. He has been invited to perform at the Belgrade International Cello Festival, tour Denmark and will also record a CD of Chopin for Toccata Records.
As well as teaching at the Royal Academy of Music in the Junior department Bozidar is Principal cello in the Oxford Philamusica Orchestra with whom he has just performed with at the Athens Festival . He regularly appears as a guest principal with many of London's orchestras, most recently the Royal Philharmonic Orchestra.
Alissa Firsova
is a British-Russian pianist, composer and conductor. As a pianist she gave her Wigmore Hall and Proms debuts in 2009 and has appeared in Dartington, Cheltenham, Presteigne, Messiaen at Southbank, Fuerstensaal Classix and Seattle festivals as well as numerous concert venues throughout UK, Germany, Holland, France, Turkey, Portugal, Switzerland and the US. She has enjoyed collaborations with distinguished artists such as Stephen Kovacevich, Tim Hugh, Roman Simovic, Andrew Marriner, Julius Berger and the Dante Quartet. Her debut solo piano CD, Russian Emigres, was released in Aug 2015 on Vivat with music by Rachmaninov, her parents and herself.
Since winning the BBC Proms/Guardian Young Composer competition in 2001, she has received two world premieres at the Proms, both conducted by Andrew Litton: her Bach Allegro was performed by the RPO in 2010 and her Bergen's Bonfire Op. 31 featured in the Bergen Philharmonic's 250th Anniversary Prom in 2015. Her music was also performed by Imogen Cooper, Henning Kraggerud, Tim Hugh, Julius Berger, Dante Quartet, Netherlands Blazer Ensemble, Seattle Chamber Players, Xenia Ensemble, Philharmonia Soloists, Northwest Sinfonietta, Interface Quartet, Tana Quartet and Britten Sinfonia. She was recently invited to Verbier, Asiago and Conques Festivals as composer-in-residence and her music is recorded on CD by Henning Kraggerud and The Sixteen.
After completing the postgraduate conducting course at Royal Academy of Music under Colin Metters, Alissa had her triple-debut with the English Chamber Orchestra as director, composer and conductor at the Cadogan Hall in 2013. In 2015 she conducted the Camerata RCO in the world premiere of her Le Soleil de Conques Op. 33.Alissa is very grateful for the generous support from L'Association des Amis de Canisy, the Zvi and Ofra Meitar foundation and Mediatec Limited.

Booklet for Russian Visions: 20th-Century Music for Cello & Piano