---
Comfort Eagle (Deluxe Edition) CAKE
Album info
Album including Album cover
I`m sorry!
Dear HIGHRESAUDIO Visitor,
due to territorial constraints and also different releases dates in each country you currently can`t purchase this album. We are updating our release dates twice a week. So, please feel free to check from time-to-time, if the album is available for your country.
We suggest, that you bookmark the album and use our Short List function.
Thank you for your understanding and patience.
Yours sincerely, HIGHRESAUDIO
1

Opera Singer

04:06

2

Meanwhile, Rick James...

03:57

3

Shadow Stabbing

03:07

4

Short Skirt / Long Jacket

03:24

5

Commissioning a Symphony In C

02:59

6

Arco Arena (Instrumental)

01:31

7

Comfort Eagle

03:40

8

Long Line of Cars

03:24

9

Love You Madly

03:58

10

Pretty Pink Ribbon

03:08

11

World of Two

03:41

12

Arco Arena (Vocal Version)

02:10

13

Comfort Eagle (Live at WNNX - 2002)

04:11

Total Runtime

43:16
Info for Comfort Eagle (Deluxe Edition)

CAKE's fourth studio album Comfort Eagle, which includes hit single "Short Skirt / Long Jacket" is being released on HIGHRESAUDIO for the first time.
"While so many rock bands try to reinvent themselves with every new album, Cake has made a name for itself by sticking to its brand of smirking funk-pop. Blending jazz, rockabilly, experimental rock, and a little less country than usual, Comfort Eagle, the band's first album since leaving Capricorn Records for Columbia, carries on the Cake tradition of offbeat humor and catchy melodies. While some fans may be waiting for its sound to evolve, singer/songwriter John McCrea and company seem content to reign over their quirky little corner of the popular music landscape. "Opera Singer" and the first single, "Short Skirt/Long Jacket," follow in the footsteps of Cake's previous hits, but are no less enjoyable because of it. "Shadow Stabbing" is one of the most straightforward rock songs the band has ever recorded, with McCrea forgoing his usual half-spoken vocals for an almost irony-free delivery. While it is still unmistakably Cake, it would sound right at home on a Cars album. The rest of the album is by the numbers Cake, which is comforting and slightly disappointing at the same time. The group has certainly perfected its sound, and one can understand why it would be hesitant to turn its back on its extremely distinctive style, but with Comfort Eagle Cake comes dangerously close to simply remaking its previous release, Prolonging the Magic. While new fans might enjoy Comfort Eagle on its own merits, Cake followers may feel as though they've bought the same album twice. However, both albums are strong enough that they probably won't mind." (Mark Vanderhoff, AMG)
John McCrea, vocals, acoustic guitar, keyboards, percussion
Vince DiFiore, trumpet, keyboards, backing vocals
Xan McCurdy, electric guitar, keyboards, backing vocals
Gabriel Nelson, bass guitar, keyboards, backing vocals
Todd Roper, drums, percussion, Moog synthesizer, backing vocals
Tyler Pope, keyboard, electric guitar ("Opera Singer", "Short Skirt/Long Jacket", "Arco Arena")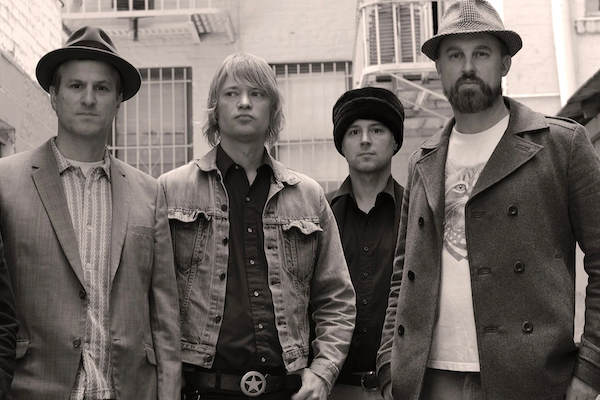 CAKE
is an alternative rock band which formed in 1991 in Sacramento, California, United States. The band consists of John McCrea (vocals, guitar), Xan McCurdy (guitar), Gabe Nelson (bass), Vincent DiFiore (trumpet, keyboards, vocals) and Paulo Baldi (drums). The band has released six albums: Motorcade of Generosity (1994), Fashion Nugget (1996), Prolonging the Magic (1998), Comfort Eagle (2001), Pressure Chief (2004) and Showroom of Compassion (2011). The band has been very successful on American alternative radio, with nine of their singles appearing on the Billboard Alternative Songs chart between 1993 and 2011.
B-Sides and Rarities was released October 2, 2007. It features a live cover of Black Sabbath's "War Pigs" and their cover "Mahna Mahna", which also appears on the charity CD "For the Kids" whose proceeds benefit the "VH1 SAVE THE MUSIC" organization.
CAKE's latest album, Showroom of Compassion, was released January 11, 2011. It was recorded at the Upbeat Studio in Sacramento, California with the help of recording engineer Pat Olguin.
Although CAKE's music is often classified as alternative or indie rock, it combines multiple musical genres, such as funk, pop, jazz, rap, and country. CAKE's music features droll lyrics rife with word play and syncopation (laconically voiced in a rap-like style by lead vocalist/guitarist John McCrea), catchy distorted guitar riffs (courtesy of guitarist Greg Brown until 1998, and bass player to Victor Damiani until 1997), and a solo trumpet (played by Vince DiFiore). CAKE's musical style has been compared to They Might Be Giants, Talking Heads, The Cars, and Camper Van Beethoven.
Damiani left the band in 1997, replaced by Gabe Nelson. Greg Brown left in 1998, replaced by Xan McCurdy. Brown and Damiani continued to work together when they formed the band Deathray. Todd Roper left the band to focus on parenthood after recording Comfort Eagle.
CAKE's biggest hits have included "The Distance", "Never There", "Sheep Go to Heaven" "Rock 'n' Roll Lifestyle", "No Phone", "Short Skirt/Long Jacket", and an alternative remake of Gloria Gaynor's "I Will Survive". An instrumental version of CAKE's "Italian Leather Sofa" is featured as the theme song to the cartoon Mission Hill. The song "Shadow Stabbing" from Comfort Eagle appears in the opening credits of the movies Orange County and Wordplay. The songs "Daria", "Rock 'n' Roll Lifestyle", and "Friend Is a Four-Letter Word" are featured as closing credit themes for episodes of Daria. The song "Frank Sinatra" was also featured at the close of The Sopranos episode "The Legend of Tennessee Moltisanti". The movie, "Me, Myself, and Irene" also featured CAKE's "Hem of Your Garment". In the Tv-Series "Chuck", "Short Skirt/Long Jacket" is used in the intro of each episode.
Additionally, CAKE headlined the Unlimited Sunshine Tour festival in the summer of 2002 among an eclectic ensemble of bands including Modest Mouse, The Flaming Lips, De La Soul, Latin techno fusion band Kinky and bluegrass group The Hackensaw Boys.

This album contains no booklet.