---
Album info
Album including Album cover
I`m sorry!
Dear HIGHRESAUDIO Visitor,
due to territorial constraints and also different releases dates in each country you currently can`t purchase this album. We are updating our release dates twice a week. So, please feel free to check from time-to-time, if the album is available for your country.
We suggest, that you bookmark the album and use our Short List function.
Thank you for your understanding and patience.
Yours sincerely, HIGHRESAUDIO
1

Hazel

03:24

2

It'll All Be Alright

03:40

3

One Day Believer

03:03

4

Flowers in Your Hair

03:49

5

Glorious

04:10

6

Carolina Town

04:10

7

It Doesn't Mean a Thing

03:45

8

Love to Give

02:35

9

Blown Away

03:14

10

The Day the World Changed

03:34

11

Wolves

03:30

12

The Princess and the Problem

03:16

13

John Muir's Farewell

03:44

14

Big Old Bang

03:35

15

Adios, Gracias, Goodnight

03:31

Total Runtime

53:00
Info for The World Between My Ears

Singer-songwriter Ben Goldsmith is set to release his debut album, "The World Between My Ears".
Goldsmith co-wrote each of the 15 tracks on his debut album, The World Between My Ears. In addition to "Blown Away," the collection includes several other tracks released earlier this year: "Flowers In Your Hair," "It'll All Be Alright," and "Wolves." The World Between My Ears is a result of the singer traveling back and forth to Nashville during the Covid years to write songs, create his own sound, and woodshed in the studio with Brad Jones (Hayes Carll, Chuck Prophet, Ron Sexsmith), who he co-produced the project with. The album illustrates Goldsmith's broad, melody driven and soulful musical palette.
2023 is shaping up to be a breakout year for the multidimensional artist. In June, not only did Goldsmith graduate high school (a year early), but he also announced his signing to Sony Music, UTA, and Universal Music Publishing Group. One week later, he took the stage at the iconic music festival, Bonnaroo. The singer was also named to The Hollywood Reporter's "Emerging Artists 18 and Under" club for music.
Goldsmith's musical journey started at four years old (where his violin teacher discovered he had perfect pitch) and has included jazz guitar studies at The Manhattan School of Music and Mannes College of Music in NY. Ben recorded an EP of original music at 11 years old and played all of the instruments. He developed a commanding onstage presence performing live in School of Rock programs, local community events, fairs and clubs by the time he was 12 years old. At 13 he perfected his guitar skills with Tomo Fujita, whose teaching résumé includes Berklee College of Music and John Mayer.
Ben Goldsmith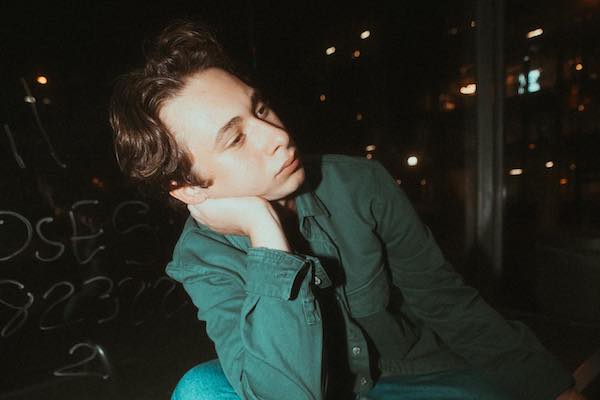 Ben Goldsmith
Singer-songwriter and multidimensional artist Ben Goldsmith would like to tell you he "never could've imagined" this for himself, but he's quick to note that – call it confidence or a preternatural headstrongness years in the making – it'd just not be true. "In a way, I've been working towards this since I was 3 or 4," he says on a Zoom call from his Long Island bedroom. "I've never strayed. It's the only thing I've ever wanted to do."
That "thing" Ben's referring to is making music – more than music, really, it's lyrically-driven art free from genre, with a sharp point of view and melodies as strong as some of the teen's many influences. Ben was born and bred on acts like Aerosmith, Dave Mathews Band, Elton John, Queen, Stevie Wonder, John Mayer, and Bob Dylan. Modern artists like Zach Bryan, Maggie Rogers, Steve Lacy, and Sam Fender helped round out his style and his sonic influences, drawing inspiration from the sort of iconoclasts who – like Ben – float between worlds, genres, and sounds, a jack and master of all trades.
The singer (who started playing instruments at 4) wrote his first song after accompanying his father, a criminal defense attorney, to court at age 6. "It was called 'Criminal Disguise,' and I made it on GarageBand by just strumming my guitar into my iPad's microphone," he says. The guitar he used was the one he'd asked for Hanukkah after Hanukkah after spotting the model in a catalogue sent to his doorstep; he'd been taking lessons by that point, dedicating himself to the craft; eventually, he took up jazz guitar, studying every Sunday at the Manhattan School of Music, where his mother had taken violin instruction. After a year, he moved on to Mannes Prep at The New School where he studied jazz guitar with teacher Joe Ravo, who encouraged him to trust his ear and listen so he could play solos melodically.
As he grew, more musical opportunities began to unfold before him: a summer camp at Berklee, bands he formed with hometown friends, and a cross-country tour with the School of Rock all-stars program. The latter included a stop at Lollapalooza, where he met a guitarist who worked with famed and acclaimed instructor Tomo Fujita (who taught John Mayer and has performed with many of music's greatest, including Susan Tedeschi and Phil Collins). Three years of lessons with Tomo followed. All the while, Ben says, "I was playing with friends, gigging around the South, learning about rock, soul, jazz, blues –expanding my palate and just growing and growing every day." At age 12 Ben was introduced to industry veteran Mike Crowley, whose early career involved names such as Elvis Presley, Bob Dylan, The Beach Boys and Tom Petty. Later He worked with many Texas songwriters including Hayes Carll and Bob Schneider. He recognized extraordinary talent in the young artist and decided to help Ben find his musical path. As it did for so many, 2020 shifted young Ben's focus; quite literally no longer able to play in ensembles the way he'd grown accustomed to, what followed was solo bedroom songwriting and jam sessions. He learned how to properly record himself on his computer in between classes and homework assignments; on a parallel track, without other singers to rely on, Ben began sharpening his vocals, training himself to take the spotlight while concurrently learning to tell his own stories. "Things were happening so fast that I almost looked at school like, 'this is taking time away from music,'" he says with a laugh. What followed was a jump into the deep end. Mike introduced Ben's music to producer Brad Jones, who, immediately hooked by his melodies, traveled up to New York to see the budding star in person. Ben's parents would soon be making regular road trips between Long Island and Nashville so Brad could spend time with Ben in the studio exploring ideas and concepts. Jones then started to introduce the budding artist to a carefully curated group of songwriters. Bobby Bare Jr., Olivia Wolf, Hayes Carll, and Aaron Raitiere. Brad became Ben's Nashville shepherd, a producer, engineer, mixer, and musical visionary who brought him to the city and introduced him to his network, helping the artist stitch together the patchwork quilt of collaborators and confidantes he now calls his creative team. That chosen family, at Brad's behest ("Let me be a teacher," Ben remembers him saying as he helped open the new chapter to Ben's career), took the teen's vision seriously and started cutting tracks with him to help Ben grow and learn. "The energy is always there," Ben says. "We were never working towards any goal other than making the best music we knew how to." Calling his process "the least prescriptive you could imagine," Ben says his inspiration is omnipresent and never dictated. "For me, it's about melody first," he says. "What I write flows afterward with the incredible family of cowriters I've surrounded myself with. They understand me, and I trust them – it's been amazing to build these songs from the ground up together." Speaking of songs: "One Day Believer," his first official track, dropped in the summer of 2022, the culmination of two full years of work and dedication – "that's the one that flipped the switch for us," Ben says. Next up are soon-to-be earworms that transcend time, place, and genre – like "It'll All Be Alright," "Wolves," "Glorious," "Flowers In Your Hair," and the utterly classic "Adios, Gracias, Goodnight." Written and produced with close collaborators like poet Catie Trainor, who Ben met at a Nashville Songwriters Association International (NSAI) writers' camp in Nashville and now calls "my Bernie Taupin," the songs brim with promise, Ben's powerful and emotionally resonant voice and lush, fully realized melodies on total display. Onfirst listen, they'll feel immediately familiar and totally singular in the same breath. That's Ben's gift at work – the ability to supersede any one genre or sound while incorporating elements from across the musical spectrum in one fell swoop. Because at the end of the day, Ben is the anchor that grounds and centers his music. There's vision and direction behind every choice; there's passion and motivation in every note he sings. Armed with a talent beyond measure and a dream of sharing it with the world, Ben Goldsmith is an artist whose journey you won't want to be late for.

This album contains no booklet.