---
Album info
Album including Album cover
1

Prospect of K

04:19

2

Race the Sun

03:19

3

Fogo

04:29

4

Brandy

03:50

5

Low Hanging Fruit

01:42

6

Jinn

03:40

7

Children with Torches

04:48

8

Ruster

03:26

9

Politix

08:46

10

Faster than Light

05:45

Total Runtime

44:04
Info for Enemy

Fiercely intense and beautifully intricate, 'Enemy' spotlights three brilliant and creative musical minds: Frans Petter Eldh, Kit Downes and James Maddren.
Enemy is the vital new piano trio featuring bassist Frans Petter Eldh, pianist Kit Downes and drummer James Maddren. Described as 'fiercely intense' and 'beautifully intricate', Enemy spotlights three brilliant and creative musical minds committed to the exploration of new worlds of performance and music: total music, with each musician contributing equally in an authentic aesthetic display.
Each member of Enemy has achieved personal recognition in the jazz and wider music world (including a Mercury Music Award Nomination, ECHO Jazz nomination, multiple Downbeat Critics Poll nominations and a BBC Jazz Award)
"We want this music to be fierce, vital and to have and give energy – and to do so whilst never sacrificing its intricacy and its integrity." (Enemy)
Frans Petter Eldh, double bass
Kit Downes, piano
James Maddren, drums
Recorded on 17th and 18th October 2016 by George Murphy at Eastcote Studios, London Mixed by Frans Petter Eldh at Galatea Studios, Berlin in November 2017 Mastered by Klaus Scheuermann in December 2017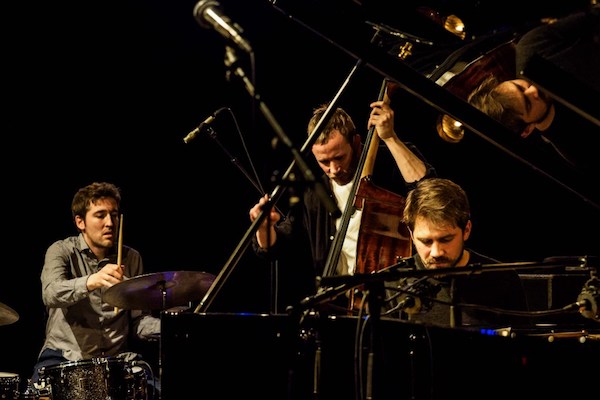 Frans Petter Eldh
was obsessed with Jazz, Classical, Soul, Reggae, Swedish folk music, Middle-Eastern and Hip Hop at an early age and collected vinyl since the age of 7. He initially played guitar before switching to what became his primary instrument, the double bass. Early influences, Charles Mingus, Anders Jormin, Charlie Haden, Charlie Parker, A Tribe Called Quest, Monica Zetterlund, Samla Mammas Manna, Aretha Franklin and Earth Wind and Fire have guided his diverse output as a musician.
Long-standing collaborations include the following erratic and progressive forces: Amok Amor, Django Bates Beloved, Jameszoo Quartet, Enemy (Kit Downes/James Maddren), Lucia Cadotsch Speak Low, Hayden Chisholm, Gard Nilssen's Acoustic Unity, Peter Bruun, Christian Lillinger, Benoit Delbecq and Kaja Draksler. As a producer he has remixed work by Jameszoo – Flake (Brainfeeder), Andromeda Mega Express Orchestra – Vula (Afterhours), Speak Low (Enja) and releases his own music on Galatea Records.
Selected releases in 2017 include Django Bates Beloved – The Study of Touch (ECM), Amok Amor – We Know Not What We Do (Intakt), Susanne Sundfør – Music For People In Trouble (Bella Union), Richard Spaven – The Self, Lucia Cadotsch Speak Low – Renditions (Enja), Gard Nilssen's Acoustic Unity – Live in Europe (Clean Feed)
Kit Downes
Diving into the space between the organised and the disorganised, Kit Downes is a London based composer, pianist and organist.
Kit Downes has been described as "everyone's favourite young pianist… unpretentiously brilliant and full of subtle touches" By Dave Gelly (The Observer). Kit was nominated for Mercury Prize for his debut album Golden, a nomination that announced to a wider audience, what the jazz world already knew, that Downes is one of the most brilliant musicians of his generation. A gifted composer and sparkling improviser, who whether playing with the bands Neon, Troyka and Golden Age Of Steam or leading his own lauded trio, brings an under-stated verve and earthy brilliance to the music.
James Maddren
is a London, UK-based drummer and composer who hails from Horsham, Sussex, where at age 11 started school at Christ's Hospital performing in many contrasting bands and orchestras. In 2004 while still at school he traveled to London to study with one of Europe's top multi-instrumentalists, Jim Hart, who Maddren cites as a significant early influence and inspiration. Having left CH in summer 2005, he went on to study jazz percussion at the Royal Academy of Music with Martin France as his drum tutor. Graduating in 2009 with a 1st class degree James was also given 'The Principal's Award For Outstanding Studentship'.
Currently one of London's first-call young drummers, he enjoys listening to and performing all kinds of music and has shared the stage with many artists and ensembles, including the Gwilym Simcock and Kit Downes Trio, Marc Copland/Stan Sulzman Quartet, The Mark McKnight Organ Quartet featuring Seamus Blake, Ivo Neame Group, Phil Donkin, Alex Garnett's Bunch of Five, Michael Janisch, Will Vinson, Martin Speake Quartet, Phronesis, Jonathan Bratoeff Quartet, among others.

This album contains no booklet.