---
Album info
Album including Album cover Booklet (PDF)
I`m sorry!
Dear HIGHRESAUDIO Visitor,
due to territorial constraints and also different releases dates in each country you currently can`t purchase this album. We are updating our release dates twice a week. So, please feel free to check from time-to-time, if the album is available for your country.
We suggest, that you bookmark the album and use our Short List function.
Thank you for your understanding and patience.
Yours sincerely, HIGHRESAUDIO
1

Patience

07:42

2

Petal One

01:51

3

Rain Drops

00:33

4

Yearning

03:25

5

Petal Two

02:24

6

Light Effect

02:40

7

Anganim Arachi Ko

01:21

8

The Water Bride

04:50

9

Mother

04:28

10

Garun a

02:18

11

The River

04:05

12

Anganim Revisited

04:32

13

Sear

01:33

14

Full Bloom

03:52

15

Whiteness

00:38

16

Colored

02:42

17

Seeing More

01:25

Total Runtime

50:19
Info for Bloom

Improvising vocalist, folk singer, storyteller, pianist: on her ECM debut Areni Agbabian focuses the range of her skills in music that casts a quiet spell. A sparse music in which voice, piano and the subtle percussion of Nicolas Stocker (last heard on ECM with Nik Bärtsch's Mobile ensemble), continually shade into silence. The California-born Agbabian, who came to international attention with the groups of Tigran Hamasyan, draws deeply upon her Armenian heritage, reinterpreting sacred hymns, a traditional tale, a folk melody transcribed by Komitas and more, and interspersing these elements among her own evocative compositions. Bloom was recorded in Lugano in October 2016 and produced by Manfred Eicher.
Areni Agbabian casts a quiet spell with her art, as an improvising vocalist, folk singer, storyteller and pianist. Her voice has been described as "bell-toned" by The Guardian and "lush" by the Los Angeles Times, the music she creates with it "intensely focused, moving toward some kind of hidden truth," according to The New York Times. Agbabian's ECM debut, Bloom, has a richness that belies its spare ingredients: just her evocative voice and piano, along with the subtly ingenious percussion of Nicolas Stocker (who was last heard on ECM with Nik Bärtsch's Mobile ensemble). Born and raised in Los Angeles into an Armenian family, Agbabian came to international attention via performances and recordings with groups led by Armenian jazz pianist Tigran Hamasyan. Bloom draws deeply on the singer's Armenian heritage, as she reinterprets sacred hymns, a traditional spoken-word tale and a dark folk melody transcribed by the great Armenian composer and ethnomusicologist Komitas. She intersperses these among her own vocal and instrumental compositions, which channel a wide world of influences, from Komitas to Tigran Mansurian, from Morton Feldman to George Crumb, from Patty Waters to Kate Bush. The melody that recurs through the highlights "Petal One," "Petal Two" and "Full Bloom" glows with an aural and emotional purity that's characteristic of Agbabian's music.
Agbabian recorded Bloom at Auditorio Stelio Molo RSI in Lugano, Switzerland, with ECM founder Manfred Eicher producing. The two had met some years before at a post-concert dinner in Paris, with Eicher then listening to her first solo album, Kissy(bag). About the experience of working with the producer for Bloom, Agbabian says: "First of all, the studio in Lugano is a warm wooden room with a natural reverb and projection, perfect for this sort of acoustic music. With his years of experience, Manfred guides an artist to the correct balance musically. As far as my songs went, he suggested a few changes that made them more appropriate for a studio recording as opposed to concert performance. He also suggested that I play slightly different takes of the same material, which created recurring motifs that gave the album narrative shape. There are a couple of pieces credited to Manfred, 'Rain Drops' and 'Whiteness,' that serve as parentheses within the storybook feel of Bloom. He had suggested that I play a mid-range chord in E-flat and slowly make my way up the keyboard with an airy feel. He conducted these moments live in the studio space."
Stocker also contributes two solo percussion pieces to the album, "Light Effects" and "Colored." About the collaboration with the percussionist, Agbabian explains: "When I was invited to check out the studio in Lugano, I met Nicolas while he was playing a Nik Bärtsch session. I could immediately tell that Nicolas was a very kind person, and I really liked the color palette of his percussion setup, which he extended with unique bells and gongs. We ended up working together intensively for a few weeks before recording, both in L.A. and Zurich. I added a few items to his percussion set, such as Tibetan singing bowls. Also, the piano preparations on some of the pieces ended up giving us a unified percussion sound, especially on my piece 'The Water Bride.' And 'The River' was a pure improvisation by the two of us from which his polyrhythmic groove in 'Colored' emerged."
Agbabian has been a singer since she was an infant, already humming melodies at the age of 11 months. Growing up in a world of sound, she was hitting xylophones and drums by age four, making up melodies and rhythms. She sang rhymes and folk songs with her aunt, a trained opera singer and Armenian music specialist, and her mother, a storyteller and Armenian folklorist. These women imprinted the Armenian language, its tones and inflections, into her mind and body. At age 7, Agbabian began a study of classical piano that lasted for 20 years. Throughout this period, she continued her vocal work, and by her early 20s, she had sung in many choirs of Armenian sacred and Bulgarian folk music, eventually performing traditional Armenian folklore and music professionally. She gradually integrated these byways of her musical journey into an individual musical path.
After some years performing in the improvised music scene of New York City, Agbabian returned to Los Angeles, where she met Hamasyan. She was a member of the rising star's quintet for a number of years, touring the world and recording two albums with him; she wrote the lyrics to "Lament" on Hamasyan's Shadow Theater LP. As a vocalist, Agbabian has worked not only in jazz and folk music but also in contemporary opera, dance, new music and multimedia performance, with her credits including the opera What To Wear by Bang on a Can composer Michael Gordon. She released her solo album Kissy(Bag) in 2014. Of late, Agbabian has been performing Armenian and Persian music in Los Angeles with Lernazang, a group of young folk instrumentalists; she also collaborates with guitarist Gagik "Gagas" Khodavirdi, her husband.
Throughout Bloom, a sense of spiritual yearning makes itself felt, strikingly so in Agbabian's own deeply introspective songs "Patience" and "Mother," as well as in the Armenian sacred hymn "Anganim Arachi Ko." The connection between the traditional material and the original songs is virtually genetic. She explains: "Armenian music is in my DNA. It speaks to me on a spiritual level that I cannot explain. In fact, the sacred music eventually is what changed my life. It was through it that I came to know God, and through the imagery of the Biblical stories of the Resurrection written in grabar (classical Armenian) that my heart was transformed. Intellectually, it is probably more difficult than any other music I have studied, European classical music included, especially because of Armenian music's linguistic and rhythmic challenges, the microtonality and the memorization. Ninety percent of Armenian music isn't notated, and the notation that exists isn't Western. I'm in my fourth year of participating in sacred music study and practice. This requires an understanding of ritual time, and supporting the cerebral process of understanding music with conscious listening of my whole person."
Areni Agbabian, voice, piano
Nicolas Stocker, drums, percussion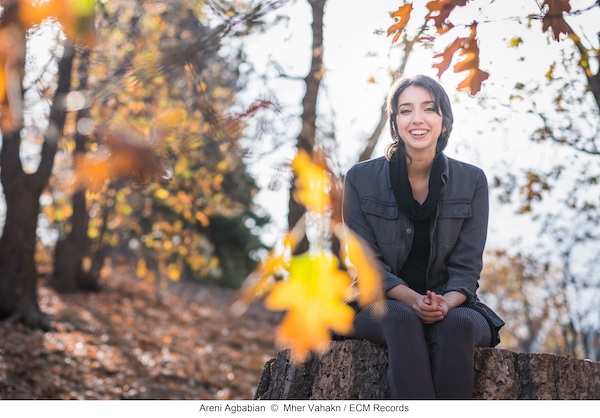 Areni Agbabian
is an experimental improvising vocalist, folk singer, and pianist. As vocalist she has worked in new opera, dance, contemporary jazz, new music and multi-media performance. Since 2009, she toured extensively in the Tigran Hamasyan Quintet throughout Europe, Armenia, Morocco and North America gaining much critical acclaim…"The singing of Areni Agbabian seamlessly spanned from sirenic beauty to angelic purity.", Alex Simu – Jazz Compass Romania. "lush, near-operatic vocals of Areni Agbabian", Chris Barton – LA Times. "….bell-toned singer…"John Fordham – The Guardian. "…singer/keyboardist Areni Agbabian's glowing vocals sustained the rootsy feel in a mercurial, heavily electronic mix. The agile Agbabian began to dart and scat like a Balkan Flora Purim…John Fordham – The Guardian.
Her most recent project was the self produced album "Kissy(bag)", released in 2014 and critically acclaimed by the NY Times' Ben Ratliff as "…intensely focused, moving toward some kind of hidden truth in simple lyrical images and phrases…"
Additional past credits include What To Wear, the contemporary opera by Michael Gordon and directed by Richard Foreman as well as work as a pianist in the Italian Contemporary Music Festival at RedCat Theater in Los Angeles and the James Tenney Festival at California Institute of the Arts. She has also sung for events at the J. Paul Getty Museum, Cotsen Institute at UCLA and the Museum of Jurassic Technology.
Growing up in a world of unique sounds, by age four, she was hitting xylophones and drums, making melodies and rhythms, and singing folk songs and rhymes with her aunt, a trained classical singer and Armenian music specialist, and her mother, a storyteller and Armenian folklorist. These two women imprinted the Armenian language, its tones and inflections, into her body, tongue, and heart. From a very young age, they set her on a musical journey she continues today. At age seven, she began a more strict study of classical piano that lasted for 20 years. By age 15, Areni had given numerous piano recitals, playing sonatas and even a concerto. Throughout, she continued her vocal studies, and by age 22, had sung in many choirs of Armenian sacred, Bulgarian folk and American music. Soon after, she was professionally performing traditional Armenian folklore and music. By age 27, she began fully integrating these various elements into her own original music and improvisations of voice and piano.
Areni lived in New York City from 2008- 2015, where she continued her explorations of voice, piano and creative music with many leading musicians in NY's experimental and jazz community. These included Jesske Hume, Jonathan Goldberger, Butch Morris, Qasim Naqvi, Julia Wilkins, Tony Malaby, Aakaash Israni, Danny Meyer, Sam Yulsman, Connie Crothers and many more. In 2015 and 2016, Areni received study grants from the Gulbenkian Foundation to travel to France. There she studied with a mastersinger of Armenian Litrugical Chant, Aram Kerovpyan and his wife Virginia Kerovpyan. She has since moved back to her home town of Los Angeles and is collaborating with many local musicians both in the creative music and traditional music communities.
Nicolas Stocker
Born 1988 in Zurich. Composer, drummer and percussionist. Raised in a musicians family, he plays piano since the age of five and drums since the age of eleven. Bachelor of arts at ZHdK (2011). Afterwards studies in New York for several month with Jim Black, Mark Giuliana, Kendrick Scott and Dan Weiss. 2011-2013 Master in music education at ZHdK and studies in composition with Felix Profos. 2012 career award of the Friedl-Wald Stiftung. At the moment "Master Jazz Performance" studies at HSLU with Gerry Hemingway, Norbert Pfammatter and Pascal Pons.
Leader of his own Band "Bells for Pony" and Co-Leader of "Marylane". Work with a.o. with Chris Wiesendanger, Dominique Girod, Martin Baumgartner, Florian Favre and Florian Egli. He is band member of "Betapartner", "Ursina", "Philipp Eden Trio" und "Janett´s Jazzmusikbaukasten".

Booklet for Bloom