---
Album info
Album including Album cover
I`m sorry!
Dear HIGHRESAUDIO Visitor,
due to territorial constraints and also different releases dates in each country you currently can`t purchase this album. We are updating our release dates twice a week. So, please feel free to check from time-to-time, if the album is available for your country.
We suggest, that you bookmark the album and use our Short List function.
Thank you for your understanding and patience.
Yours sincerely, HIGHRESAUDIO
1

Sultan's Curse

04:09

2

Show Yourself

03:02

3

Precious Stones

03:45

4

Steambreather

04:54

5

Roots Remain

06:28

6

Word to the Wise

04:00

7

Ancient Kingdom

04:54

8

Clandestiny

04:28

9

Andromeda

04:05

10

Scorpion Breath

03:19

11

Jaguar God

07:56

Total Runtime

51:00
Info for Emperor of Sand

Emperor Of Sand finds Mastodon returning to a deeply imaginative and complex conceptual storyline that ponders the nature of time. Threading together the myth of a man sentenced to death in a majestically malevolent desert, the band conjures the grains of a musical and lyrical odyssey slipping quickly through a cosmic hourglass. "Emperor of Sand is like the grim reaper," says drummer/vocalist Brann Dailor. "Sand represents time. If you or anyone you know has ever received a terminal diagnosis, the first thought is about time. Invariably, you ask, 'How much time is left?'"
"We're reflecting on mortality," adds bassist/vocalist Troy Sanders. "To that end, the album ties into our entire discography. It's 17 years in the making, but it's also a direct reaction to the last two years. We tend to draw inspiration from very real things in our lives." Emperor Of Sand was recorded at The Quarry Recording Studio in Kennesaw, just outside Mastodon's hometown of Atlanta, with producer Brendan O'Brien (Pearl Jam, Neil Young, AC/DC, Rage Against The Machine), who first worked with Mastodon on their seminal 2009 album Crack The Skye.
Brann Dailor, drums, bass, lead, backing vocals
Brent Hinds, lead guitar, lead, backing vocals
Bill Kelliher, rhythm guitar, backing vocals
Troy Sanders, bass, lead, backing vocals
Recorded 2016 at The Quarry Recording Studio in Kennesaw, Georgia; Henson Recording Studios in Los Angeles
Produced by Brendan O'Brien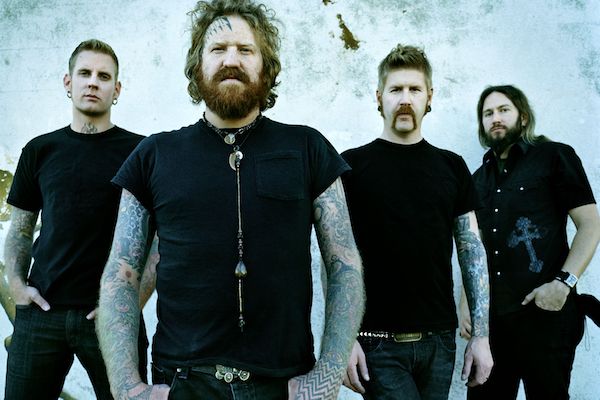 Mastodon
are an explosive, unbridled force. Possessing an uncanny song-writing sense, fearless innovation, unparalleled technical ability and a bottomless pool of raw talent and creativity, Mastodon are inarguably one of the most exciting new bands to form in the last 10 years.
In order to re-focus and regroup after leaving TODAY IS THE DAY in 1999, drummer Brann Dailor and guitarist Bill Kelliher opted to move back to their hometown of Rochester, New York. There, Dailor and Kelliher united with their former band Lethargy for a swansong show and demo. With the final chapter in Lethargy closed, the musicians moved to Atlanta, Georgia in January 2000 for a new start.
Only three weeks after arriving in Atlanta, Dailor and Kelliher met bassist Troy Sanders and guitarist Brent Hines at a High On Fire show that Hinds put on in his basement. Dailor and Kelliher had almost a decade of playing and touring experience together; Sanders and Hines had a half-dozen.
Within a few weeks of forming, the quartet's intense songwriting chemistry generated a myriad of hard-hitting songs. These songs merely touched the surface of the outfit's boundless well of ideas.
Under the name Mastodon, the group recorded their first demo in June 2000. With a new demo in hand, the band started a tireless tour schedule, covering most of the Eastern US as well as playing numerous regional dates supporting Queens Of The Stone Age, Morbid Angel, Cannibal Corpse and many others. Mastodon's exceptional live performances impressed to such an extent that within months a contract was inked and the band welcomed to the Relapse family.
Mastodon's exceptional live performance impressed Relapse to such an extent that within months a contracted was inked, and Mastodon welcomed to the Relapse family.
In the spring of 2001, Mastodon once again blazed through the Eastern U.S. with Eyehategod, Keelhaul and Burnt By The Sun. Mastodon blew the doors off every venue along the tour, leaving a whole new contingent of music fans awestruck and hungry for more. Their formidable live reputation helped land them a summer tour again through the East Coast and Midwest, where they linked up with The Fucking Champs. The tour lead them through innumerable festivals (Milwaukee Metalfest, Hellfest, World Series of Metal, and Mid-South Metal Fest) whose attendees witnessed an entirely new form of power and intensity.
In August, Mastodon's Relapse debut EP "Lifesblood" hit with adamantine force. "Lifesblood" illustrated the band's incredible technical prowess, memorable hooks, and earthshaking ability to rock that they had been delivering night after night in club after club.
Not only did "Lifesblood" put them on the map, it proved once and for all that Mastodon were their own band with a sound and vision that defied categorization.
Eager to continue moving forward, Mastodon honed their new material and entered Man Or Astroman?'s Zero Return Studios in Atlanta with producer/engineer Matt Bayles (Isis, Burnt By The Sun, Pearl Jam) in October, 2001 to record their first full-length "Remission".
If "Lifesblood" was just the eye-opening introduction, Mastodon certainly awakened the slumbering heavy music scene on "Remission". "Remission" bridges the soulful and technical as herculean yet incisive song-writing is effortlessly fused with an expansive and emotive tenor. Creative, distinct, graceful and strong, Mastodon's "Remission" features the traits of a benchmark release, a standard to which others will be held and ultimately measured by. Rarely is rock so pure and hard-hitting.
Songs such as the galloping "March Of The Fire Ants", the beautiful "Ol'e Nessie", "Mother Puncher"'s labyrinthine guitar workout, and the punishing "Workhorse" are nothing short of insta-classics, and the albums remaining seven tracks are not far behind.
The quartet dug into their roadwork hard upon the release of "Remission". First a two-month North American Tour supporting High On Fire, followed by strings of dates supporting Hatebreed, Clutch, and Five Pointe O followed. The quartet finished out a busy 2002 with a Japanese Tour with High On Fire and a quick Eastern US run supporting The Dillinger Escape Plan.
The Melville's 'Moby Dick'-based new album 'Leviathan', recorded in Robert Lang Studios and Litho Studios in Seattle under the aegis of producer Matt Bayles is scheduled for late August 2004.

This album contains no booklet.