---
Album info
Album including Album cover
I`m sorry!
Dear HIGHRESAUDIO Visitor,
due to territorial constraints and also different releases dates in each country you currently can`t purchase this album. We are updating our release dates twice a week. So, please feel free to check from time-to-time, if the album is available for your country.
We suggest, that you bookmark the album and use our Short List function.
Thank you for your understanding and patience.
Yours sincerely, HIGHRESAUDIO
1

Armed To The Teeth

04:26

2

The Attitude

04:01

3

Psycho Ward

04:39

4

I Am Warfare

04:46

5

Out With The Garbage

04:26

6

Dressed Up For Evil

04:40

7

Riot

03:45

8

One Wrong Move

04:35

9

Lip Service

05:47

10

The End Of The Lie

04:15

Total Runtime

45:20
Info for Ballistic, Sadistic

The legendary Canadian metal band Annihilator: Jeff Waters (vocals and guitar) Rich Hinks (bass), Aaaron Homma (guitar) and Fabio Alessandrini (Drums) will deliver their 17th studio album on January 24th 2020 via Neverland Music/Silver Lining. "BALLISTIC, SADISTIC" promises to deliver a full speed-metal aural assault that would have even the most fearless thrasher quaking in their white high tops. The album is comprised of ten tracks of pure Annihilating metal, produced, engineered, edited and mixed by Jeff Waters himself in his recording studio, Watersound Studios UK. The band will be touring Europe from October on 'A Tour For The Demented 2019' with special guests Archer Nation from the USA.
"It's the best record I've made since 2009's 'Schizo Deluxe' and I think many will argue that this one is in the top three", said mainman, writer and producer, Jeff Waters.
Produced, engineered, and mixed by Waters, Ballistic, Sadistic was recorded at the brand new, state of the art, Watersound Studios UK earlier this year with additional engineering and editing by bassist Rich Hinks and mastering by Maor Appelbaum (Faith No More, Halford) at Maor Appelbaum Mastering in California.
Jeff Waters, vocals, guitar
Rich Hinks, bass
Aaron Homma, guitar
Fabio Alessandrini, drums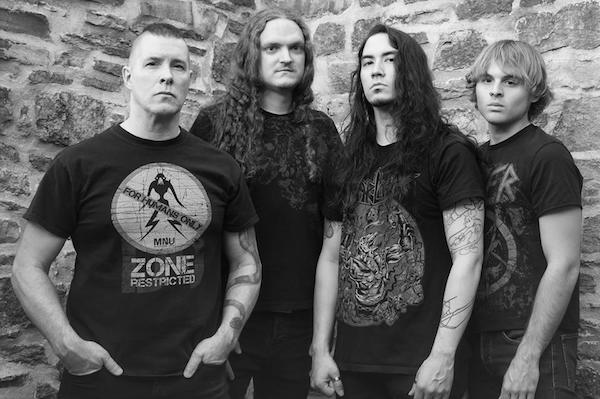 Annihilator
The band is called "ANNIHILATOR" and is led by founding member Jeff Waters. The band, to date, has 15 studio cd's and numerous other releases. Waters is the guitarist, vocalist, studio bassist & writer for Annihilator as well as a studio owner, producer, engineer and mix & mastering engineer (As if that isn't enough!).
Jeff Waters formed the band back in 1984 in Ottawa, Canada, with singer John Bates. During the early era of the band, Jeff's goal was to produce a stable line-up. However, members left for a multitude of reasons such as family/relationship stuff, substance abuse, work commitments or simply realizing that this music biz life is not for everyone! ​
Due to these rapid line-up changes, Waters had felt he needed to take on the role of bass player, engineer, producer and writer as well as guitar player. After the bands' 2rd record, Waters began to embrace the idea of hiring musicians for touring and often hiring a drummer and singer for the studio, when Waters himself was not singing. Most of the bands' 160 original songs have been written by Waters.
Waters, in fact, was the lead vocalist on 1995's "King of the Kill", a huge Euro-Asian hit for the band. So successful was Waters' first venture as singer, that he remained as studio and live vocalist for 3 records, finally turning over the reins to another singer in 1999. Waters now returns as vocalist on 2015's "Suicide Society". ​
In a nutshell, the band became in international success, continuing from their first 1989 studio release, to today. However 95% of their sustained success comes from Europe and Asia. The North American market changed in 1993 and left many metal bands without deals; Annihilator was very fortunate to have a strong and stable following overseas. Hits like "King of the Kill"," Set The World On Fire", "Refresh The Demon", "No Way Out" and "Alison Hell" are Euro-Asian anthems and the band has never stopped releasing records and touring since 1989. Despite not touring and receiving virtually no press or label interest in Canada and the USA, Annihilator has become the biggest selling Canadian Metal band of all-time, yet the majority of their sales have been generated from Asia and Europe.
Waters has been cited by many metal musicians worldwide as an influence on their own music. Artists from bands as diverse as 3 Doors Down, Slipknot, Nickelback, Megadeth, Killswitch Engage, Lamb of God, Opeth, In Flames, Danko Jones, H.I.M., Children Of Bodom to Trivium are either influenced by Waters' writing and guitar playing or have revealed themselves as a fan of Annihilator or his guitar playing.
Music writer Joel McIver identified Waters as history's third best metal guitar player in his best-selling book "The 100 Greatest Metal Guitarists". Waters is often compared to Dave Grohl of Foo Fighters, due to being a multi-instrumentalist.
Since 1993, Waters has ghost-written many country/pop ballad songs for other artists, as well as tv show music and other studio/writing-related endevours.
Watersound Studios Inc. has been Waters' studio since 1994. In 2003, Waters relocated his home from Maple Ridge, BC to the Ottawa region.
Waters is also the host of the "Jamming with Waters in International Waters" All-Star Jam, aboard the biggest metal cruise in the world; the "70,000 Tons of Metal" cruise.
Often touring, Annihilator are known as an energetic and real metal band. Song themes range from heavy metal, thrash metal, slight punk influences, pop, blues, hard rock, classical to love songs! Not shy in crediting countless musicians and bands as influence, Waters calls Annihilator his "Therapeutic, fun and life obsession with some kick-ass in there! I love rock and metal; all kinds, as well as travelling the world and meeting so many cool people."

This album contains no booklet.