---
Album info
Album including Album cover
I`m sorry!
Dear HIGHRESAUDIO Visitor,
due to territorial constraints and also different releases dates in each country you currently can`t purchase this album. We are updating our release dates twice a week. So, please feel free to check from time-to-time, if the album is available for your country.
We suggest, that you bookmark the album and use our Short List function.
Thank you for your understanding and patience.
Yours sincerely, HIGHRESAUDIO
1

Rolling On

04:06

2

It Was Always so Easy (To Find an Unhappy Woman)

02:41

3

Peace of Mind

03:48

4

How Do You Know

03:07

5

Fun for Awhile

03:36

6

Wastin' Time (Live)

04:00

7

Some Other Time, Some Other Place

03:51

8

It's Raining

04:19

9

Love Stinks (Live)

02:25

10

Mr. Mistake

01:43

11

Tragedy

02:46

12

Stranger

01:29

Total Runtime

37:51
Info for A Cure for Loneliness

Peter Wolf's "A Cure for Loneliness," just his third solo album since 2002, is a mostly laid-back effort reverberating with thoughtful country tones.Wolf has kept the bar high since "Long Line," his 1996 comeback mixing rock, blues, soul and various sorts of American music. Wolf's late '60s stint as an eclectic DJ on Boston's legendary WBCN is reflected in his choice of covers, including tunes made famous by Moe Bandy and Lefty Frizzell, as well as Thomas Wayne's 1959 weeper, "Tragedy." There's up-tempo material, but much of the album is like a smoky, end-of-night set on an intimate stage by a seasoned ensemble drawing more out of basic arrangements and instruments than much grander productions. Wolf has been taking his time between albums, but it again has been worth the wait.
"With over ten solo albums, Peter Wolf's music remains rooted in American music traditions -- rock, blues, R&B, country. That said, he delivers them with more complexity and nuance than in his role as frontman for the J. Geils Band.
A Cure for Loneliness reassembles members of his longtime backing band the Midnight Travelers: guitarists Duke Levine and Kevin Barry, and bassist Marty Ballou -- augmented by drummer Shawn Pelton and keyboardist and co-producer Kenny White. Larry Campbell, Teresa Williams, and others appear in supporting roles. Wolf wrote or co-wrote all but three songs here. The material builds on the foundation laid on 2010's Midnight Souvenirs. The songs are more often than not sad, but they're never downers. Wolf's protagonists don't ask for pity or empathy. This is borne out in the covers too: Moe Bandy's honky tonk waltz "It Was Always So Easy (To Find an Unhappy Woman)" and the 1959 doo wop hit "Tragedy" by Thomas Wayne & the DeLons.
In the slow roots rock in "Rollin' On," one of four songs co-composed with Will Jennings), Wolf sings "...there's a big wide world I was born to see/I'm rollin' on/Leave hard times back behind me/Moving on/Down the road is where you'll find me...I've got miles on this heart/But I've never been afraid to start/Cut it loose and set it free/Straight from here to eternity…" The guitars entwine and chime, and a B-3 whines as tom-toms underscore each line while backing vocalists testify to the truth in the grain of his voice. It's a gentle anthem, an axis the recording turns on. The soulful "Peace of Mind" is where Wolf first shows his R&B roots. The singer's words offer proof of all the emotional places he's been and the goal in all his searching. "Fun for a While," co-written with Tim Mayer, is confessional Americana that reflects folk, country, and, in its lyrical elegance, Doc Pomus. It's a tender testimony to life in the rearview from a survivor. "It's Raining" was co-written with Don Covay for a session between Wolf and Bobby Womack, but the latter passed before it transpired. It's an easy soul groover with punchy horns and a lyric that uses the weight of difficult experience as an opportunity in providing shelter for another.
Wolf revisits his own catalog with live versions of the Stones-esque "Wastin Time" (from 1996's Long Line) and an acoustic bluegrass version of the J. Geils' hit "Love Stinks," which is merely interesting -- once -- but could have easily been left off.
That one misstep aside, A Cure for Loneliness is solid Wolf. At 70, he has no intention of resting on his laurels, slowing down, or changing his mercurial ways. As an artist he has one direction: forward." (Thom Jurek, AMG)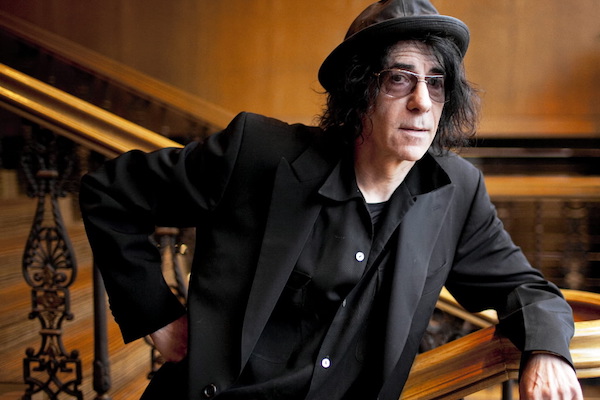 Peter Wolf
A Cure for Loneliness manifests the same vibrant passion for music that's motivated Peter Wolf for most of his life. Growing up in an artistic, politically engaged family in the Bronx, he became an early rock 'n' roll convert after attending an Alan Freed rock 'n' roll revue that included performances by Chuck Berry, Buddy Holly, Jerry Lee Lewis, Little Richard and Frankie Lymon. His thirst for new and old sounds drove him to exploring blues, soul, country, folk and jazz, inspiring weekly visits to Harlem's Apollo Theatre and leading to acquaintances with many of the music's surviving originators.
Wolf's talent as a painter won him a grant to study at the Boston Museum School of Fine Arts. While a student there, he experienced a life-changing epiphany after jumping on stage to sing with a blues band at a loft party. He soon talked himself into membership in that band, The Hallucinations.
"I didn't join a band to meet girls," Wolf recalls. "I joined my first band to meet musicians. Painting was a fascination for me, but I was a music fanatic, and sitting in with that band was a born-again type of experience for me. I was transfixed, and myself and some of the guys in the band would check out performances by the musicians we admired so much, like Muddy Waters and John Lee Hooker and John Coltrane and Bill Monroe and the Stanley Brothers. Those roots stayed with me."
Wolf's natural loquaciousness won him a job as an all-night DJ on the fledgling FM rock station WBCN. Adopting the persona of "the Woofa Goofa," he spun raw rock 'n' roll and rhythm 'n' blues, channeling the spirit of the flashy, fast-talking DJs he'd grown up listening to.
Wolf's encyclopedic musical knowledge came in handy when he and some like-minded Boston players formed the J. Geils Band, much of whose early repertoire was drawn from Wolf's vast record collection. The band soon became a local favorite injecting a much-needed jolt of raw, uninhibited rock 'n' roll into the '70s scene and was soon signed by Jerry Wexler for Atlantic Records. Between 1970 and 1983, the J. Geils Band released 13 influential albums, topped the pop single charts with 1981's "Freeze Frame," "Love Stinks," "Centerfold," and earned a reputation as one of rock's most exciting live acts, thanks in large part to Wolf's flamboyant, hyperactive stage presence.
After going solo with 1984's Lights Out, Wolf continued to stake out new musical territory with the subsequent releases Lights Out, Come As You Are, Up to No Good, Long Line, Fool's Parade, Sleepless and Midnight Souvenirs, and A Cure For Loneliness. His solo work has seen him collaborate with the likes of Aretha Franklin, Merle Haggard, John Lee Hooker, Mick Jagger, Keith Richards, Little Milton, Wilson Pickett, Shelby Lynne and Neko Case. Wolf temporarily reunited with his J. Geils Band cohorts for live shows on several occasions between 1999 and 2015, but his solo career has remained his creative focus, as A Cure for Loneliness makes clear.

This album contains no booklet.