---
Album info
Album including Album cover
1

Mafé

08:31

2

Festejo

06:55

3

Solar

06:31

4

Brazileando

06:39

5

Alfonsina Y El Mar

06:19

6

Tectonic Shift

08:12

7

Spain

08:35

8

Ritmo Peligroso

05:15

9

Espaciosotreiba (Bonus Track)

01:21

Total Runtime

58:18
Info for Espacios Abiertos

Our ancestors were already making music with drums and the sound of their voices when they came to Europe from Africa. The oldest instrument known to this day is a 9000-year-old flute found in China made of the bones of a vulture. Since the beginnings of humankind we have expressed ourselves through music and storytelling: our happiness and sorrows, our fears and hopes. Let this be one contribution more, a further journey through space and time. Best served while cooking, driving and making love." José Díaz de León
"Espacios Abiertos" (Spanish: Open Spaces") is the first concept album of the quintet Pangea Ultima. The Origin" and the Future of Humankind" are like a golden thread that runs through the entire album.
Besides the well-known titles Solar by Miles Davis, Alfonsina y el mar by Mercedes Sosa and Spain by Chick Corea the album consists of compositions by the bandleader José Díaz de León. Here he expresses his own bicultural, German-Mexican identity und brings together in his songs authentic African grooves, Western harmonics, Indian sound aesthetics und Latin-American temperament; he collected this extensive material on his musical journeys in Africa, India und Latin America.
The musicians include outstanding instrumentalists of the Cologne World & Jazz Scene: the flautist Daniel Manrique-Smith (leader of the band JIN JIM, Neuklang NCD4112), the bass player Roman Fuchß, the drummer Antonio Fusco and the percussionist Christian Fehre. They come from various styles of music (World, Latin, jazz, funk) which they have developed into their own band sound, combining rhythms and sound aesthetics from all over the world.
Pangea Ultima ... is the brand-new project of the composer and bandleader José Díaz de León. The name of the project refers to the supercontinent that will possibly come into existence in several million years. In this, all the present-day continents will merge into a single entity and all territorial boundaries will be overcome. If in this distant future humankind should still exist, the music of Pangea Ultima would be the soundtrack for it.
José Díaz de León, guitar, tres cubano, vocals
Daniel Manrique-Smith, flutes, vocals
Roman Fuchss, bass
Antonio Fusco, drums
Christian Fehre, percussion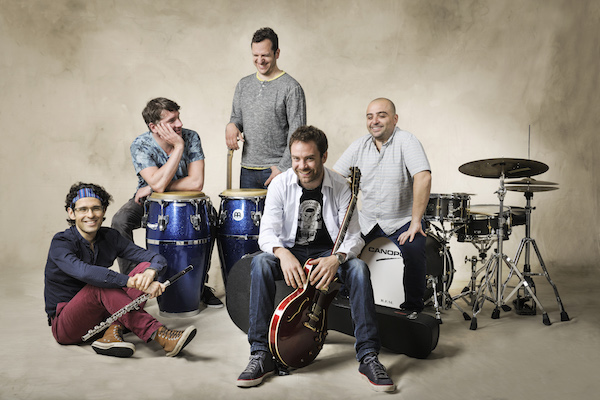 Pangea Ultima
The band's name refers to the supercontinent, which will possibly arise in some million years: at that stage all of today's continents will melt into a single entity and all territorial borders will be overcome. If humanity should still exist in this distant future, this band's music would be its soundtrack.
The music of this project uses jazz as a language to make the overcoming of cultural borders audible. Through a blend of original African grooves, Western harmony, Indian sound aesthetics and Latin American temperament, the band's sound forms a universal world music. As a composer and bandleader I express my bicultural German-Mexican identity and convert authentic material which I have experienced and collected during my musical travels in Africa, India and Latin America. The band gathers the most outstanding instrumentalists of Cologne's jazz- and world-scene. Pangea Ultima is the winner of the competition "Jazztube 2016".

This album contains no booklet.