---
Album info
Album including Album cover
I`m sorry!
Dear HIGHRESAUDIO Visitor,
due to territorial constraints and also different releases dates in each country you currently can`t purchase this album. We are updating our release dates twice a week. So, please feel free to check from time-to-time, if the album is available for your country.
We suggest, that you bookmark the album and use our Short List function.
Thank you for your understanding and patience.
Yours sincerely, HIGHRESAUDIO
1

Alone (feat. Madison Cunningham)

03:14

2

Heading for Home (feat. John Legend)

04:22

3

Twelve-Thirty (Young Girls Are Coming To The Canyon) [feat. Susanna Hoffs, Chris Stills & Sheryl Crow]

03:42

4

Down in the Willow Garden (feat. Brandi Carlile)

03:05

5

Shenandoah

03:17

6

Nacht und Träume

02:41

7

Harvest (feat. Andrew Bird & Chris Stills)

03:03

8

Going to a Town (feat. Anohni)

04:16

9

High on a Rocky Ledge (feat. David Byrne)

04:25

10

Kaulana Nā Pua (feat. Nicole Scherzinger)

03:37

11

Hush Little Baby (feat. Martha Wainwright & Lucy Wainwright Roche)

03:54

12

Black Gold (feat. Van Dyke Parks)

04:40

13

Cotton Eyed Joe (feat. Chaka Khan)

03:15

14

Arthur McBride

07:33

15

Wild Mountain Thyme (feat. Anna McGarrigle, Chaim Tannenbaum, Lily Lanken, Lucy Wainwright Roche & Martha Wainwright)

05:46

Total Runtime

01:00:50
Info for Folkocracy

Folkocracy is Rufus Wainwright revisiting his roots, of childhood summers spent at folk festivals and watching his famous family on stage. But it's also the sound of an artist in the present, flanked by an incredible array of guests, using all he has learnt from conquering pop to make music worthy of awards.
It was during 2021's Grammys ceremony that the idea for an album of folk reinventions came to Rufus. Nominated for his return-to-pop record Unfollow The Rules, he sat through countless folk and Americana categories and felt a pang for the past.
"I was already contemplating an album of covers," says Rufus. "Initially I thought I'd choose big pop songs, make them into my style and have a huge hit record. Haha!
"But the older I get, the more I appreciate how valuable my folk knowledge is, to have had it ingrained in me as a child. I have a big birthday coming up. What better way to celebrate than singing some of the songs that shaped me with some of the artists I most admire?
"I've shied away from folk in the past, preferring the worlds of opera and pop. But the fact is I'm from a bona fide folkocracy who mixed extensively with other folkocracies such as the Seegers and the Thompsons. As I hurtle towards 50, I'm back where it all began."
Joining Rufus on the journey is an all-star cast. Brandi Carlile features on first single Down In The Willow Garden, an ancient murder ballad brought beautifully up to date. John Legend, Chaka Khan, David Byrne, Anohni, Sheryl Crow, Susanna Hoffs, Chris Stills, Nicole Scherzinger and Van Dyke Parks all appear, alongside family members Anna McGarrigle and Martha and Lucy Wainwright.
"Getting lots of guests was a given from the start," says Rufus. "The key to folk is community and sharing a stage. But I didn't want to make a duets record. We rode a fine line – guests, not duets."
Rufus chose the 15 songs with producer Mitchell Froom. A handful he first heard in childhood, some are standards from across continents, a couple he discovered while researching the record. Two are what could be classed as folk fudges – a reframing of Franz Schubert's Nacht und Träume and a spellbinding rerecording of his own song Going to a Town, featuring his longtime friend Anohni.
"It was Mitchell who suggested one of my songs, a future folk classic as he calls it," says Rufus. "It's certainly a protest song. And to record it, even remotely, with the incredible Anohni was a frightening thrill.
"Schubert, in my mind, is firmly in the folk tradition. The most important factor of folk music is powerful intimacy. It should always feel as though you and the performer are the only people in the room. You get that with Bob Dylan and Joni Mitchell and, certainly, you get that with Schubert."
Folkocracy opens with a spare, spine-tingling cover of Ewan MacColl's Alone, performed with fast-rising, young folk star Madison Cunningham, who grew up on Rufus records.
"Madison is all over the album, not just on Alone, but singing BVs and playing acoustic guitar," says Rufus. "She's a fantastic guitarist and a real sensation right now. She recently opened for Harry Styles. I am so excited to have her. It's lovely to work with young artists whom I have helped form."
Next up is Peggy Seeger's Heading For Home, the album's beautiful, banjo-backed second single, a collaboration with the mighty John Legend.
"John was onboard early on," says Rufus. "What I love is having him sing a song so far from his usual repertoire. You can hear us spur each other on. In the folk world, there is a certain sparring which occurs, which elevates the music.
"On purpose, the album starts and ends in Scotland. Heading For Home was written by Peggy Seeger, who was married to Ewan McColl. The Seegers are probably the greatest folkocracy, so I'm nodding to that. Plus, Peggy's version of the song always makes me cry."
The majority of Folkocracy was recorded live, largely in LA, either at iconic studios such as Sunset Sound or at Mitchell's home studio. Only David Byrne's vocal on the sensual High On A Rocky Ledge and Sheryl Crow's on the gorgeous, girl group-like take on The Mamas & The Papas' Twelve Thirty were recorded remotely.
"David was in New York while I was in LA," says Rufus. "We chose a Moondog song because we're both huge fans. I first discovered him on a sultry Hawaiian evening, this old man's voice, singing the most gorgeously simple yet sophisticated melodies. I credit David with a similar sensibility. Both their music is incredibly accessible yet mysteriously distant at the same time.
"Twelve Thirty is a really interesting one. It's a bunch of what I guess you could call '90s artists trying to recreate the '60s. Flip that 9!
"I've always loved the song and I retain a real reverence for The Mamas & The Papas, a pre-eminent band to mix folk and rock, who melded harmonies with a jamboree festival vibe. Our tribute band is me, Chris Stills, Susanna Hoffs and Sheryl, who sent her back-ups from Nashville. The rest of us were together. Susanna looked amazing. I don't know her secret, but she hasn't aged in decades."
The first song recorded for Folkocracy was Down In The Willow Garden.
"Brandi I see a lot, often with Joni Mitchell," says Rufus. "I chose us a cheery little number – not! The song is so blatantly brutal and masochistic that I had to sing it with a woman. Sadly, we still live in a violent world. The amazing thing about so many folk songs is that, content wise, they sound very contemporary. Think of the gun crime in the States right now."
The toughest guest to pin down was Chaka Khan, for a version of the country-folk classic Cotton Eyed Joe based on a rare Nina Simone live recording.
"Tough not because she wasn't willing, but that she lives on a different plane to us mere mortals," says Rufus. "I admit, there were nerves when she came to the studio. She's a funk singer who doesn't do many ballads. But, of course, she totally delivered. Singing with Chaka is one of the highlights of my career. Chaka and Rufus are back!"
The strangest song on Folkocracy is surely Kaulana Nā Pua, a Hawaiian protest song.
"The hardest thing I've ever done is sing that song properly," he says. ""My husband and I fell in love with Hawaii two years ago and bought some land there during Covid, as an exit plan. He wanted me to sing a Hawaiian song and insisted I get a language coach, which of course I initially poo-pooed.
"Then I realised how challenging it is to sing in that language and had to admit he was right. It took two coaches and hours and hours of practice and still I had to sing every line ten times.
"Kaulana Nā Pua I initially chose because it jumped out at me musically. Then I read the lyrics, which are incredible. It's a protest song against the US annexation of Hawaii. 'We'd rather eat stones than eat your money' is my favourite line.
"Nicole I had met at a fundraiser where we performed together. She has an absolutely amazing voice. Plus, she's from Hawaii so a perfect fit. Her voice is like the ocean on the recording."
Folkocracy closes with a family affair. Wild Mountain Thyme is a song Rufus grew up singing with his sisters. Recorded in Montreal, this version features Martha, Lucy, aunt Anna, cousin Lily Lanken and close family friend Chaim Tannenbaum playing Rufus's late mother Kate's iconic banjo.
"I'm so happy mum made it onto the album," says Rufus. "Without her there would be no Folkocracy."
Rufus Wainwright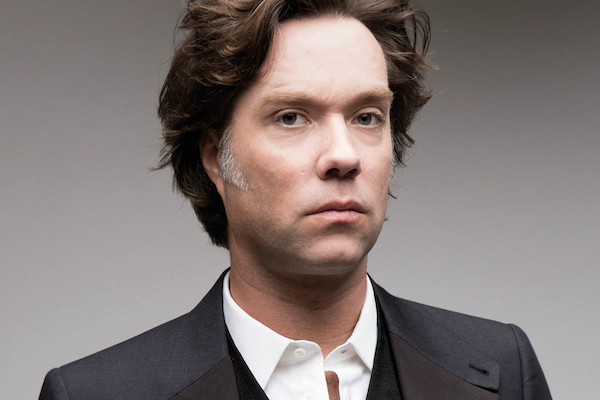 Rufus Wainwright
Praised by the New York Times for his "genuine originality," Rufus Wainwright has established himself as one of the great male vocalists and songwriters of his generation. The New York-born, Montreal-raised singer songwriter has released seven studio albums, three DVDs, and three live albums, including the fantastic Grammy nominated Rufus Does Judy at Carnegie Hall, which captured his celebrated Judy Garland tribute performance at the London Palladium in 2007, and the album Release The Stars which went Gold in Canada and the U.K.
Wainwright has received Juno Awards for Best Alternative Album in 1999 and 2002 for Rufus Wainwright and Poses, respectively, and nominations for his albums Want Two (2005) and Release the Stars (2008). He was nominated for Songwriter of the Year in 2008 for his Release the Stars album. He also composed the original music for choreographer Stephen Petronio's work BLOOM which has toured across the country.
Musically Rufus has collaborated with artists including Elton John, David Byrne, Boy George, Joni Mitchell, Pet Shop Boys and producer Mark Ronson among others. His most recent collaboration is on the title track of Robbie Williams' latest album, Swings Both Ways, which was co-written with renowned musician and producer Guy Chambers and sung as a duet between Rufus and Robbie.
In addition to being a celebrated contemporary pop singer, Rufus has made a name for himself in the classical world. His much acclaimed first opera, titled Prima Donna, premiered at the Manchester International Festival in July 2009. The opera was subsequently performed in London at Sadler's Wells in April 2010, in Toronto at the Luminato Festival in June 2010 and at the Brooklyn Academy of Music's Howard Gilman Opera House in February 2012. Now fully established as a composer of operas, Rufus was commissioned by the Canadian Opera Company to write his second opera based on the story of the Roman Emperor Hadrian and Antinous. The new opera, Hadrian, premiered in Toronto on October 13, 2018.

This album contains no booklet.