---
Album info
Album including Album cover Booklet (PDF)
Georg Breinschmid:

1

Miniature

04:21

Jörg Duda:

2

Duetto, Op. 55: Andante Con Moto

02:20

3

Duetto, Op. 55: Allegro Capriccioso

04:30

Florian Willeitner:

4

1+1=3 the Abstraction of Beauty

09:46

Georg Breinschmid:

5

Schnabulescu Bandini

07:25

Henryk Wieniawski:

6

Etude in G-Moll, Op. 18

04:04

Christof Dienz:

7

Concertino Vom Lande: Der Wankende Traktorfahrer

03:37

8

Concertino Vom Lande: Am Abend Dann

05:09

9

Concertino Vom Lande: Beim Fernsehen

01:58

Johan Halvorsen:

10

Passacaglia

06:04

Jan Koetsier:

11

No. 4 (Unterkagner Ländler) (Unterkagner Ländler)

00:50

12

No. 5 (Unterkagner Ländler) (Unterkagner Ländler)

02:43

João Bosco:

13

Latin Lover

02:28

Antonio Bazzini:

14

Le Ronde des Lutins

05:15

Total Runtime

01:00:30
Info for Stradihumpa

Dreams are dreams – but this thing really happened. The violin and the tuba could not be more different as instruments, but the biographies of Benjamin Schmid and Andreas Martin Hofmeir have some similarities: both have been award-winners at the ECHO Classics (Hofmeir was the first tuba player ever to win one); both are professors at the renowned Salzburg Mozarteum; and both are equally at home in classical music and in jazz.
Benjamin Schmid is "one of the most valuable of today's golden-age-violinists". He has performed on the world's major stages with renowned orchestras such as the Vienna Philharmonic, the Philharmonia Orchestra London, the St. Petersburg Philharmonic, the Concertgebouw Amsterdam under conductors such as Christoph von Dohnanyi, David Zinman, Seiji Ozawa or Valery Gergiev. As one of the most versatile of today's violinists Schmid combines his qualities as a soloist, the extraordinary broad range of his repertoire – in addition to the usual works he also plays the violin concertos by Hartmann, Gulda, Korngold, Muthspiel, Szymanowski, Lutoslawski and Reger – with his remarkable skill in jazz improvisation.
Andreas Martin Hofmeir, who at present is certainly one of the best and most versatile instrumentalists, loves to commute between different genres: As a soloist in classical music he performed with the Münchner Philharmoniker, Rundfunk-Sinfonieorchester Berlin, Konzerthausorchester Berlin, NDR Radiophilharmonie, Bruckner Orchester Linz, Orchester des Nationaltheaters Mannheim and many others. But he is not only a sought-after soloist and chamber musician, Hofmeir also founded the popular Bavarian band LaBrassBanda and has been standing on stage as a cabaret artist for seventeen years.
Their repertoire here ranges widely: alongside well-known but re-imagined classical music pieces, such as the "Passacaglia" (on a theme of Handel) by the Norwegian composer Johan Halvorsen, or the breakneck "La Ronde des Lutins" by Bazzini, the focal point of "Stradihumpa" consists of four original compositions. Jörg Duda from Munich is in effect a composer-in-residence for Hofmeir, and he has contributed the very classical and virtuosic "Duetto".
Christof Dienz's "Concertino vom Lande" (Countryside Concertino) presents Austrian foibles and faibles: the stuttering first movement portrays a teetering tractor driver. The next movement "Am Abend dann" (And then in the evening) relishes evening boredom in artistic terms. That tedium can only be broken by watching television together. So "Beim Fernsehen" (Around the television) quotes programme theme tunes and advertising jingles from Austrian TV, darting from one to another with the stylized restlessness of channelzapping.
"1+1=3: The Abstraction Of Beauty" is a work by the young and hugely promising composer Florian Willeitner, a hymn-like chorale is its starting point, and from there a work of almost symphonic proportions evolves, exploring all the technical capacities and pitch extremes of the instruments. This piece does not shy away from drawing its inspiration from both jazz and hip hop – and from Prokofiev and John Williams.
The folk-dance "Unterkagner Ländler" is by Jan Koetsier, one-time conductor of the Bavarian Radio Symphony Orchestra. Three jazz pieces round off the album: "Miniature" and "Schnabulescu Bandini" by the Austrian polymath Georg Breinschmid were originally written for violin and double bass. In João Bosco's "Latin Lover", the violin provides a harmonic accompaniment for the tuba, and then shines in a final solo improvisation.
Benjamin Schmid, violin
Andreas Martin Hofmeir, tuba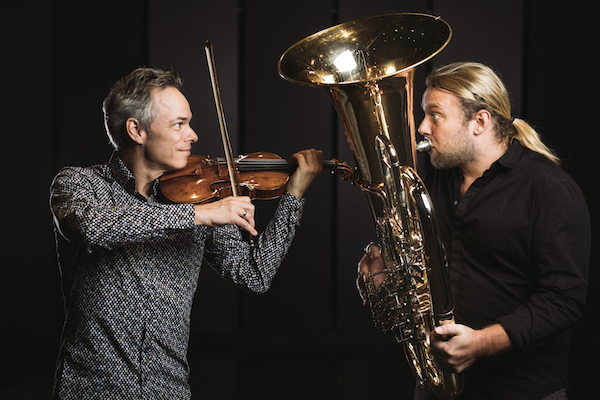 Andreas Martin Hofmeir
Als "Instrumentalist des Jahres" zeichnete ihn die Jury des ECHO Klassik 2013 aus und vergibt damit einen der wichtigsten Musikpreise Europas erstmals an einen Tubisten.
Andreas Martin Hofmeir, einer der besten und vielseitigsten Instrumentalisten der Gegenwart, ist ein Grenzgänger zwischen verschiedenen Genres: Der 37-Jährige ist Professor am Mozarteum Salzburg, war Gründungsmitglied und Tubist der bayerischen Kult-Band LaBrassBanda und erhielt sowohl als Kabarettist (u.a. Passauer ScharfrichterBeil) als auch als klassischer Tubist (u.a. ECHO Klassik und Preis des Deutschen Musikwettbewerbs) zahlreiche Auszeichnungen. Er ist Autor und Showmaster, gefragter Solist und Kammermusiker und gibt weltweit Meisterkurse und Workshops.
1978 in München geboren, fand er über Klavier, Schlagzeug und Tenorhorn mit zwölf Jahren zur Tuba. Nach dem Unterricht bei Robert Tucci (Bayerische Staatsoper) studierte er in Berlin (Dietrich Unkrodt), Stockholm (Michael Lind) und Hannover (Jens Björn-Larsen). 2004 gewann er den renommierten internationalen Tubawettbewerb "Città di Porcia" in Pordenone (Italien), im folgenden Jahr – als erster Tubist in der Geschichte des Wettbewerbs – den Preis des Deutschen Musikwettbewerbs 2005 in Berlin. Er war Stipendiat der Orchesterakademien der Berliner und der Münchner Philharmoniker und spielte weiters mit den Wiener Philharmonikern, dem Gewandhausorchester, dem Symphonieorchester des Bayerischen Rundfunks, den Bamberger Symphonikern und dem Bayerischen Staatsorchester. Von 2004 bis 2008 war er Solotubist im Bruckner Orchester Linz unter Dennis Russell Davies.
Als Solist konzertierte er u.a. mit den Münchner Philharmonikern, dem SWR Rundfunkorchester Kaiserslautern, dem Rundfunk-Sinfonieorchester Berlin, dem Konzerthausorchester Berlin, der NDR Radiophilharmonie, dem Bruckner Orchester Linz, dem Orchester des Nationaltheaters Mannheim, dem Niedersächsischen Staatsorchester Hannover, dem Stuttgarter Kammerorchester, der Neubrandenburger Philharmonie und der Jungen Philharmonie Salzburg.
Mit dem Harfenisten Andreas Mildner gründete er das erste Tuba-Harfen-Duo weltweit und trat bei namhaften Festivals wie dem Schleswig-Holstein Musik Festival, dem Festival Mitte Europa, den Ludwigsburger Schlossfestspielen und dem Internationalen Harfenfestival in Rio de Janeiro auf. Als Kammermusiker spielte er außerdem mit dem Sharoun Ensemble der Berliner Philharmoniker, mit den Blechbläserquintetten der Münchner Philharmoniker und der Bamberger Symphoniker und mit dem Ensemble Heavy Tuba.
Neben seiner Tätigkeit als klassischer Musiker steht Hofmeir seit siebzehn Jahren auch als Kabarettist auf der Bühne. Er spielte und schrieb die Texte für Programme des Musikkabaretts Star Fours und des Wortkabarett-Ensembles Die Qualkommission, mit dem er u.a. beim Passauer ScharfrichterBeil ausgezeichnet wurde. Zusammen mit Roman Deininger schrieb und inszenierte er im April 2008 den Kabarettabend "Der Ball ist wund" am Landestheater Linz. Seit 2013 tourt er mit seinen musikalisch-kabarettistischen Lesungen "Kein Aufwand!" und "Kein Aufwand! Teil 2 – Die letzten Jahre". Beide Teile erscheinen im Februar 2016 als Buch bei btb/Random House und als Hörbuch beim Hörverlag.
Seit Herbst 2014 moderiert Andreas Martin Hofmeir seine eigene Kleinkunstshow "Wer dablost's?", in der Künstler verschiedener Genres (Kabarett, Singer/Songwriter, Comedy, Zauberei) auftreten und ihr Glück auf der übelriechenden Tuba-Antiquität Rosalinde versuchen müssen. Hochkaräter wie Hans Well, Matthias Egersdörfer, Markus H. Rosenmüller und Michael Altinger waren schon zu Gast.
Mit der bayerischen Kult-Band LaBrassBanda, in der er seit ihrer Gründung 2007 bis 2013 als Helicon-Spieler den Gegenpart zu Frontmann Stefan Dettl gab, war er "Sieger der Herzen" beim Eurovision Song Contest und stürmte mit dem drittem Album "Europa" (Sony) die Top 10 der deutschen Charts.
Auch als Jazzmusiker beschreitet Hofmeir neue Wege. Er ist Mitglied bei European Tuba Power und hat mit André Schwager (Klavier), Guto Brinholi (Bass) und Jay Lateef (Schlagzeug) eine Jazzband gegründet, in der die Tuba als Melodieinstrument eingesetzt wird.
Als Grenzgänger verbindet Hofmeir zunehmend Klassik, Jazz und Kabarett in außergewöhnlichen Crossover-Programmen, in denen er nicht nur als Solist, sondern auch als Moderator, Schauspieler, Kabarettist und Jazzmusiker aus der Bühne steht. 2014 führte er mit den Münchner Philharmonikern ein kabarettistisches Theaterstück mit dem Titel "Lackschuh oder Barfuß" auf, 2015 gestaltete er das Neujahrskonzert der Bayerischen Vertretung im Konzerthaus Berlin, einen Konzertabend mit dem Titel "In der Tiefe liegt die Kraft" in der Konzertreihe "Weltmusik" am Theater Trier und im Rahmen des 360° Festivals der Münchner Philharmoniker den Crossover-Abend "All About That Bass" im Gasteig, jeweils mit Orchester und Jazzband sowie kabarettistischen Einlagen und stets mit großem Erfolg.
Hofmeirs Solokonzerte werden regelmäßig von verschiedenen Rundfunkstationen übertragen, u.a. von BR, NDR, SWR, Deutschlandradio Kultur, Deutschlandfunk und RAI. Mit der Deutschen Bläserphilharmonie spielte er das Tuba Concerto von Martin Ellerby auf CD ein. Seine CDs "Uraufnahmen" mit ausschließlich Welt-Ersteinspielungen u.a. der Tubakonzerte von Duda, Näther und Roikjer (ECHO Klassik 2013) und "Why not?" mit Werken für das Duo Tuba & Harfe sind beim Label Genuin erschienen. 2014 erschien seine Solo-CD "On the way" mit den Münchner Philharmonikern unter Andrew Manze bei Sony Classical.
Andreas Martin Hofmeir spielt Tuben der Marke B&S.
Benjamin Schmid
aus Wien stammend, gewann u.a. 1992 den Carl-Flesch Wettbewerb in London, wo er auch den Mozart-, Beethoven- und Publikumspreis errang. Seither gastiert er auf den wichtigsten Bühnen der Welt mit nahmhaften Orchestern wie den Wiener Philharmonikern, Philharmonia Orchestra London, Petersburger Philharmoniker, Concertgebouw Orchester Amsterdam oder dem Tonhalle Orchester Zürich. Seine solistische Qualität, die außerordentliche Bandbreite seines Repertoires – neben den üblichen Werken etwa auch die Violinkonzerte von Hartmann, Gulda, Korngold, Muthspiel, Szymanowski, Weill, Lutoslawski oder Reger - und insbesondere auch seine improvisatorischen Fähigkeiten im Jazz machen ihn zu einem Geiger mit unvergleichlichem Profil.
Benjamin Schmids rund 50 CDs wurden zum Teil mehrmals mit dem Deutschen Schallplattenpreis ( als einziger Geiger in den Kategorien Klassik und Jazz), Echo Klassik Preis, Grammophone Editor's Choice oder der Strad Selection ausgezeichnet. Er unterrichtet als Professor am Mozarteum in Salzburg und gibt Meisterklassen an der Hochschule Bern und in weltweiten Masterclasses.
2018 fungiert Benjamin Schmid als künstlerischer Leiter des Internationalen Mozart Wettbewerbs Salzburg.
Über Benjamin Schmid wurden mehrere Dokumentationen und Konzertfilme gedreht, die die herausragende künstlerische Persönlichkeit des Geigers in weltweiter TV-Ausstrahlung festhielten. Benjamin Schmid erhielt den "Internationalen Preis für Kunst und Kultur" seiner Heimatstadt Salzburg, in der er mit seiner Frau, der Pianistin Ariane Haering, und den gemeinsamen vier Kindern lebt.
Benjamin Schmid´s "Sommernachtskonzert" mit den Wiener Philharmonikern unter Valery Gergiev, diesmal mit dem Violinkonzert von Paganini/Kreisler, wurde weltweit im live-TV übertragen und liegt als DVD/CD bei der Deutschen Grammophon Gesellschaft vor.
Benjamin Schmid ist als einer der wichtigsten Geiger in dem Buch "Die Großen Geiger des 20. Jahrhunderts," von Jean-Michel Molkou (Verlag Buchet-Chastel, 2014) porträtiert.
Er konzertiert auf einer der schönsten Stradivari-Violinen, der "ex Viotti 1718", die ihm die Österreichische Nationalbank zur Verfügung stellt.

Booklet for Stradihumpa