---
Album info
Album including Album cover
I`m sorry!
Dear HIGHRESAUDIO Visitor,
due to territorial constraints and also different releases dates in each country you currently can`t purchase this album. We are updating our release dates twice a week. So, please feel free to check from time-to-time, if the album is available for your country.
We suggest, that you bookmark the album and use our Short List function.
Thank you for your understanding and patience.
Yours sincerely, HIGHRESAUDIO
1

Kaleidoskop

03:39

2

Porzellan

02:56

3

Plan A

03:22

4

Stärker

03:24

5

Was wäre wenn

03:21

6

Ecke Schmilinsky

03:11

7

Eins-zu-eins-Gespräch

04:34

8

Vielleicht

03:50

9

Schnee von gestern

03:11

10

Diese Stadt ist einsam ohne Dich

04:21

11

Santa Fu

02:46

12

Bis der Himmel uns bestellt

03:49

Total Runtime

42:24
Info for Plan A

If Johannes Oerding were not generously decorated gold and platinum, if he had not sold over a million records and just as many concert tickets and if he did not undoubtedly belong to the league of the most successful musicians in the country - what would his Plan B be? A question to which the Hamburg native has never had an answer, because he has not come up with an alternative. It may be strong songwriting, extraordinary diligence, his voice, an insatiable love of the live stage, charm or simply luck - Oerdings's PLAN A worked out.
A fact he has only recently become truly aware of. "I was honestly surprised when I got the award for these incredible sales figures. It wasn't on my mind and at first I was crying like a pig in a poke. Something clicked at that moment." Yet the road the 40-year-old artist has travelled is not a short one. He has worked hard for each of his successes since 2009 and reaped his first No. 1 in the charts in 2019 with the platinum album "Konturen". His fans have been following his every move for years, celebrating him not just for the radio hits, but for a way of life, an attitude. It is the glass that is always half full, the irrepressible joy of the moment and the knowledge that the Johnny on stage is also the one you meet in the pub.
It is all the more interesting to listen to his forthcoming album PLAN A, because here, as he says himself, he "lets his trousers down even more". The focal length has changed. The master of the wide angle with gold singles like "Alles brennt", "Kreise" or "An guten Tagen", which hit the nerve of entire pop years, has dealt with friends, family, relationship and himself on this album. "My songs have always been personal, but this time I asked myself what makes us human and emotional. It might have to do with the times we've been living in for the last two and a half years, or maybe it's getting older - anyway, I've been dealing with what's happening right around me more than usual." Evidence of this can be found in lyrics that are more intense and at the same time more casual, and a willingness to experiment that easily raises the bar of the last album a floor higher.
PLAN A doesn't disappoint anyone who already has the album's first singles in their playlist, but elsewhere plays with gospel, blues, country, disco and 80s rock, makes high fives with Prince and Springsteen and quotes Lindenberg, Lennon and Michael Jackson in a relaxed manner. Some will be reminded of Oerdings's beginnings, others may be surprised - but everyone will know him a little better afterwards: "I put everything on the album that came out of me. Turning off the head and going inside even more was just fun."
The album tracks already released have already turned on the light at the end of the tunnel: both songs are pure Johannes Oerding. "Plan A might have gone down a bit because of the political developments, but live it goes down all the more and Kaleidoscope I still like a lot today because it triggers something very strong in me. And the reactions to the song show that it came at the right time - I often hear that people needed exactly such a song. One with a happy ending."
It doesn't get gloomy in Stärker either, but in terms of intimacy, it's more of the same here. The track is about separation and how sometimes you imagine it to be easier than it is in the end. "As the years go by, maybe you take stock more. You think about things more, you listen to friends differently. Zeynep Avci totally inspired me as a contestant on 'The Voice'. Not only with her voice, but also as a person. The chorus had such a range when I was writing it that I immediately thought of her and luckily the song also touched her. I don't think there are many German-Turkish pop duets - yet the coexistence of our cultures has long been a reality. That's why it's totally consistent that Zeynep sings in German and I sing in Turkish.
Johannes Oerding then allows maximum closeness in a one-to-one conversation. A moving letter to his father set to music, which begins and ends with fragile, spoken words, and in between makes all the stages and feelings of a special relationship tangible. "I can't listen to this song very often. It's still very close to me and in my eyes it's one of the most beautiful and important songs I've ever written. I sang it in one take on a couch at the North Sea. An old mic, no studio stuff - it comes out exactly as it was recorded."
The album release will be flanked by Ecke Schmilinsky. Soulful and sensual, he celebrates an encounter that turned life completely upside down years ago. The fact that Oerding now also confidently dresses the unambiguous in songs is evident in the Prince feel as well as in wordplay or a cool dose of self-irony. "I sometimes ask myself why the song is so short, because I love listening to it myself," he grins. "I wrote the song to highlight a memory that you might forget from time to time over the course of time. That moment when everything around you stops, your breath stops and nothing else matters. I can open up more in the meantime and maybe the song will hit a few people who ask themselves at some point if everything is going in the right direction. Sometimes the answer is under a lantern."
Even if not everything remains intact in Porzellan, great emotions groove on a light beat. "I noticed that the lyrics that I just wrote down are the most intense. The song came about pretty quickly: three or four chords and the realisation that a relationship also means enduring the difficult times. That the other person is also allowed to freak out and you're still there." But PLAN A can also just be damn fun: The bass line of What If drifts through from A to Z, winks mischievously at the King of Pop and would also look great in the club, while Snow of Yesterday rocks exhilaratedly through our "Summer of '96" - ey, run.
Alongside the sensitive piano ballad Diese Stadt ist einsam ohne dich (This city is lonely without you), the album's final chord also remains true to what Johannes Oerding stands for: "I thought long and hard about whether I should use the word 'love' in Bis der Himmel uns bestellt (Until heaven orders us), because it can be really kitschy. But it fits and that's just the language I like. Whether it's about romance or friendship, for me it's the perfect last song - in the end PLAN A gives everyone a big hug." And that also feels so good because Johnny puts his father's most important sentence into practice: "Boy - search, find and do what will make you happy for a lifetime."
Johannes Oerding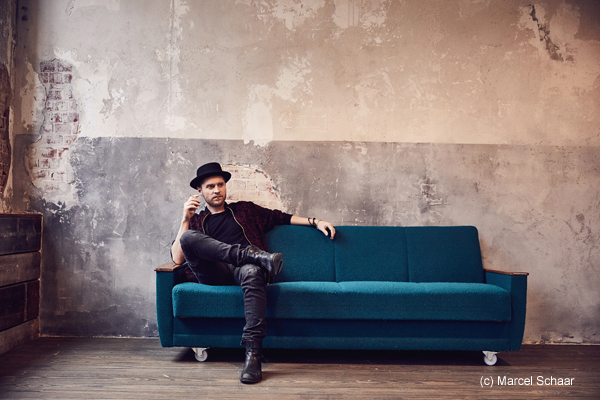 Johannes Oerding
erlangte erstmals 2009 Aufmerksamkeit, als er auf den Touren der Gruppen Simply Red und Ich + Ich, des Sängers Nevio sowie der Sängerinnen Ina Müller und Stefanie Heinzmann im Vorprogramm agierte. Es folgte eine ausverkaufte Solotour sowie am 21. August 2009 sein erstes Soloalbum mit dem Titel Erste Wahl, das bis auf Platz 39 der deutschen Albumcharts stieg. Am 28. Januar 2011 erschien sein zweites Soloalbum Boxer, am 11. Januar 2013 das dritte Für immer ab jetzt.
Am 26. September 2013 vertrat Oerding Hamburg beim Bundesvision Song Contest 2013 und belegte mit Nichts geht mehr den zweiten Platz. Mit dem gleichen Lied war er am 12. Januar bei Inas Nacht aufgetreten, das zusammen mit neun weiteren Gastauftritten auf der Bonus-CD Inas kleine Nachtmusik mit Ina Müllers Album Ich bin die veröffentlicht wurde. Außerdem war Oerding 2013 in Joe Cockers Vorprogramm der Fire It Up Tour zu sehen, sowie 2014 als Gast auf der Unplugged-Tour der Scorpions.
Im Jahr 2015 wurde Oerding für seine Alben Für immer ab jetzt und Alles brennt in Deutschland jeweils mit einer Goldenen Schallplatte für über 100.000 verkaufte Exemplare ausgezeichnet.
Am 05. Mai 2017 erscheint sein fünftes Album Kreise. Die Single Kreise erschien am 24. März 2017 bereits als Oneshot Video.

This album contains no booklet.