---
Album info
Album including Album cover
1

Ten Tongues

03:16

2

Daring Highwayman

02:57

3

The Devil's Cruelty

05:30

4

Laying The Ghost

03:31

5

Birds Of Harmony

06:07

6

Hemp & Flax

02:36

7

Something To Love Me

03:12

8

Meat For Worms

04:17

9

The Troubles Of This World

03:41

10

Rare Receipts

05:42

11

Be Kind To Each Other

03:10

12

Cruel Mother

06:25

Total Runtime

50:24
Info for Blackletter Garland

The debut album from the brand-new collaboration between three of UK folk's most unique and prestigious voices; Marry Waterson, Lisa Knapp and Nathaniel Mann. 'Blackletter Garland' by Hack-Poets Guild boasts twelve fascinating interpretations and original compositions that tell intricate tales of birth, love, conflict and death, with all the imagination of the folklore from which they're based.
Inspired by historic broadside ballads, the trio rejuvenate and reinvent these stories, bringing them vividly to life for a new generation. Following an invite to the Bodleian Library by Sound UK Arts, the disposable song sheets (that would've once sold for pence, and were the forerunners of modern news media) gave a rare insight into the past whilst striking a chord with themes still relevant today. Celebrated film composer and multi-instrumentalist Gerry Diver helped in their exploration as a producer, and in adding fresh ideas to these past texts.
Across the album anecdotal, descriptive yarns are spun to a backdrop of atmospheric strings, rustic instrumentation and elegant vocal harmonies used precisely to communicate the victims as easily as they do the villains. The result is a compelling and thoroughly enjoyable balance between the traditional and contemporary.
Hack-Poets Guild are:
Lisa Knapp, vocals
Marry Waterson, vocals, fiddle, autoharp
Nathaniel Mann, vocals, bowed banjo, electronics
Additional musicians:
Barney Morse Brown, cello with pedals
Lawrence Hunt, percussion
Pete Flood, percussion
Gerry Diver, additional instruments
Produced & mixed by Gerry Diver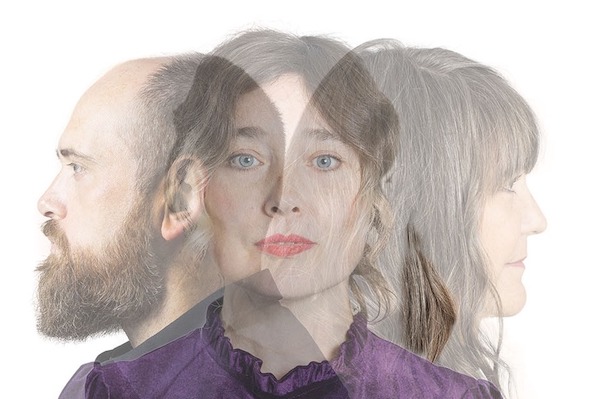 Hack-Poets Guild
is the brand-new collaboration between three of UK folk's most unique and prestigious voices; Marry Waterson, Lisa Knapp and Nathaniel Mann. Album 'Blackletter Garland' boasts twelve fascinating interpretations and original compositions that tell intricate tales of birth, love, conflict and death, with all the imagination of the folklore from which they're based.
Inspired by historic broadside ballads, the trio rejuvenate and reinvent these stories, bringing them vividly to life for a new generation. Following an invite to the Bodleian Library by Sound UK Arts, the disposable song sheets (that would've once sold for pence, and were the forerunners of modern news media) gave a rare insight into the past whilst striking a chord with themes still relevant today. Celebrated composer, multi-instrumentalist and film composer Gerry Diver helped in their exploration and in adding fresh ideas to these past texts.
On 'Blackletter Garland' the acclaimed trio combine a wealth of knowledge and history, on an album that deeply conveys the passion, research and authenticity that the writers, poets and their stories deserve.
Marry Waterson
is part of the fabric of folk history, making her first appearance when she was just 12 years old on the album 'A True Hearted Girl' (Topic Records) with her mother Lal, and Aunt Norma Waterson. Although there are echoes of her mother's singular voice, Marry is as unique and daring as they come. Often collaborating with different writers, musicians, and producers, she stretches the boundaries of not only folk but songwriting itself, where real life is refracted through the myths, legends and proverbs that shape the memory.
Waterson sings her songs into existence. She doesn't play any instruments. Neither does she sit at a computer screen, using state-of-the-art technology to recreate the music that appears in her head. Rather, words appear, phrased in a way that suggests music.
With melody comes rhythm. Only then does she sing them so that her fellow musicians can hear what she hears.
In 2007 live performances at BBC Proms and The Royal Albert Hall showcased her earthy, captivating vocals. In 2010 She played Sydney Opera House for Hal Willner performing with Todd Rungdren, Tim Robbins, Peaches and more. Signing to One Little Independent Records in the same year, Marry released the seminal debut with her brother and guitarist Oliver Knight, 'The Days That Shaped Me', which was nominated for a BBC Radio 2 Folk Award. The duo returned the following year with a second LP, 'Hidden'.
In partnership with the Barbican, in 2013 Marry curated a tour revisiting Lal & Mike Waterson's landmark 1972 folk-rock album, 'Bright Phoebus', performing alongside family, Jarvis Cocker, Richard Hawley and more. In the same year she designed and produced 'Teach Me to Be a Summer's Morning', a book and CD celebrating the works of Lal, released on Fledg'ling Records.
In 2015 Waterson released her third album, 'Two Wolves', which was nominated for two BBC Radio 2 Folk Awards, collaborating with guitarist David A. Jaycock and producers Neill MacColl and Kate St. John. This was followed by Death Had Quicker Wings Than Love, which was released in 2017 and produced by Portishead's Adrian Utley. Her last album 'A Window To The Other Ways' was co-written with award winning singer Emily Barker and produced by Adem Ilhan.
Drawing from her exceptional musical heritage, her talents as a beguiling storyteller have also crossed over into animation and filmmaking.
More recently One Little Independent Records celebrated the 10th anniversary of 'The Days That Shaped Me' with a Record Store Day reissue on vinyl for the very first time, alongside live band recordings and new songs.
Nathaniel Mann
Oscillating between music and sound, Mann has a compositional practice that is expansive in scope and varied in form. He takes on many roles in his work, including researcher, instrument-maker, archive-digger, surround-sound designer, filmmaker, broadcaster, producer, curator, entrepreneur, sonic-artist and folksinger. He is also one third of the experimental folk ensemble, Dead Rat Orchestra – frequent tour support for Godspeed You! Black Emperor.
Nathaniel's music probes history, politics and audio culture, resisting established formats for creating music, which he does with professionals and enthusiasts from vast fields; filmmakers, musicians, visual artists, academics, curators, a pigeon fancier and a swordsmith.
Nathaniel has also performed on the albums of many of the UK's avant-folk scenes most revered stalwarts; C Joynes, Nick Jonah Davis, Jim Ghedi. He has shared the stage with Cath and Phil Tyler, Martin Carthy, Islam Chipsy, to name a few. He writes and presents feature documentaries for BBC Radio 3, 4 and the World Service; each of his programmes have been selected as BBC "Radio 4's Pick of the Week".
He was awarded the Paul Hamlyn Award 2019, Arts Foundation Fellow 2018 and his work Pigeon Whistles (2013), a flying orchestra of flute-carrying Birmingham Roller pigeons, won the George Butterworth Prize for Composition in 2015. He was the British Council /PRSF Musician in Residence in Xingu, Brazil in 2018, and Sound and Music's Embedded Composer in Residence at OCM/The Pitt Rivers Museum 2012-2014.
His hand made instruments (Meat Cleaver and Pigeon Whistles) form part of the collection at Oxford University's Pitt Rivers Museum, where he has also curated exhibits. He has produced sound designs and Installations for Zara and Christian Dior. Nathaniel is also a long-term collaboration with the Indigenous Wauja community in Brazil, supporting cultural projects and international collaborations.
Lisa Knapp
Folk singer, songwriter and multi-instrumentalist, South London's Lisa Knapp has been much in demand touring the length and breadth of the UK since her remarkable debut, 'Wild & Undaunted' in 2007, marked her out as one of the brightest and most innovative players in a newly invigorated British folk movement.
The success of 'Wild And Undaunted' led to frequent appearances on TV and radio, including tribute concerts to Lal Waterson for BBC Electric Proms and Bert Jansch (BBC4 TV at Queen Elizabeth Hall-where she sang alongside Robert Plant and Bernard Butler). Lisa also became much in demand as a collaborator and contributor, performing with Dave Swarbrick, Eliza Carthy, Mike Waterson, Shirley Collins, Sam Lee, Kathryn Williams, James Yorkston, Mara Carlyle, Olivia Chaney, Leafcutter John, Dead Rat Orchestra and The Memory Band to name but a few.
Lisa won the coveted BBC Radio 2 Folk Award for Best Original Track, 'Two Ravens', on release of her entirely self-penned second album 'Hidden Seam' from which her 'Shipping Song' caught the attention of BBC Radio 4 who subsequently invited her to present a documentary on the Shipping Forecast and its influence on the arts, called Shipping Songs.
A long-held fascination with dark narrative, ritual and folklore lead to 'Till April Is Dead - A Garland of May' in which she wove field recordings (birdsong, ticking clocks, church bells, street sounds and engines) via a plethora of acoustic instruments into an array of traditional folk songs to create an exhilarating and immersive trip through the month of May.
While it's true that Lisa Knapp's music is steeped in old weird England and its mysterious customs, it's not a nostalgia for idyllic yesteryears. These are records made amidst the reality of a Britain which is anything but merry. You can hear it in her use of sampled street sounds; the cut-up vocals; the very modern manipulation of sound – a tension between then and now where Lisa's music sparks. These reminders of where we came from also ask us who we are now.

This album contains no booklet.