---
Album info
Album including Album cover
I`m sorry!
Dear HIGHRESAUDIO Visitor,
due to territorial constraints and also different releases dates in each country you currently can`t purchase this album. We are updating our release dates twice a week. So, please feel free to check from time-to-time, if the album is available for your country.
We suggest, that you bookmark the album and use our Short List function.
Thank you for your understanding and patience.
Yours sincerely, HIGHRESAUDIO
1

One More Chance

03:54

2

Try to Be Righteous

04:04

3

You Told Me

03:53

4

Have Mercy

02:49

5

Julian Rice

04:55

6

Time and Space

02:43

7

Burnt Fungus

03:16

8

The Darkest Night

02:26

9

It's All Right Now

02:39

10

Truckin' Down the Other Way

02:31

11

Let the Sea Burn Down

06:46

12

Madness

01:52

13

Midnight Special

04:49

Total Runtime

46:37
Info for Pump Iron! (Remastered)

The guitar maestro in cracking form on this hard rocking but richly varied album, which was Alvin's first studio set after the break up of group Ten Years After. After many years on the road, he was in a mood to find freedom and work out with new musical mates, and as a result 'Pump Iron' is packed with fine performances. It was made at Alvin's home studio in 1975 with keyboard player Tim Hinkley.
"Less emphasis on the mile a minute guitar he trademarked near the end of the '60s and more emphasis on tasteful, apparently more carefully chosen licks. Several instrumentals highlighted by Lee's guitar and the organ work of Ronnie Leahy are standouts, as are the cuts where Lee uses his basically good voice to handle slower material. A couple of good acoustic cuts here as well. Musicians include Boz of Bad Company, Mel Collins on Sax and productions comes from Lee. Mix of rock, country and basic blues offers Lee's most versatile showing to date." (Billboard Magazine)
Alvin Lee, guitar, vocals
Mel Collins, soprano saxophone
Harold Burgon, synthesizer
Tim Hinkley, keyboards
Jack Lancaster, horns
Andy Pyle, bass
Colin Gibson, bass
Bryson Graham, drums
Ian Wallace, drums
Engineered by Alvin Lee, Andy Jaworski, Casey Jones, Chris Kinsey, Harold Burgon
Recorded and mixed at SpaceStudios, USA
Produced by Alvin Lee
Digitally remastered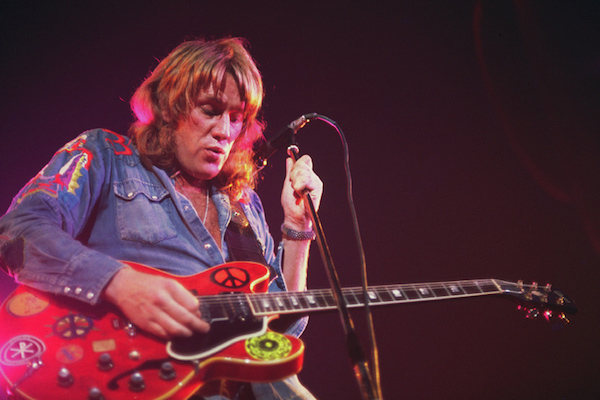 Alvin Lee
Born in Nottingham England, AAlvin Lee began playing guitar age 13 and formed the core of the band Ten Years After by aged 15. Originally influenced by his parent's collection of jazz and blues records, it was the advent of rock and roll that truly sparked his interest and creativity, and guitarists like Chuck Berry and Scotty Moore provided his inspiration.
The Jaybirds, as Lee's early band was called, were popular locally and had success in Hamburg, Germany, following the Beatles there in 1962. But it wasn't until the band moved to London in 1966 and changed its name to TYA that international success beckoned. The band secured a residency at the legendary Marquee Club, and an invitation to the famous Windsor Jazz & Blues Festival in 1967 led to their first recording contract. The self titled debut album surprisingly received play on San Francisco's underground radio stations and was enthusiastically embraced by listeners, including concert promoter Bill Graham who invited the band to tour America for the first time in the summer of 1968. Audiences were immediately taken with Lee's distinctive, soulful, rapid fire guitar playing and the band's innovative mix of blues, swing jazz and rock, and an American love affair began. TYA would ultimately tour the USA 28 times in 7 years, more than any other U.K. band.
Appearing at the famed Woodstock Festival, Lee's virtuoso performance was one of the highlights and remains today a standard for many other guitarists. Captured on film in the documentary of the festival, his inspired playing catapulted him into superstardom, and soon the band was playing arenas and stadiums around the globe. Although Lee later lamented that he missed the intimacy of smaller venues, there is no denying the impact the film made in bringing his music to a worldwide audience.
TYA had great success, releasing ten albums together, but by 1973 Lee was feeling limited by the band's style. With American gospel singer Mylon LeFevre and a host of rock talents like George Harrison, Steve Winwood, Ron Wood and Mick Fleetwood , he recorded and released On The Road To Freedom, a highly acclaimed album that was at the forefront of country rock. A year later, in response to a dare, Lee formed Alvin Lee & Company to play a show at the Rainbow in London and released it as a double live album, In Flight. An energetic mix of rhythm & blues and rock, with a tribute to Elvis Presley thrown in for good measure, Lee once, in his understated fashion, called this band "a funky little outfit". They were far more than that and various members of the band continued on with Lee for his next two albums, Pump Iron and Let it Rock. He finished out the 70s with a powerhouse trio he called Ten Years Later who also released two albums, Ride On and Rocket Fuel, and toured extensively throughout Europe and the United States.
The 80s brought another change in Lee's direction, with two albums that were strong collaborations with Rarebird's Steve Gould and an extensive tour with the Rolling Stones' Mick Taylor joining his band.
Lee's overall musical output includes more than 20 albums, including 1985's Detroit Diesel and the back to back 90s collections of Zoom and 1994 (I Hear You Rocking). Guest artists on both albums include George Harrison, whose brilliant slide guitar perfectly complements Lee's lead. Their duet on 1994's The Bluest Blues led one reviewer to call it "the most perfect blues song ever recorded."
"Alvin Lee in Tennessee", released in 2004, was recorded with rock and roll legends Scotty Moore and D.J. Fontana. The critically acclaimed album features an upbeat selection of songs that are timely and forward looking, yet borrow from Lee's beloved 50s rock and roll. It was followed in 2007 by Saguitar, a uniquely varied collection of songs that flowed from melancholic blues to raucous rock to an innovative interpretation of rap.
Throughout it all, Alvin Lee managed to stay true to himself, making the music he wanted without outside influence or expectations. His most recent CD "Still On the Road to Freedom" , released in August 2012, takes the listener on an musical journey to the past and present and back again, enthralling us with his talent and music and proving without a doubt that he was able to do it his way...and still deliver the goods.
On March 6, 2013, Alvin Lee passed away from unforseen complications following a routine surgical procedure for atrial arrhythmia. He is survived by his wife Evi, daughter Jasmin, former partner Suzanne (Jasmin's mother), sisters Irma and Janice and scores of fans around the world. Although he has left us, his music will live on.

This album contains no booklet.