---
Album info
Album including Album cover Booklet (PDF)
I`m sorry!
Dear HIGHRESAUDIO Visitor,
due to territorial constraints and also different releases dates in each country you currently can`t purchase this album. We are updating our release dates twice a week. So, please feel free to check from time-to-time, if the album is available for your country.
We suggest, that you bookmark the album and use our Short List function.
Thank you for your understanding and patience.
Yours sincerely, HIGHRESAUDIO
1

Interludio

03:02

2

Nebjana I

00:43

3

Basin Street Blues

03:38

4

Nebjana II

00:20

5

As Time Goes By

01:59

6

Pippo non lo sa

01:25

7

Fischia il vento

02:17

8

Moonlight Serenade

04:34

9

In cerca di te

02:41

10

Bel Ami

03:02

11

Eco

01:48

12

EIAR

07:17

13

Gragnola

05:17

14

Nebjana III

00:34

15

Inno dei sommergibili

01:43

16

Umberto

03:05

17

Volando

02:29

18

La Piccinina

03:35

19

Moonlight Serenade (Var.)

01:07

Total Runtime

50:36
Info for La misteriosa musica della Regina Loana

This hugely enjoyable and highly inventive album is dedicated to the late Umberto Eco, a lifelong friend of accordionist Gianni Coscia and an ardent champion of this particular duo. Eco's The Mysterious Flame of Queen Loanna, a meditation on the nature of memory, inspires Trovesi and Coscia on their own nostalgic and exploratory journey, referencing music mentioned in the novel and free-associating upon its philosophical themes. As ever, the Italians cast a wide net, playing songs associated with Louis Armstrong, Glenn Miller and George Formby, paraphrasing Janáček, dipping into movie music, and improvising most creatively while keeping their dedicatee in view. Repertoire revisits "Interludio", a piece that Umberto Eco and Gianni Coscia collaborated on 70 years ago, and Gianluigi Trovesi crafts a new composition on the letters of Eco's name. From multiple perspectives, a brilliant tribute.
There is nothing more seductive than artfulness, when it has the humility to disguise itself as artlessness. And especially when it generates, at every new quotation or invention, a feast of timbre capable of getting the maximum possible out of the instruments, in a natural way … This then is one way to add a popular dimension to cultivated music and a cultivated dimension to popular music. So there's no need to wonder about in which temple we should place the music of Coscia and Trovesi. On a street corner or in a concert hall, they would feel at home just the same. (Umberto Eco)
Gianluigi Trovesi, piccolo clarinet, alto clarinet
Gianni Coscia, accordion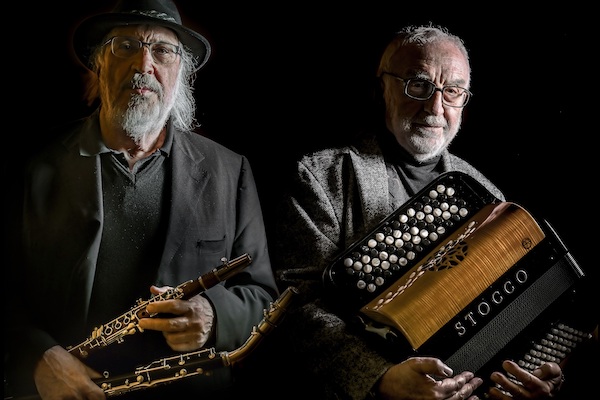 Gianluigi Trovesi
has accomplished that most difficult of feats, not only for a jazzman, or a musician even, but for any artist. He managed to create a musical world that is instantly recognizable and completely original at the same time. Drawing upon an unlikely and personal combination of sources, and having undergone a growth process in which the usual steps in the development of a musical career were reversed, Trovesi bloomed relatively late as an artist. Yet today his voice as a composer and improviser ranks among those who created the notion of a "European Jazz" inspired by the American tradition, but not an imitation of it. Michel Portal, Misha Mengelberg, Evan Parker and John Surman are others who help define its range. Born in 1944 into a working-class family in Nembro, a small village in an Alpine valley not far from Bergamo in northern Italy, the young Trovesi found music around him. It was played in the common spaces of his neighborhood: the chorus for traditional mountain singing or the church choir, the guitar-accordion-clarinet trio that accompanied dances, and later the rare record and the communal listening to opera and light classical music on the first radio sets. Music was so intertwined with everyday life Trovesi didn't realize it could be a separate profession until a music teacher told him about the Bergamo Conservatory, a time-honored institution situated in the city of Donizetti just a few kilometers away, where people - to his amazement - could go to learn and play music all day. He gained there his diploma in clarinet in 1966, having also studied harmony, counterpoint and fugue with Maestro Vittorio Fellegara, a relevant personality in the history of Italian music of '900. But at the same time his musical curiosity, and the chance to earn some well deserved fees, brought him to play in dance hall, where the American dance tunes were added to the European traditional music for walzer and polka, mixed with the ever-popular tango. Swing of the Glenn Miller and Benny Goodman denomination was then the prevailing element in jazz, even if quickly Charlie Parker's bop, Mulligan's and Konitz's cool and the first recordings by Ornette Coleman were added to the heady mix. The young musician was indeed listening avidly to the "new thing" coming from the USA. Especially relevant was the chance to listen live to Mingus' group with Eric Dolphy at the Milano festival in 1964. Dolphy'salto phrasing was rooted into bebop but his point of arrival was completely different, and the way he used the bass clarinet was another world if compared to what was studied in the Conservatory for classical and contemporary music. ...
Gianni Coscia
is an Italian jazz accordionist. Originally a lawyer, Coscia began focusing full-time on jazz music. Expresses an interest in developing "the remote values of cultural and popular tradition through the language of jazz." Has toured widely on the international jazz circuit. Of interest: the liner notes to his first CD were written by his former classmate Umberto Eco[1] and he collaborated with Luciano Berio in the writing of the music of a stage show against antisemitism. Since 1995 he collaborates with wood-player Gianluigi Trovesi mainly on the label ECM Records and since 2006 he has been a member of the Council of the Chigiana Music Academy in Siena.

Booklet for La misteriosa musica della Regina Loana