---
I`m sorry!
Dear HIGHRESAUDIO Visitor,
due to territorial constraints and also different releases dates in each country you currently can`t purchase this album. We are updating our release dates twice a week. So, please feel free to check from time-to-time, if the album is available for your country.
We suggest, that you bookmark the album and use our Short List function.
Thank you for your understanding and patience.
Yours sincerely, HIGHRESAUDIO
1

One More Year

03:36

2

Carry On

03:01

3

Love Found Me

03:54

4

Medicine

03:12

5

Thank You

03:10

6

Don't Lose Hope

03:38

7

Your Grace

03:32

8

We're Gonna Be Okay

04:01

9

Goodbye

03:15

10

Giant

04:27

11

Call Me Crazy

04:35

12

Mother

04:15

13

Luck On The Way

03:05

14

Forgiveness

04:06

15

I Need You

03:10

16

Too Late

03:42

Total Runtime

58:39
Info for One More Year

Wenn Stärke bedeutet, den Mut zu haben, zu seinen größten Ängsten zu stehen und die eigene Verletzlichkeit schonungslos zu offenbaren, dann ist PATRICIA KELLY eine außergewöhnlich starke Frau. Als sie 2009 mit der Diagnose Brustkrebs konfrontiert wird, derselben Krankheit, an der bereits ihre Mutter gestorben ist, betet die Christin für zehn weitere Jahre, damit ihre Söhne den möglichen Verlust besser als sie selbst würden tragen können. "Meine Kinder waren damals sechs und acht Jahre und ich wollte nicht, dass sie den gleichen Schmerz erleben, wie ich als 12-Jährige, als meine Mutter starb. Ich bat Gott, mir noch zehn Jahre zu schenken, und bekam meinen Wunsch gewährt. Im August 2019 ist diese Zeit abgelaufen und mich beschäftigt die Frage: Habe ich nur die erbetenen Jahre bekommen oder geht es weiter? Ich habe noch so viel Feuer in mir, so viel zu geben – deshalb wünsche ich mir jetzt ein weiteres Jahr und werde nicht aufgeben. Dieses Album ist meine musikalische Bitte um ONE MORE YEAR."
Das muss man erst mal verarbeiten. PATRICIA KELLY, das drittälteste Kind der weltbekannten Familie, die mit Liverekorden und Millionen Fans und verkaufter Tonträger fast ausschließlich im Zusammenhang mit Superlativen und gleißendem Rampenlicht genannt wird, spricht offen über ihre schmerzhafte Geschichte. Über die Sorge um ihre Söhne und die existenzielle Angst um ihr Leben. Aber sie vertont auch, wie ein solches Schicksal einen Menschen stark machen kann. Sie beweist, mit welcher Kraft es erfüllen kann, das Leben nicht als selbstverständlich zu betrachten. Es sind die ganz großen Alben der Musikgeschichte, die den Songwriter ohne Maske zeigen und PATRICIA KELLY ist es gelungen, ihr Innerstes nicht nur mit Pathos und Balladen auszudrücken, sondern es auch in kantige, selbstbewusste Popsongs zu gießen, die eine bisher unbekannte Seite von Patricia zeigen und sogar langjährige Fans überraschen werden.
Schon die erste Single MEDICINE lüftet den Vorhang: "Aus diesem Song spricht die Frau in mir, die manchmal auch wütend werden kann. Ich arbeite in einer Branche, die es Frauen nicht leicht macht: In der Musikbranche werden Männer bevorzugt. Das ist leider so – und nicht nur in meinem Beruf. Es ist aber kein 'Beschwerde-Song', ich lege nur die Fakten auf den Tisch und spreche einfach aus, wie es ist. Gleichzeitig möchte ich Frauen raten, sich selbst treu zu bleiben. Das hat seinen Preis – auch ich habe lukrative Angebote abgelehnt, um mich nicht verbiegen zu lassen – aber es lohnt sich: Ich kann mir im Spiegel in die Augen sehen und bin stolz auf mich und meine Entscheidungen." Das gab es in dieser Form wohl noch nicht: Eine Kelly, die Frauen mit klaren Worten dazu ermuntert, sich nicht anzupassen, an sich zu glauben und in die eigene Power zu investieren – egal, welche Hindernisse dafür zu überwinden sind. Den perfekten Schub bekommt MEDICINE mit treibendem, hochmodern produziertem Pop-Beat, atemberaubendem Chorus und Vocals, die in jeder Zeile Courage und kompromisslose Vitalität transportieren.
Den Quellen dieser beeindruckenden Lebenskraft räumt Patricia, gemeinsam mit Co-Writern wie Grammy-Gewinner Jonas Myrin und Danny Shaw (preisgekrönter Singer/Songwriter, u.a. für David Guetta, Kylie Minogue) auf dem Album ONE MORE YEAR ihren rechtmäßigen Platz ein. Ob es sich um einen ihrer besten Freunde, Vaterfigur und Mentor handelt – ihren GIANT – der 2019 vor ihren Augen verstorben ist; um Mutter Barbara-Ann, der sie in der bewegenden Hymne YOUR GRACE zum ersten Mal ein musikalisches Denkmal setzt; um ihren Ehemann Denis, der Liebe und Stütze ihres Lebens, dem sie nach zwanzig Jahren Beziehung mit allen Höhen und Tiefen hier ein leidenschaftliches und tief empfundenes THANK YOU zuruft; oder um eine still vergrabene alte Liebesgeschichte in LOVE FOUND ME, den Patricia als einen der persönlichsten Songs des Albums bezeichnet. "Es geht um eine vergangene Liebe, die mich viele Jahre beschäftigt hat, und von der ich noch immer nicht bereit bin, ganz direkt zu erzählen."
Es gibt also auch ein paar Geheimnisse, die auf ONE MORE YEAR nicht gelüftet werden. Auch das macht das Album besonders, denn PATRICIA KELLY bleibt sich auch insofern treu, als dass sie nicht jedes Detail in die Öffentlichkeit trägt. Sie hatte schon immer ihren eigenen Kopf und war sicher nicht die pflegeleichteste Tochter ihrer Familie. Bei den Themen aber, von denen sie glaubt, dass sie Wirkung auf ihre Hörer haben werden, wird sie durchlässig – bei den Songs, die ihren Fans und allen Menschen Hoffnung verleihen sollen, nimmt sie kein Blatt vor den Mund.
So auch im Titelsong ONE MORE YEAR, der mit den aufrüttelnd aufrichtigen Worten "Scars on my body remind me that time's only borrowed and death doesn't care" beginnt und bei denen auch auf der finalen Aufnahme noch zu hören ist, wie ihre Stimme am Ende der Zeile vor echter Emotion bricht. Begleitet wird der Song, der als Single zum Albumrelease erscheinen wird, vom dazugehörigen Video, in dem sie konsequent und beinahe schockierend radikal originale Aufnahmen ihrer eigenen Brustkrebsoperation veröffentlicht. "Es war mir wichtig, dass das Video direkt und ungeschminkt ist, denn eine solche Krankheit bringt einen zu der Erkenntnis, dass nichts als die Wahrheit von Bedeutung ist." Auch in ihrer Funktion als Botschafterin für Brustkrebs Deutschland e. V. möchte Patricia durch den Song und die intimen Bilder zeigen, dass alle Menschen vor einer solchen Diagnose gleich sind und jeder dieselben Ängste hat – aber auch, dass man sein Schicksal annehmen und meistern kann. Nicht umsonst heißt das Album wie dieser Song: Er ist der rote Faden, ihr persönlicher Antrieb für dieses Album – aber der Track ONE MORE YEAR hat Potenzial, das weit über ihre eigene Geschichte hinausgeht: Dieser Song wird Menschen tatsächlich trösten.
Dass man Liebe und universelles Gefühl durchaus cool und tanzbar klingen lassen kann, beweist auch der ansteckende und federleicht arrangierte Pop-Track "DON'T LOSE HOPE". "Jonas Myrin und ich sind sehr positive Typen und wir wollten mit diesem Song einfach Hoffnung ausstrahlen. Es gibt so viele Menschen, denen es nicht gut geht und die in schwierigen Situationen sind. Diesen Menschen möchten wir zeigen, dass wir an sie denken und ihnen ganz bewusst sagen: 'Verlier nicht die Hoffnung. Mach weiter, du schaffst es!' Für mich als Songwriterin war es immer wichtig, dass meine Musik nicht einfach nur im Hintergrund läuft – ich hoffe, dass ich mit den Songs und meinen Texten tatsächlich etwas bewegen kann. Das ist meine größte Motivation.
Patricia Kelly, Gesang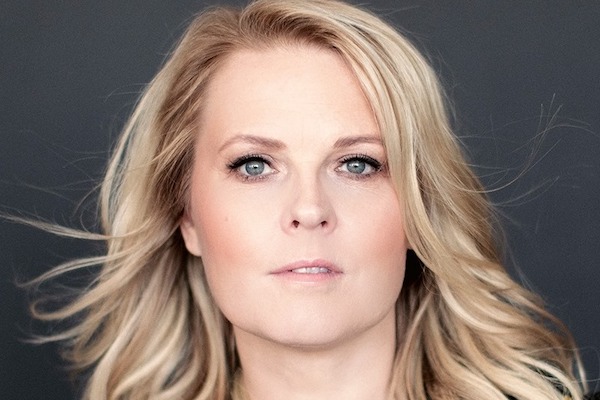 Patricia Kelly
In her early childhood (5 years old) Patricia wanted to go and sing with her older brothers and sisters, but her father said that she can go and sing with them only if she will learn all the songs by heart to sing and to play them on the guitar. He thought she won't make it but with help of her elder sister Caroline, she made it and was allowed to sing with her siblings. In 1994, Patricia had her song "First time" (from the album "Over the hump") on top of the charts for a long time.
In the 90's Patricia was the 'manager' of "The Kelly Family", when for her personally worked around 200 people. She also was a contact person with all the media and the press. In 2001 she married to a russian man Denis Sawinkin, and today they have 2 boys: Alexander and Ignatius. Patricia started solo career in 2008 and done hundreds of concerts in Germany, Poland, Switzerland, Spain, Czech Republic, Holland and Austria. Since 2008 Patricia released 3 solo maxi albums. In 2009 she was diagnosed with breast cancer, but luckily she fought over it and she's fine today. Patricia was a part of the Musical "A Christmas carol" where she took the lead roles of Bella and Angel, in Germany, Dusseldorf. In 2010 she took part in the Christmas project called "Christmas moments" with many other great artists. They also shot a music video for the song "Traum von Betlehem". Since 2011, Patricia went on two different tours of hers; "Moments with Patricia Kelly" and later "Songs & Stories". In late spring 2012, she released her very first live dvd, and shortly after that she went on musical pause in her life. After, quite a long break, Patricia came back with her own book "Der Klang meines Lebens" and started a promo-tour in Europe, which later grew into accoustic tour. ...

This album contains no booklet.