---
Album info
Album including Album cover Booklet (PDF)
I`m sorry!
Dear HIGHRESAUDIO Visitor,
due to territorial constraints and also different releases dates in each country you currently can`t purchase this album. We are updating our release dates twice a week. So, please feel free to check from time-to-time, if the album is available for your country.
We suggest, that you bookmark the album and use our Short List function.
Thank you for your understanding and patience.
Yours sincerely, HIGHRESAUDIO
1

Where Do We Go From Here

03:57

2

Circular Confidence

06:23

3

Camino Cielo

05:15

4

Hung Up On That Ghost

05:55

5

Last Decade

05:52

6

Remember This

02:44

7

Open Minds Lost

04:18

8

Émile

02:18

9

My People

04:50

Total Runtime

41:32
Info for Last Decade

German-American pianist Benjamin Lackner makes his ECM debut with a star-studded quartet of Manu Katché on drums, trumpeter Mathias Eick and Jérôme Regard on bass. Mathias and Manu share a longstanding association with the label and their respectively unique instrumental signatures can be traced across this set of exclusively original material – eight pieces by Benjamin, one by Jérôme. The bassist and the leader's partnership goes all the way back to 2006, when, Jérôme joined Lackner's trio, which remains active until today. Two decades of close collaboration have molded them into intimate colleagues, who complement each other's lines intuitively. Mathias Eick and Manu Katché's effortless musicianship enhances the quartet's fluid interplay. Last Decade was recorded in Studios La Buissonne, Pernes-Les-Fontaines and produced by Manfred Eicher.
Benjamin Lackner's label debut is a concentrated investigation into patient quartet interplay, as the pianist leads an exceptional cast of instrumentalists with a keen sense of restraint. There's a striking lyrical quality to Benjamin's compositions, opening up many possibilities for his colleagues – trumpeter Mathis Eick, drummer Manu Katché and Jérôme Regard on bass – to inject the music with their own character. Subtle grooves and flowing solos emerge between the four of them.
The great chemistry between pianist Benjamin Lackner and Jérôme Regard can be traced back to 2006, when Jérôme first joined Benjamin's trio. Various incarnations of the trio produced six albums between 2004 and 2019 – Jérôme appears on half of them. Now having to expand his compositional framework from trio to quartet, Benjamin recognizes new opportunities and finds freedom in having a melodic partner on horn.
"We decided early on that this would be an acoustic record, which made it easier for me to focus on a direction and allowed me to rediscover the piano more intimately", explains Benjamin. "I worked on finding grooves that allowed me to conceptualize melodies in a more open way. With a horn player in the band, I had to come up with different harmony parts on piano than what I'm used to, and think of the trumpet as the leading voice, which is new territory for me, too, since I tend to play mostly in solo or trio settings. It was an inspiring change to write with Mathias in mind because his phrasing fits perfectly to the way I hear melodic material."
Between them, Manu Katché and Mathias Eick have appeared on over twenty albums for the label with numerous leader-dates each. Mathias was also part of Playground (2007), Manu Katché's second album for ECM. Their contributions to this quartet are highly distinctive – Katché's drum patterns exude both natural spaciousness and a particular confidence, while Eick's breezy trumpet tone transcends the textures. Lackner: "In the studio, my colleagues were very open minded and helpful in the arrangement process of the music and we ended up making several changes that gave my compositions exactly the final touch they needed. Manu spontaneously added unique rhythmic accents and the session had an overall feeling of freshness because it was all new to all of us."
This freshness is apparent from the start, as is Benjamin's ability to compose frameworks within which his sidemen's exceptional abilities can unfold completely. "Where Do We Go From Here" opens the proceedings with a rubato that has Katché exploring the cymbals before switching to a more robust rhythmic foundation for "Circular Confidence", a song that finds piano and trumpet sharing the melodic themes in equal parts.
Throughout, Jérôme Regard serves as both harmonic partner and grounding force, navigating the entirety of the double bass fingerboard with elasticity and elegance, often interlocking with Katché's different emphases in the process. The programme is made up of exclusively Lackner originals, except for "Émile", named after Jérôme's son. The bassist improvised the music on the spot in the studio, capturing his instrument's pristine acoustics. On "Camino Cielo", named after the mountain range in California where Benjamin Lackner's ancestors emigrated to from Germany in the 1930s, the bass blends in with the band in an especially smooth way, so that the remarkable interplay of the group becomes the centre of attention, not the solos. Which is true for most of the music on the album.
On "Hung Up On That Ghost", the title track, "Remember This" or "Open Minds Lost" it's never just about the individual but about the sum of the parts. In this case, the sum of four musicians improvising over thoroughly wrought designs with precision, mindfulness for each other and Manfred Eicher's guidance as producer, which, as Benjamin stresses, "helped shape the improvisations in a way I have never experienced before."
Closer "My People", originally intended as a strict 11/4-time, was collectively refashioned into a loose rubato head with a jam-friendly middle-section in the studio and summarizes many of the idioms introduced previously. It reinforces the idea that Last Decade builds on the strengths of each member of the quartet, as they work together to create a greater whole.
The album was recorded at Studios La Buissonne, Pernes-Les-Fontaines, in September 2021, and produced by Manfred Eicher. Benjamin Lackner and his quartet will be presenting music off Last Decade through Europe in January, with stops in Dortmund, Koblenz, Regensburg, Brussels, Oslo and more.
Benjamin Lackner, piano
Mathias Eick, trumpet, voice
Jérôme Regard, double bass
Manu Katché, drums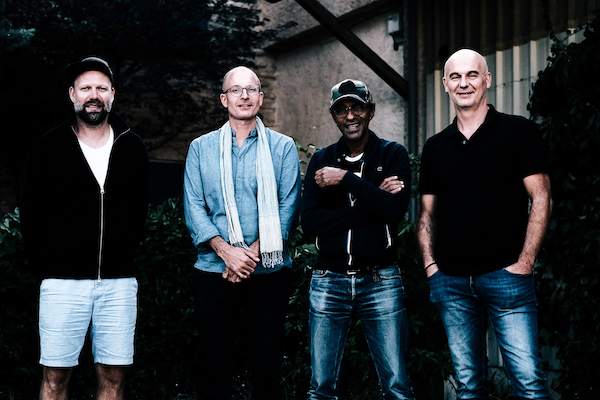 Benjamin Lackner
Born in Berlin to an american father and a german mother, Benny Lackner, moved to California at the age of 13. He received his BFA from the California Institute of the Arts under the direction of Charlie Haden and David Roitstein. From 1997 - 1998 he studied privately with his mentor, pianist Brad Mehldau. He has performed at numerous jazz festivals including the North Sea Jazz Festival, Montreux and Monterey. He has worked with artists such as the late Billy Higgins, Marc Ribot, BradShepik, Pheeroan akLaff and is now residing in NYC and Berlin where he is working with his internationally touring trio as well as a sideman and composer.
The Benny Lackner Trio just finished its fifth huge world tour playing 19 concerts in 19 cities starting with Auckland, NZ and ending in Lausanne, CH. The trio featuring Benny Lackner (piano, electronics), Jerôme Regard (bass) and Matthieu Chazarenc (drums) was founded in New York City in 2002. Past concerts include five extensive Asia – Australia – New Zealand tours taking them to places such as Sydney, Melbourne, Hong Kong and Jakarta. Other tours included Brazil, South Africa, Canada, Portugal, Spain, United States, Germany, France, Croatia, South Africa, Austria, Turkey, Spain, Greece, Portugal, Slovakia and the Czech Republic. The trio has headlined at jazz clubs such as the Blue Note in NYC, Joe's Pub in NYC, Smalls in NYC, Birdland in Vienna and the A-Trane in Berlin, sharing the stage with John Scofield at the Traumzeit Jazz Festival, the American Jazz Festival in Paris, as well as concerts at the Montreux Jazz Festival, the North Sea Jazz Festival and the Monterey Jazz Festival, Viersen Jazz Festival, Leverkusener Jazztage, the Augsburger Jazzsommer and the Düsseldorfer Jazz Rallye.

Booklet for Last Decade