---
Album info
Album including Album cover
Giovanni Battista Viotti (1755 - 1824): Quartet No. 1 in B-Flat Major, Op. 22:

1

Quartet No. 1 in B-Flat Major, Op. 22: I. Andante-Allegro Vivace

10:08

2

Quartet No. 1 in B-Flat Major, Op. 22: II. Andante

02:15

3

Quartet No. 1 in B-Flat Major, Op. 22: III. Allegretto

03:32

Quartet No. 2 in C Minor, Op. 22:

4

Quartet No. 2 in C Minor, Op. 22: I. Moderato ed espressivo

09:34

5

Quartet No. 2 in C Minor, Op. 22: II. Menuetto Presto-Trio

03:56

6

Quartet No. 2 in C Minor, Op. 22: III. Allegro agitato e con fuoco

05:48

Quartet No.3 in E-Flat Major, Op. 22:

7

Quartet No.3 in E-Flat Major, Op. 22: I. Moderato

10:09

8

Quartet No.3 in E-Flat Major, Op. 22: II. Il Pastorello (Andante Tempo di Pastorale). Allegro

06:36

Total Runtime

51:58
Info for Viotti: Flute Quartets, Op. 22

Chamber music of flowing melody and unalloyed charm from the golden age of the Classical period.
On this new recording, the flautist Stefano Parrino is joined by his brother, the Viotti expert and violinist Francesco Parrino, as well as two of the other string players who, as the Viotti String Quartet, have recorded the composer's complete works in that medium for Brilliant Classics (95264). The set met with a warm critical reception for its 'top-notch' musicians (Fanfare).
Giovanni Battista Viotti (1755–1824) was one of the leading Italian violin virtuosos in the period between Tartini and Paganini. Having settled in Paris in 1782, he became a teacher of such influence that he is now counted the founder of the French violin school, though he moved to London in 1792, where he remained for the rest of his life, performing as a soloist in Salomon's concerts and forging a friendship with Haydn.
The three Op.22 quartets - Viotti's only works for this combination of players - belong to the genre of chamber music intended for amateurs and professional players alike. They probably date from 1802-6, when Viotti had largely retired from public performance in London and was dividing his energies between composition and business ventures as both an impresario and a wine importer. Thus the mood of these works is easy-going, undemanding for performers and listeners alike, crafted to give pleasure before instruction. The second movement of Nos. 1 and 3 is is a short bridge between the two outer sections, whereas in No.2 it takes the shape of a simple and minuet, followed by a minor-key trio which is the most harmonically surprising passage in the trios as a whole.Played by the Italian Viotti Quartet, paying an impressive tribute to their name giver Giovanni Battista Viotti. They already successfully recorded the complete Viotti String Quartets for Brilliant Classics.
Giovanni Battista Viotti (1755-1824) received his musical education from Gaetano Pugnani. He served for a short time at the Savoy Court in Turin but soon he spread his wings and travelled to Paris, where he was an instant success as a supreme violin virtuoso. He served for a time at the court of Versailles before he founded an opera house in Paris. The French revolution urged him to go abroad and he settled in London, where he featured in the Hanover Square concert series and was active as a concert organizer and impresario, as well as one of the founders of the Philharmonic Society of London.
Viotti was an influential musician violinist and teacher, and he composed extensively for his instrument. This new recording however presents his only opus dedicated to the flute: the three Flute Quartets Op. 22, for solo flute and string trio. These delightful works are in Early-Classical style. Based on the principles of the Viennese Classics it hints at more romantic feelings of times to come.
Played by the Italian Viotti Quartet, paying an impressive tribute to their name giver Giovanni Battista Viotti. They already successfully recorded the complete Viotti String Quartets for Brilliant Classics.
Quartetto Viotti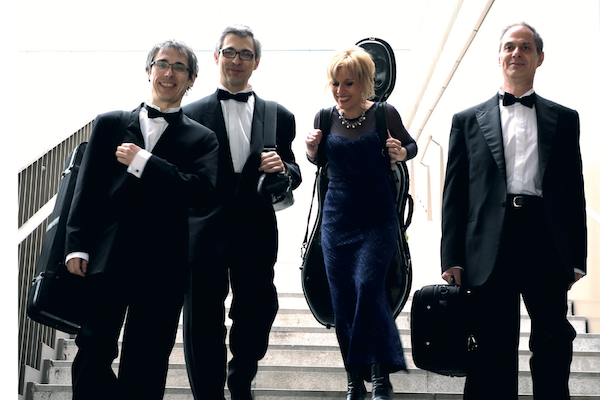 Viotti Quartet
By choosing the name of Giovanni Battista Viotti, the Quartet formed by Stefano Parrino (flute), Francesco Parrino (violin), Luca Ranieri (viola) and Maria Cecilia Berioli (cello) makes a tribute to a great Italian artist who was able to give an important contribution to the development of European culture. Respect for tradition and innovative vision, fundamental themes in Viotti's work, characterise the artistic path of the four musicians whereby, beside their particularly strong interest in unjustly neglected works of the chamber repertoire, they give original and innovative readings of the standard repertoire, and commission works by contemporary composers.
Each member brings to the quartet a strong individual history and significant artistic experiences, making the Quartetto Viotti's concerts unique and memorable events. The ensemble has toured Spain, Germany, South America, China, Hong Kong, Indonesia and Mianmar.

This album contains no booklet.