---
Lars Danielsson & Paolo Fresu
---
Biography Lars Danielsson & Paolo Fresu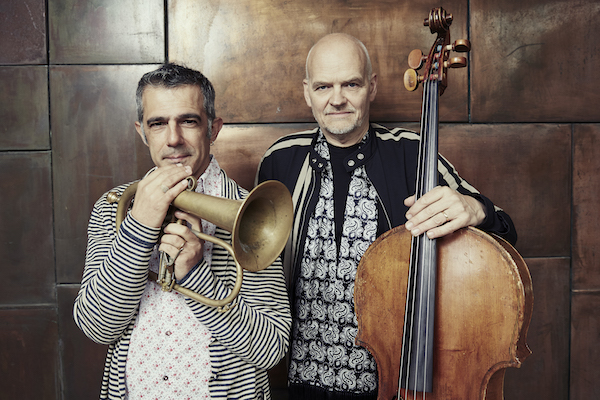 Lars Danielsson
Swedish bassist, cellist, composer and arranger Lars Danielsson is well-know and admired throughout the International jazz scene for his lyrical playing and strong groove. Born in 1958, he is a musician with particularly broad interests. At the conservatory in Gothenburg he had studied classical cello, before changing to bass and to jazz. As a bassist he has a uniquely rounded sound, which is as lyrical as powerful.
The "Lars Danielsson Quartet" with former Miles Davis saxophonist David Liebman, pianist Bobo Stenson and legendary ECM drummer Jon Christensen has received a lot of recognition and numerous awards during the 18 years of its existence. Danielsson has released ten solo-albums since 1980 with his quartet and guests such as Alex Acuña and John Abercrombie. The Quartet has been a testing ground for Danielsson's work as a composer and arranger, which has extended over the last years to include both - symphony orchestra and big band music. He has worked with Denmark's Radio Concert Orchestra as well as the JazzBaltica Ensemble as a composer, arranger and producer.
Lars Danielsson has worked with: Randy and Michael Brecker, John Scofield, Jack DeJohnette, Mike Stern, Billy Hart, Charles Lloyd, Terri Lyne Carrington and Dave Kikoski. He has also been a member of the "Trilok Gurtu Group".
As a producer, Lars Danielsson worked with Cæcilie Norby, Jonas Johansen, the Danish Radio Concert Orchestra and Viktoria Tolstoy.
In 2007, he received a commission for a piece with the Gothenburg Symphony Orchestra featuring himself as a soloist together with Leszek Moždžer. He has also received a commission from the NDR Big Band and Wolfgang Haffner to write a piece for the JazzBaltica Festival 2007. Furthermore, he has been working with the St. Petersburg Symphony Orchestra in collaboration with Vytas Sondeckis and Bugge Wesseltoft.
His 2008 album "Pasodoble" was a huge success. Jazzwise UK wrote about Danielsson's collaboration with Polish pianist Leszek Moždžer: "A clarity of thought and execution rarely encountered in jazz."
"Pasodoble" was followed by another collaboration with Leszek Moždžer on the 2009 album "Tarantella". Once more the album caused enthusiastic reactions by Jazzwise: "Easily Danielsson's finest album to date, it also numbers among the finest albums in the ACT catalogue."
On his 2012 release "Liberetto", Lars Daniellson teams up with Armenian piano shooting Star "Tigran", e.s.t. drummer Magnus Öström guitarist John Paricelli and Trumpeter Arve Henriksen to discovers new musical spaces and the freedom of music between chamber jazz, classic and European folk music.
STERN magazine (DE) attested "Liberetto" a "mighty energy" that unleashes itself from a power centre of serenity. With his current album "Liberetto" (2014) Lars Danielsson and his quartet take that energy a step further.
Paolo Fresu
was born in Sardinia in 1961. He began studying the trumpet at the age of eleven while playing in his town band. Following his experience with pop music he discovered jazz in 1980 and began his professional career in 1982, first attending the Siena seminars and then recording for the RAI (Italian State Radio and Television) led by Bruno Tommaso. In 1994 he graduated in trumpet studies from the Conservatory of Cagliari (Sardinia) after studying under Enzo Morandini and attended the University of Musical and Performing Arts in Bologna (DAMS).
That same year he received numerous awards, among them: the Radio Uno Jazz award by RAI, the Arrigo Polillo award from the Musica Jazz magazine, and in August 1995 received the Radiocorriere TV prize. Since then he has always been at the top in the 'Top Jazz polls' and surveys both as best artist and group leader or best recording artist (in 1990 he was elected the best musician, the Fresu Quintet - best group and Live in Montpellier - the best record). In 1996 he received two news awards in Paris: the Bobby Jaspar prize from the Académie du Jazz and the Django d'Or for best European musician.
Fresu has taught music in a variety of schools and for years has been actively involved in the didactic aspects of his art. Since 1985 he has been a professor at 'Siena Jazz national Seminars' and since 1987 at the Jazz University courses at Terni. Since 1989 he has conducted the winter courses in Siena and seminars in Nuoro. In addition, he has conducted classes in various cities such as Pordenone, Bari, Matera, Pisa, Sassari, Bologna, Vicenza, Brescia, Boston (USA), Atlanta (Georgia, USA), Melbourne (Australia) and Beijing (China).
He has been artistic director of the Time in Jazz festival in Berchidda since 1988, EuroJazz-Concorso internazionale per giovani musicisti europei in Oristano since 1994 and also Jazz Seminary in Nuoro since 1989.
He plays periodically in orchestral groups performing contemporary music by composers such as M. Nyman and G. Schiaffini and he also composes music for the theatre, for poetry, for dance and for Radio/TV/ video and film with past performances at Parma, Salerno, Milano and Spoleto-Festival of Two Worlds.
Paolo Fresu has recorded some 130 albums, eleven of which are under his own name. He has taken part in many innovative recording projects from jazz to popular and new age music. On these albums he has collaborated with many great Italian musicians inclucing D'Andrea, Tommaso, Trovesi, Gaslini, Pieranunzi, Giammarco, Damiani and top European and North American musicans such as K. Wheeler, J. Taylor, D. Liebman, T. Oxley, Trilok Gurtu, D. Humair, A. Mangelldorff, P. Favre, M. Portal, G. Mulligan, D. Holland, Ph. Woods, B. Brookmayer, J. Zorn, P. Daniellson, R. Beirach, J. Abercrombie, T. Gurtu, G. Shuller, N. Winstone etc. He also performs and records with his own ensembles - the Paolo Fresu Quintet and Sextet, Paolo Fresu-Furio di Castri Duo, The Open Trio with Di Castri and J. Taylor, P.A.F. with Furio di Castri and Antonello Salis, Fresu-Di Castri-Balke-Favre and Paolo Fresu Euro4th with the Vietnamese guitarist Nguyên Lê.
He has performed at all of the leading Italian festivals and at festivals in France, USA, Spain, Portugal, Germany, Switzerland, Belgium, UK, Poland, Russia, Ireland, Canada, Japan, India, Australia, Africa, Israel, China and Brazil.