---
Biography Tony Allen & Jeff Mills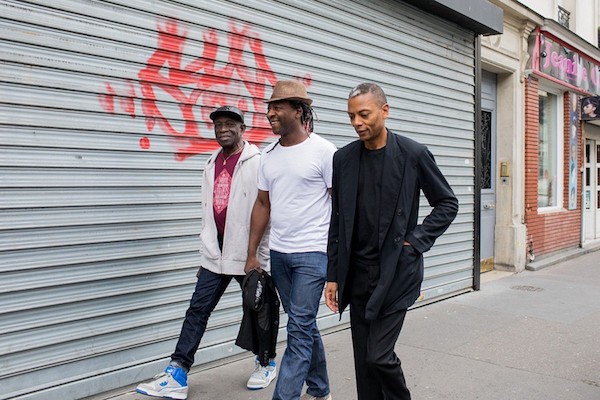 Jeff Mills
is considered the most brilliant DJ and producer of Techno Music in the World. He is the most recognized representative figure of Detroit Techno , where he began his career as a DJ on the WDRQ radio in 1984. He has created with "Mad Mike Banks" the collective "Underground Resistance", which became a reference in the electro sphere. In 1992, Jeff Mills created his own label in Chicago :with "Axis", he could keep his artistic independence and produce his own timeless electronic music compositions, inspired of science fiction. Jeff Mills' artistic career goes much further than techno music. For over a decade, he's been transcending disciplines with a large number of collaborations in contemporary art. Interested in cinema and attracted by images, Jeff Mills started working, in 2000, on the fusion of image and sound. In 2000, he created and presented at the Centre Pompidou a new sound track for the film "Metropolis" by Fritz Lang. A year after, he created "Mono", an installation inspired by the movie "2001, a Space Odyssey", by Stanley Kubrick. In 2004, Jeff Mills produced the DVD "Exhibitionist" which presents DJ sets filmed from various angles (from front, top and side). At that same period, he acquired a new tool, the DVJ-X which allowed him to manipulate image and sound together paving the way into the Art World. In 2005, Jeff Mills made, for MK2, a new sound track for the silent movie "Three Ages" by Buster Keaton, and created a serie of 6 video art works presented in Paris at the Galerie Georges-Philippe et Nathalie Vallois and at the « rendez-vous vidéo » of the Musée des Beaux-Arts in Rouen. Jeff Mills continued this work period with a production on Josephine Baker, presented during the FIAC 2005 in the Grand Palais. On July 2nd 2005, Jeff Mills played together with the Philharmonic Orchestra of Montpellier, for the 20th anniversary of the Pont du Gard's inclusion in the world heritage list by UNESCO. Together with the orchestra, Jeff Mills performed his own compositions, orchestrated by Thomas Roussel for this occasion. In 2007, he was invited by the movie director Claire Denis to create the sound environment of the exhibition « Diaspora » at the musée du quai Branly in Paris.. That same year, Jeff Mills received the title of « Chevalier des Arts et des Lettres» from the French ministry of Culture. In 2008, Jeff Mills was commissioned to create a comtemporary installation for 100 Year Anniversary of the Futurist Manifesto at the Pompidou Center. At the Sonar Festival in Barcelona, Jeff Mills and « Mad Mike Banks » were together again for an historical performance called « X-102, Rediscovers the Rings of Saturn », mixing video and music. Always busy, Jeff Mills is involved in numerous projects at this time. The next event: For the 100 Year anniversary of the famous director, Cecil B. DeMille, he'll perform a Cinenamix at the French Cinematheque in Paris April 2nd. Go to www.axisrecords.com for more info.
Tony Allen
is one of the greatest drummers on the planet - the man who created Afrobeat with Fela Kuti. 24 years after leaving Fela's band he remains a restless and potent trail blazer for new African musical adventures.
Tony Allen's small and wiry frame contrasts with the powerful and transcendent force he radiates. On stage, behind that massive drum kit he's serenely controlling the band. Compulsively watchable, you don't want to miss a beat. 'Sir' Victor Olayia (aka Evil Genius of Highlife) was the man who lit Tony's fuse. His band, the Cool Cats, gigged around Nigeria throughout the 50's in the wake of Mensah Highlife hysteria. He always had an eye for young talent. A certain Fela Ransome Kuti had sung with him for a couple of years, before he left for London to study music. Tony hung out with the Cool Cats and started playing claves. His big chance came when the drummer left and their new leader Sivor Lawson offered him the sticks.
Then in 1964, a guy came round and asked him to come and audition for a Jazz DJ at Nigeria Broadcasting, some cat called Fela Kuti, who was looking for the right drummer for his jazz-highlife band, Koola Lobitos. Fela was just back from 4 years of studying Music Theory and trumpet at Trinty College, London. He'd also got bitten real bad by the jazz bug while he was there. 'That's why he wanted me. After the audition Fela said, 'How come you are the only guy in Nigeria who plays like this - Jazz and Highlife? ' 'Fela used to write out the parts for all the musicians in the band (Africa '70). I was the only one who originated the music I played. He tried to write it for me but we both knew it didn't sound so good that way. Fela said I sound like 4 drummers.'
After Tony's departure from the band in the mid 70's he joined an all drummer show with Khofi Ghanaba at National Theatre in Lagos, checking out his roots and then he cut the still compelling No Discrimination album. The '80's saw him playing with King Sunny Ade in London, Ray Lema in Paris and releasing his own Afrobeat gem, NEPA. The '90's saw him working on the dub soaked, future Afrobeat of the Black Voices album for far sighted and hip Comet Records, produced by Doctor L, incendiary DJ and pillar of the Parisian electronica elite. As the new century came round, Tony gave us the deconstructed jazzy Afrobeat of Psycho On Da Bus.