---
Biography Lee O'Nell Blues Gang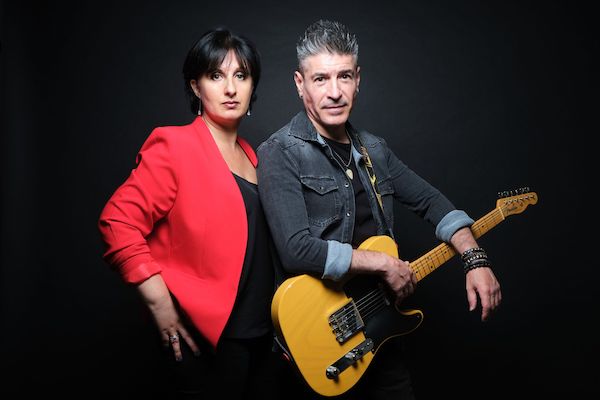 Lee O'Nell Blues Gang
Lionel is, as they say, "a child of rock". Self-taught, it is with surprising ease that he takes you into his universe. And he's got plenty of material to take on the genre! We find the mythical bands that influenced his adolescence: Deep Purple, Led Zeppelin, Rainbow, Thin Lizzy ... . The connoisseurs will also recognize the masters of the Blues; those who brought the foundations: Peter Green, Albert King Eric Clapton among others. As far as the playing is concerned, we are talking about fluidity, dexterity, a velvety sound when needed. A clever mix between vintage and modernity, the right balance between catchy riffs and punchy solos that a flawless technique serves with delight.
A perfect mix to accompany and enhance Gipsy's personality and voice. She left classical piano lessons at the age of 11 at the Troyes Conservatory, but returned 10 years later to join the jazz class led by Ludovic de Pressac. From her many and varied musical experiences, she has a soulful, warm and powerful voice. Gipsy also knows her instrument, and knows how to be soft, sensual, sometimes fragile and delicate, but also powerful and rocky.
In 2012, after having played together and separately in many bands and accompanied various artists (all styles), Lionel and Gipsy decided to work as a duo on a Blues repertoire paying tribute to those they particularly like: Gary Moore, BB. King, Fred Chapellier, Joe Bonamassa, Beth Hart, Etta James... February 2019 : Lionel and Gipsy are invited by Fred Chapellier to share a stage with him in order to play some of his own songs together.
For the record, Lionel and Fred Chapellier are childhood friends! Lionel was only 4 years old when Fred, at the age of 7, took him under his wing and since then has considered him as his little brother. They grew up together, listened to the same vinyls, worked on the guitar side by side and unfortunately lost sight of each other for too many years because life decided it... And then, they met again in 2017 and for once time has not done its work for the two "brothers", it is as if they had never left each other.
It is thus on stage with Fred (as before, but 30 years later!) that the desire to form a new group quickly germinates in Lionel's creative and overflowing mind. He then gathered the best musicians of the region to form the Lee O'Nell Blues Gang ...
Philippe DANDRIMONT (Bass) is self-taught and has been accompanying many bluesmen on various European stages since 1984: Gerry Joe Weise, Fred Chapelier, Lorenzo Sanchez, Chris Bergson, Ellis Hooks, Mike Greene...
Jonathan THILLOT ( Drums), 1st prize from the CNR of Metz, is assisted by André Charlier, Olivier Baldissera or Umberto Pagnini. Curious about all styles, he has shared the stage with Carla Bley and Steve Swallow's Big Band Jazz.
François BARISAUX (keyboards), graduate of the Conservatoire de Reims, he composes for various media at an international level. He creates various shows (Jim Morisson, Billy Holiday) and is also an accompanist for silent films. His album " A tribute do Deep Purple " that he recorded with Air Jazz Quartet obtained the recognition of Roger Glover.