---
Biography BartolomeyBittmann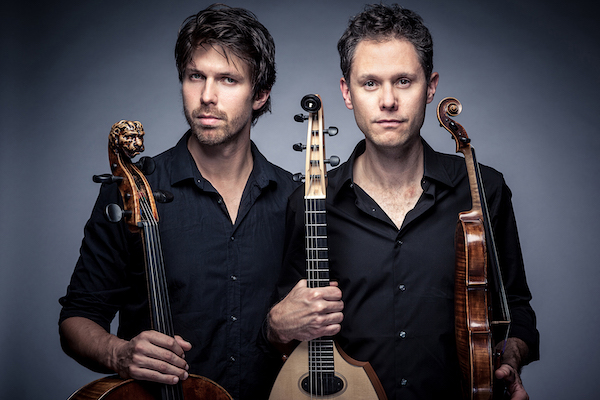 Matthias Bartolomey
was born in 1985 and started to play the cello at the age of seven. He took his first cello lessons with his father and became a student of Prof. Valentin Erben at the University for music and performing arts in Vienna in 1995. From 2007 he studied with Prof. Clemens Hagen at the Mozarteum in Salzburg where in 2010 he completed his studies with a Masterdegree.
He is prize winner of the Austrian youth competition "Prima la musica", the competition "Musica Juventutis" by the Wiener Konzerthaus and winner of the 2nd prize at the International Brahms competition in Pörtschach 2006. In 2009 he received the "Erich Schenk-Preis" for young musicians by the Mozartgemeinde Wien.
Numerous projects as soloist and chambermusician brought Matthias to Germany, Italy, Slovenia, France, Great Britain as well as China, Japan and the USA.
As soloist in particular he played with the "Wiener Kammerorchester", the "Wiener Kammerphilharmonie", the "Symphony in C"(Boston), and the Symphony Orchestra of the Mozarteum University.
As a Orchestra musician Matthias repeatedly played at the Vienna Stateopera, the Vienna Philharmonic, the Vienna Symphony, the Chamber Orchestra of Europe and the Mahler Chamber Orchestra.
Since 2010 he is solo cellist with Nikolaus Harnoncourtś "Concentus Musicus Wien".
Matthias also attended masterclasses with Janos Starker, Patrick Demenga, Christoph Richter, Heinrich Schiff and the Alban Berg Quartett. In 2012 together with the Jazzviolinist and Mandolaplayer Klemens Bittmann he formed the Duo BartolomeyBittmann - progressive strings vienna which has become a main focus in his musical career. 

With exclusively original compositions they are leading their instruments out of their deeply rooted classical tradition to new musical pathways.
With the spontaneity and improvisation of Jazz , the music includes heavy groove and rock elements as well as intimate ballads and fast uptempo compositions.
Since 2017 Matthias is fucusing on wirting new and original music for cello with an emphasis on developing and advancing new playing techniques.
Matthias is playing a cello by David Tecchler (1727).
Matthias Bartolomey is exclusively playing strings by LARSEN STRINGS.
Klemens Bittmann
Born in Graz, Austria, Klemens Bittmann studied classical violin at the University of Music and Arts in Graz and Jazz violin at the Didier Lockwood Music Center in Paris.
Back in Austria he founded the bands Beefólk, folksmilch, Radio String Quartet and BartolomeyBittmann which already are major acts in the world-music jazz-scene in Austria. In these groups he plays violin and mandola as well as he uses his composing and arranging abilities. A large number of concert tours from Austria and Germany to Iceland, USA, Netherlands, Iran, Norway, Malta, Kenia, China, Hong Kong and Russia. Besides these two projects exist collaborations with Klaus Paier (Klaus Paier Trio and String quartet), Wolfgang Muthspiel (Beefólk feat. Wolfgang Muthspiel), Gerald Preinfalk (Tangogo and Moskau52), Alegre Correa, Alex Deutsch, Louie Austen, Thomas Mauerhofer, Christian Bakanic, Wolfgang Temmel (Dear_GRZ), Georg Gratzer, radio string quartet (Mahavishnu project), Drew Sarich & Dead Poets String Quartet ("ugly Nina" project), Stefan Heckel, Helgi Jonsson, Broadlahn, Mercedes Echerer, Sarah Grubinger, Ursula Strauss, Alexander Tschernek, Olivier Tambosi and since 2007 with the Austrian pop singers Anna F, Maria Bill, Andrea Eckert, Paul Gulda, Erich Oskar Hütter, Cornelius Obonya and Valerie Sajdik.
String arrangements for: Boy, Andreas Bourani, Helgi Jonsson, Conchita Wurst, Sarah Nardelli, AnnaF, Rita Chiarelli, Louie Austen, Sarah Grubinger, Broadlahn, Valerie Sajdik and many others.
2009 Klemens composed the studio solo-album "leaving velidhu".
2010 he concepted together with the classical singer Ulfried Staber the project "Frauendienst" where the lyrical content came from the austrian minnesänger "Ulricht von Liechtenstein".
2011 Klemens developed on request of the "liquid music" festival in "Judenburg" the sound performance "from the distance" and 2012 the live performance "en passant".
2014 Zbigniew Seifert Jazz Violin Competition finalist.
Klemens has always been an in demand studio string-arranger and musician for various projects.
2014 release of the first BartolomeyBittmann album "Meridian"
2015 release of the second BartolomeyBittmann album "Neubau" at Preiser Records Vienna.
Klemens Bittmann plays a violin by Josephus Pauli (Linz, 1817), a mandola by Markus Kirchmayr (Natters in Tirol, 2004) and Thomastik-Infeld Vienna strings.