---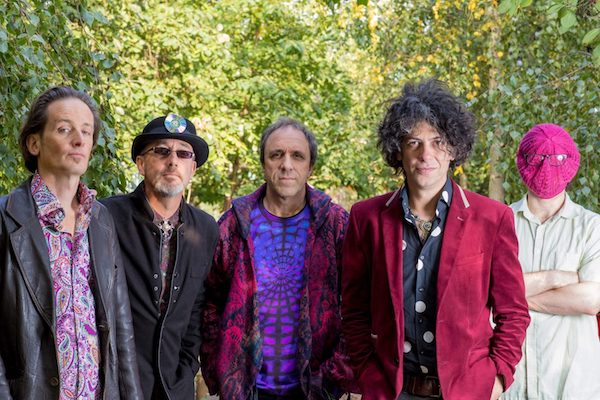 Gong
The ever metamorphosing entity that is Gong launches, as ever, into unknown – and unknowing – territory with a new album and tour, destined to be talked about, discussed, and argued over, up and down the land.
From its beginnings in a French commune in 1967, through the Virgin Records years, mismanagement, court cases, break-ups and rejoinings, deaths and rebirths – there has always been a continuous thread of beautiful, dangerous and extraordinary music.
The current holders of the flame have come together over the last seven years; sinuous bass player Dave Sturt joined just as the album 2032 was shown to the world; Ian 'Eastwinds' East was the next to blow in through the portal; Fabio Golfetti brought his guitars from Brazil (after working with Daevid for many years); Kavus Torabi appeared to Daevid in a vision; Cheb Nettles just sort of turned up.
Gong's musically diverse world includes shades of psychedelia, space rock, jazz, avant-garde, krautrock and surreal soundscapes.
Signed-up members of the precariat, Gong have never played it safe.
GONG : the legendary psychedelic space rock collective formed in 1969
Australian beatnik poet Daevid Allen (ex-Soft Machine) began making music with his partner Gilli Smyth in the late 1960s, along with a constantly evolving community of creative musicians. Albums from this period include Magick Brother, Mystic Sister (1969) and the influential Bananamoon (1971) – one of David Bowie's favourite 20 albums.
A stable line-up of the band, now named Gong, eventually materialised featuring Didier Malherbe (sax and reeds), Christian Tritsch (bass), and Pip Pyle (drums), along with Allen (glissando guitar, vocals) and Smyth (space whisper, vocals). This band released the album Camembert Electrique in late 1971, as well as providing the soundtrack to the iconic biker film Continental Circus and music for the album Obsolete by French poet Dashiel Hedayat.
Gong's next three albums, released on Virgin Records, became known as the known as the Radio Gnome Trilogy, consisting of Flying Teapot (1973), Angel's Egg (1974), and You (1975). Over the course of the Trilogy, Tritsch and Pyle left and were replaced by Mike Howlett (bass) and Pierre Moerlen (drums). New members Steve Hillage (guitar) and Tim Blake (synthesizers) also joined.
After You, Allen, Hillage, Blake and Smyth left the group, guitarist Allan Holdsworth joined, and the band moved into a virtuosic jazz fusion style. Nevertheless the trilogy lineup reunited for a few one-off concerts including a 1977 French concert, documented on the Gong Est Mort, Vive Gong album. Allen also reunited with Malherbe and Pyle for 1992's Shapeshifter album and the Gong 25th Birthday Party in 1994.
A great gathering of the Gong family took place in Amsterdam at the Unconvention in 2006 featuring many previous members and related bands. This event reinvigorated the band, leading to the release of the album 2032 in 2009 and the subsequent tour saw the arrival of Dave Sturt (bass) and Ian East (saxophone).
In 2012, Daevid Allen also enlisted Fabio Golfetti (guitar) and Orlando Allen (drums) for a tour of Europe, UK, Japan and Brazil. By 2013 Kavus Torabi (guitar) had also joined the group and the line-up of Allen, Sturt, East, Golfetti, Allen and Torabi then recorded the album I See You (2014). That year, Daevid Allen was diagnosed with cancer and was unable to perform whilst undergoing treatment. Fulfilling his wishes, the band continued the Gong tradition without him and toured to promote the album, bringing in Cheb Nettles (drums).
In 2015, Daevid Allen passed away. His influence and legacy were honoured on the band's subsequent album, Rejoice! I'm Dead! (2016).
The band have continued to tour internationally since that time including visits to China, Scandinavia, Brasil, Japan and Canada. They recorded their new album The Universe Also Collapses, scheduled for release on Kscope music in May 2019.